Get to Know the 2014 World Series of Poker November Nine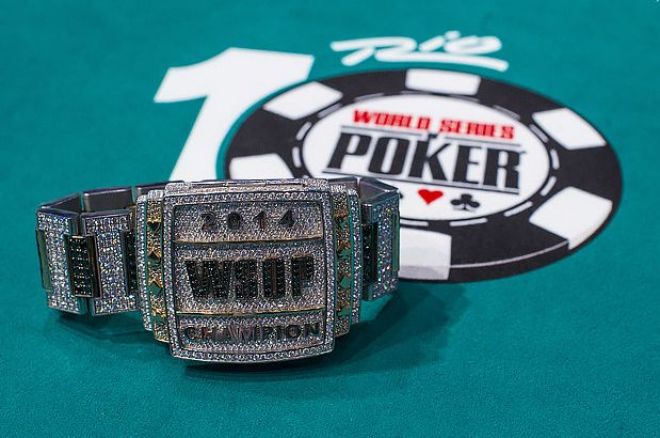 The 2014 World Series of Poker Main Event has been on hiatus since July 14 when this year's November Nine was determined. Those nine players, who hailed from six different nations, basked in the poker's spotlight for the past few months, but in this first week of November they'll be back in Las Vegas to battle it out for the $10,000,000 first-place prize and the coveted gold bracelet.
On Monday, Nov. 10, after 119 days of anticipation, the November Nine will return to the Penn & Teller Theater inside the Rio All-Suite Hotel & Casino to play down to the final three players. Each player is guaranteed at least $730,725, but the eventual fourth-place finisher will take home $2,848,833.
Then, on Tuesday, Nov. 11, the final three players will return to play down to a winner. A smooth $10,000,000 awaits the champ, while the third-place finisher and runner-up will have to settle for $3,806,402 and $5,145,968, respectively.
Which of the 2014 November Niners will etch their name in poker history books? Here's an in-depth look at those still in contention:
Seat 1: Billy Pappas (17,500,000 — 43 BB)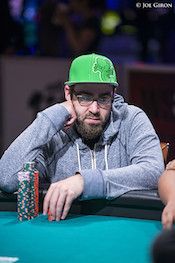 Born Sept. 28, 1984, William Pappaconstantinou, also known as Billy Pappas, is one of the best players in the world — foosball players that is. In fact, the 29-year-old Lowell, Massachusetts, native has been playing table soccer since 2003 and has won numerous titles, including seven world championships.
"Foosball is such a freaky thing," Pappas explained of his foosball origins. "If you play foosball and learn a little bit, you're hooked. My parents played, my mom still plays. It's a cool connection, me and my mom are super close."
The son of a professional golfer, Pappas supported his foosball dreams buy taking several jobs, one of which was as a poker dealer at the Rockingham Park Poker Room in Salem, New Hampshire. Foosball may have been his passion, but poker soon became a relaxing hobby.
Pappas wasn't even going to play the 2014 WSOP Main Event, but a friend convinced him to at the last minute. Obviously that proved to be a wise decision for the only true amateur left in the field.
"I'm in shock," Pappas said. "I never thought I'd play in this event. It's been my dream, and I've been saying 'this year' or 'next year' for like 10 years, just to play in an event, period. Now I get to play this, and I've never expected this at all."
This year marked the first time Pappas ever played in the "granddaddy of them all," and prior to his deep run his most notable tournament cash was a fifth-place finish in a $580 no-limit hold'em reentry event at the 2013 WSOP Circuit Palm Beach Kennel Club for $52,372.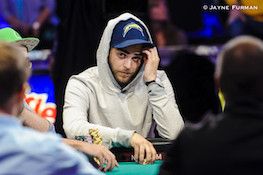 Originally from Oslo, Norway, Felix Stephensen now calls London home. Born on July 22, 1990, Stephensen currently makes his living playing poker. He does so playing primarily online under the screenname "FallAtyourFeet," and according to online tracking records, he is up more than $300,000 since 2011.
Stephensen, who is good friends with fellow Norwegian online pro Ola "Odd_Oddsen" Amundsgard, can usually be found at the $25/$50 pot-limit Omaha tables, though he has been known to take shots as high as $200/$400. As such, he has developed a strong reputation and loyal following in the online poker community.
As far as the live realm is concerned, Stephensen had just two cashes on his résumé coming into this final table. The first is a 12th-place finish in the 2009 Norwegian Championships £1,000 No-Limit Hold'em Main Event for £3,585, and the other was a 92nd-place finish in the 2013 European Poker Tour Barcelona Main Event for €12,700.
Stephensen traveled to Vegas with friends to enter the WSOP Main Event for the second time. Interestingly, he decided to pony up the $10,000 buy-in after winning a bet where he got 60-1 on $1,000 that the Netherlands would beat Australia 3-2 in the World Cup.
Stephensen proceeded to swap seven percent with Amundsgard, who has made the trip to Vegas to support his friend. Along with Amundsgard, Stephensen, who sits second in chips, is an advocate for poker in his home country and hopes to reflect that in the November Nine.
"I really hope I can make poker a more accepted sport or profession in Norway, and I'd like to be a good ambassador for the sport," Stephensen said. "I've been doing this for a living for years, so people will see that it's not all luck. It's actually something you can be pretty good at and you'll get results if you work hard."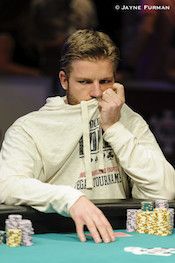 Born Nov. 15, 1982, Dutchman Jorryt van Hoof hails from the city of Eindhoven where he studied Industrial Engineering for a year before he decided to become part owner of a game store called GameForce. In 2003, van Hoof discovered poker, and while he prefers pot-limit Omaha cash games, he now finds himself as the chip leader of the 2014 WSOP November Nine.
From a very young age, van Hoof has had entrepreneurial interests. At the age of 12, he played Magic: The Gathering, and it was his involvement in that game, along with the fact that many of his customers frequently played the game, that brought him to poker.
Van Hoof's early poker knowledge stems from reading books, after which he further evolved his game by playing and discussing strategies with his friends. The Dutchman notched his first ever live tournament result at the Aviation Club in Paris in the Spring of 2005. Just a few months later, he played his first event at the WSOP and earned his first cash in a $2,000 no-limit hold'em event where he finished 66th for $3,450.
While tournament poker is not van Hoof's bread and butter, he managed to cash three times at the WSOP in 2007 and 2008, though after that he took a five-year sabbatical from Las Vegas. At the 2013 Utrecht Series of Poker in the Netherlands, van Hoof won the €1,000 event for €32,205, and coincidentally last year's November Niner Michiel Brummelhuis finished seventh in that same event.
Against all odds, a Dutchman has now made the November Nine in back-to-back years, and as fate would have it Brummelhuis and van Hoof go way back as both were a part of the early poker movement in the Netherlands.
After having lived in Dublin for a year to fully focus on being a consummate professional, van Hoof moved to Malta, a country he lived in for many years. Van Hoof now lives back in the Netherlands where he spends most of his time playing PLO online under the moniker "TheCleaner11."
Interestingly enough, van Hoof owes his online screen name to Justin Bonomo. After playing against Bonomo under the screenname "Jorrytvh," Bonomo was asked if he knew who he had played against and responded, "I don't know, but he cleaned me out." The rest is history.
Seat 4: Mark Newhouse (26,000,000 — 65 BB)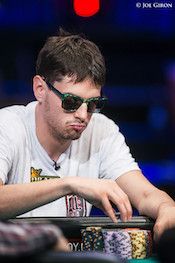 They say his odds of reaching back-to-back final tables were 524,558-1, but that's just what Mark Newhouse did. Most everyone agrees Newhouse's appearance at the final table ranks as the biggest November Nine storyline especially since he sits third in chips and is primed to improve upon his ninth-place finish in 2013.
Originally from Chapel Hill, North Carolina, Newhouse now splits his time between Los Angeles, California, and Las Vegas, Nevada, playing primarily cash games. A former student at Appalachian State, Newhouse is now a professional poker player who has been playing in the WSOP Main Event every year since 2006. While he's been successful in 2013 and 2014, it wasn't always that way; in fact, in his first five years all he managed was a 182nd-place finish in 2011 for $47,107.
"I made a lot of very poor decisions over the next couple of years," Newhouse said. "I have made nearly every mistake you can make in this business and learned from all of them. I am doing my best to do the right things these days and things are going pretty well for me now. The road to rebuilding is a much longer and slower one than the road of destruction, but with a healthy lifestyle, a hard work ethic, a little discipline, and the experience of past mistakes, my goals don't seem all that far away."
Newhouse has clearly rebounded in a big way the last couple of years and now finds himself in the exclusive company of Dan Harrington, Johnny Chan, Doyle Brunson, and Stu Ungar as some of the players who've made back-to-back WSOP Main Event final tables.
Seat 5: Andoni Larrabe (22,550,000 — 56 BB)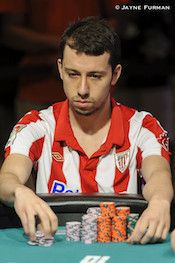 At 22 years of age, Spanish poker pro Andoni Larrabe is the youngest player in the 2014 WSOP November Nine. Larrabe, who now lives in London, sits fourth in chips at the final table with 22,550,000 and is the first Spaniard since Carlos Mortensen in 2001 to make the Main Event final table.
Larrabe, who lists reading, martial arts, meditating, and hanging out with his friends as among his favorite hobbies, now travels the live circuit, but before that he played multi-table tournaments online under the screenname "pollopopeye." It was under that name that he captured two Spring Championship of Online Poker (SCOOP) titles. The first was in 2012 SCOOP Event #8-H: $1,050 No-Limit Hold'em, which earned him $229,212.80, and the other in the 2013 SCOOP Event #17-M: $215 No-Limit Hold'em 6-Max Turbo Super KO for $65,926.79.
Prior to his deep run in the Main Event, for which he is guaranteed at least $730,725, Larrabe had $341,266 in live tournament earnings. That included $92,418 for an 11th-place finish in the 2012 European Poker Tour Grand Final in Monte Carlo and $218,710 for a win in the 2013 PokerStars Caribbean Adventure $5,000 No-Limit Hold'em.
As far as the WSOP was concerned, before making the November Nine Larrabe had just $20,000 in WSOP cashes, all of which came in a one-week period during the 2013 WSOP. His first ever WSOP cash came when he placed 284th in Event #54: $1,000 No-Limit Hold'em for $1,894, which he followed up with a 46th-place finish in Event #57: $5,000 No-Limit Hold'em for $14,333. A few days later, he placed 104th in Event #60: $1,500 No-Limit Hold'em for $3,841.
"I feel pretty excited," said Larrabe. "It's a sensation between confusion, because I think I don't realize what I have just done, and excitement and happiness. It's a lot of sensation all at the same time."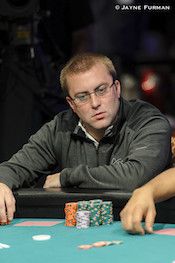 William Tonking, 27, hails from Flemington, New Jersey, one of three states that currently offer legalized online poker in the US. It is there that Tonking plays on partypoker, Borgata, and WSOP.com under the screennames "amazin_mets" and "WillTonk21"; in fact, just prior to the 2014 WSOP Tonking notched a $50,000 score on WSOP.com.
"I was never much of a tournament player," Tonking explained. "This is only the third one that I've played this year. I'm more of a cash-game player. I play online on the New Jersey sites. I play live some. I play in a $10/$25 game at Sam's in Bethlehem, some at Borgata, and I play some of the Borgata Open Series and the WSOP, but other than that I've never been much of a tournament player. That's why there's not much out there on me."
Tonking's poker career began in the mid-2000s while he was still attending Hunterdon Central Regional High School, and he progressed to online poker while studying economics at the University of South Carolina. When Black Friday struck in 2011, Tonking was forced to find action elsewhere, most notably in regional casinos.
In Dec. 2012, Tonking notched his largest career score (not including his 2014 WSOP Main Event run), which was a fifth-place finish in the Sands Bethlehem Deepstack Extravaganza $2,500 Main Event for $28,000. Other cashes that grace his poker résumé include 56th in a 2010 WSOP $1,000 No-Limit Hold'em or $6,571; seventh in the 2010 Borgata Poker Open $1,000 No-Limit Hold'em for $11,330; 33rd in the WSOP Circuit Atlantic City $1,675 Main Event for $4,188; and 77th in the 2014 WSOP Event #58 $1,500 No-Limit Hold'em for $3,924.
Seat 7: Dan Sindelar (21,200,000 — 53 BB)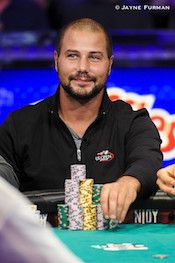 Born Nov. 27, 1983, Dan Sindelar of Omaha, Nebraska attended the University of Nebraska—Lincoln as a part of the Class of 2006. Since then, Sindelar has moved to Las Vegas. Prior to his deep run in the 2014 WSOP Main Event, Sindelar had $335,962 in tournament winnings.
"By the time my junior year rolled around, I pretty much withdrew from all my classes," Sindelar told PokerNews. "I started playing in casinos and everywhere I could play, made the move to Omaha to play at Council Bluffs, Iowa, and started playing a little bit more online there. When I turned 22, I moved out here to Vegas."
Sindelar's best cash up to the 2014 WSOP Main Event was $105,312 for winning the 2007 Fall Poker Classic $1,000 Championship Event at Canterbury Park in Shakopee, Minnesota. Other tournament highlights for Sindelar include winning the 2013 Card Player Poker Tour Wynn Las Vegas $550 No-Limit Hold'em event for $60,000; a 13th-place finish for $44,110 in the 2012 WSOP Event #57: $10,000 Six-Handed No-Limit Hold'em; runner-up in the 2013 WSOP Circuit Caesars Palace $365 No-Limit Hold'em Reentry for $31,523; and 27th in the 2012 WSOP Event #46: $2,500 No-Limit Hold'em for $20,327.
"This is so much fun, I can't really explain it right now, so much blood pumping right now," Sindelar said while playing the Main Event. "I've never played for this amount of money, so I've never really quite felt this feeling before. I just love it. I want to come back again next year and hopefully do the same thing."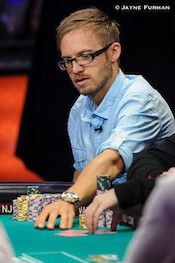 Martin Jacobson is one of poker's most consistent players, and he proved that in the 2014 WSOP Main Event when he finished Day 1a as the chip leader and rode it all the way to the November Nine. Only two other players — Joe Cada and Ben Lamb — have done that since the November Nine concept was introduced in 2008.
Originally from Stockholm, Sweden, Jacobson now makes London his home base as he travels the globe playing his trade. Since 2008, Jacobson has amassed $4,807,316 in tournament winnings, not including the money he'll earn from his deep run in this event.
Jacobson, who currently sits second on Sweden's all-time money list behind Chris Bjorin, first appeared on the poker scene when he finished third in the 2008 European Poker Tour Budapest €4,350 Main Event for €197,904. Less than a year later, he would finish runner-up to fellow Swede Ragnar Astrom in the World Poker Tour Venice €4,400 Main Event for €238,840.
As far as the WSOP is concerned, Jacobson's first cash came in 2009 when he finished eighth in a $1,500 no-limit hold'em event for $65,486. Amazingly, his second WSOP cash was also a final table when he took fourth in another $1,500 event a year later, good for $183,345. In 2012, Jacobson finished seventh in Event #5: €10,000 Mixed-Max No-Limit Hold'em at the WSOP Europe, ultimately cashing for €42,094, and then in 2013 he placed sixth in the $111,111 One Drop High Roller for $807,427, his largest career cash. Of course, he'll have a shot of besting that come Monday.
"It feels incredible to make it this far in such a big and prestigious tournament," said Jacobson. "This is probably my biggest achievement so far."
Seat 9: Bruno Politano (12,125,000 — 30 BB)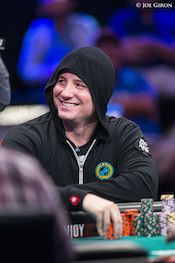 There is little doubt 31-year-old Bruno Politano will have the largest and loudest rail in the Penn & Teller Theater, and his early estimate is that he'll be bringing 200 boisterous Brazilians with him. Despite being the short stack with 12,125,000 — though that is the "biggest" short stack since the November Nine was established in 2008 — rest assured Politano will make his presence known.
Born Oct. 15, 1982, Politano, also known as Bruno Foster, is the pride and joy of Ceará, Brazil. Politano, who studied at Colégio 7 de Setembro in Fortaleza, Brazil, currently ranks 98th on the Brazilian all-time money list with $110,054 in live earnings (not including what he'll take home for his 2014 WSOP Main Event performance). His poker prowess comes as no surprise when you consider he's friends with some of his homeland's best poker players, such as Andre Akkari, Maria "Maridu" Mayrinck, and Thiago Decano.
Prior to his deep run in the Main Event, Politano's biggest cash was for $47,493 for a third-place finish in the 2013 Brazilian Series of Poker Main Event (BSOP) in Florianópolis. Other significant finishes include eighth in the Latin American Poker Tour IV Sao Paulo R$5,000 Main Event for $27,206 and seventh in the 2011 BSOP High Roller for $10,594.
In 2011, Politano notched his first WSOP cash when he placed 148th in a $1,000 no-limit hold'em event for $2,548. In 2014, Politano returned to Las Vegas and earned two more cashes prior to the Main Event — 17th in Event #39: $3,000 No-Limit Hold'em for $20,148 and 135th in Event #58: $1,500 Mixed-Max No-Limit Hold'em for $2,708.
Politano has fully embraced the November Nine experience and was the only one of them to travel to Australia for the WSOP Asia-Pacific, which is where he made the final table in Event #7: AU$2,200 Six-Handed No-Limit Hold'em. He ultimately finished in sixth for AU$19,809.
Get all the latest PokerNews updates on your social media outlets. Follow us on Twitter and find us on both Facebook and Google+!