Five Thoughts: Martin Jacobson Wins the 2014 WSOP Main Event, and More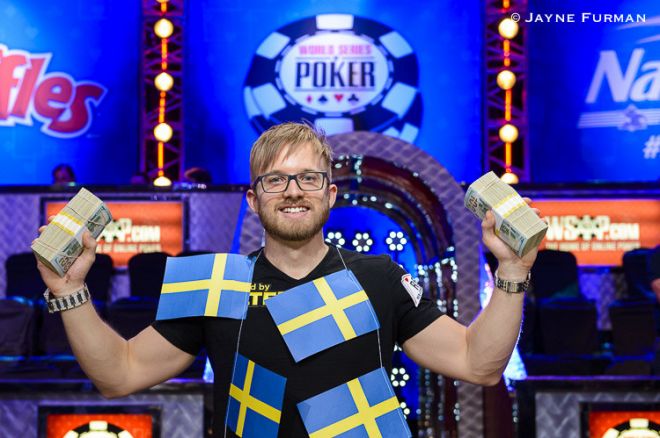 On Tuesday, Martin Jacobson became the first Swedish-born player to win the World Series of Poker Main Event, defeating Felix Stephensen heads up to earn $10,000,000. Stephensen pocketed $5,145,968 for his efforts, and Jorryt van Hoof, who entered both Days 8 and 9 with the chip lead, exited in third place for $3,806,402.
Jacobson battled with a short stack for more than a third of the hands played at the final table, then came roaring back to capture the crown in one of the most impressive performances in Main Event history.
1. Jacobson Wins the Main Event
Despite entering the final table eighth in chips, and quickly finding himself with the shortest stack at the table on several occasions, Jacobson never panicked. His small stack didn't permit him to play post-flop poker during the first 100 hands or so, forcing him to re-raise all in so frequently that the ESPN crew put together a montage of his shoves to illustrate how consistent he was every time he committed his entire stack.
When moving all in, the Swede would always grab a handful of his largest denomination chips, look at the dealer, announce the words "all in," and place the stack in front of him.
Most of Jacobson's actions at the final table were calculated. His focus and demeanour were magnificent — it appeared as if he was drinking in every action at the table, even when he was no longer involved in the pot.
Jacobson was finally able to double up on Hand #145, moving all in for just under eight big blinds from under the gun and doubling through Stephensen. The Swede climbed the counts over the next 40 hands, moving into second chip position, but then lost a flip to Stephensen and was once again the short stack with 26 big blinds.
Things all changed for Jacobson on Hand #208, when he won a 50-big blind flip to cripple Billy Pappas. Pappas was eliminated the very next hand by van Hoof, and then the final three knockouts were administered by Jacobson.
He was not to be stopped.
After busting Will Tonking at the end of Day 8, Jacobson began Day 9 by winning the first three pots. In 22 hands he was the chip leader, in 43 hands he had over 100 million chips, in 50 hands he was heads up with Stephensen, and in 85 hands he was the champion.
It's amazing how everything fell just right for Jacobson — I guess you can say that for every Main Event champion, especially those that navigate 6,000-player fields — because, according to Andrew Feldman, Jacobson spent a good chunk of time on his heads-up game. Among the brilliant poker minds on Jacobson's rail was Ankush Mandavia, who is a heads-up sit-n-go boss. I guess Jacobson was right when he tweeted the following:
Luck is what happens when preparation meets opportunity. http://t.co/H9r9F1yPAi

— Martin Jacobson (@Martin_Jacobson)
The Swede-turned-Londoner and chef-turned-professional poker player is now $10,000,000 richer — there was no chop, reportedly — and is now world champion. His victory was certainly well deserved, and you can tell by the way he raised the bracelet into the sky that he understands the importance of winning this event. From interacting with Jacobson previously, I am confident that he will be a terrific ambassador and represent our game well across the world.
2. Newhouse Busts in Ninth, Again
Prior to the first pitch on Monday, Mark Newhouse was the most talked about player at the final table, and for good reason. "Newhizzle" reached the November Nine in 2013, busting in ninth place, and overcame astronomical odds to make a return trip in 2014. Unlike 2013, Newhouse was third in chips this time around, and he had the best seat at the table with both van Hoof and Stephensen on his direct right.
Unfortunately for the American — one of four at the final table — history repeated itself.
After calling a raise from van Hoof and a three-bet from Tonking with the


, Newhouse called another bet on a flop of



. Tonking slowed down, check-calling a bet when the

fell on the turn, and the

completed the board. Tonking checked, Newhouse moved all in for 10,200,000 — roughly 40 percent of the pot and 20 big blinds — and Tonking went into the tank. Getting nearly 4-1 on his money, Tonking called with the


and Newhouse was eliminated in ninth place.
He earned less money ($730,725) than he did in 2013 ($733,224), and not a cent more than what he was paid back in July.
Several professionals chimed in about the hand on Twitter, but few were as vocal as Newhouse's friend and fellow 2013 November Niner JC Tran:
This is prob a good example of how the long break can hurt. You lose momentum & ur back out of the zone. Getting in the zone is tough @WSOP

— JC TRAN (@jctran23)
To all you geniuses out thr critiquing @mark_hizzle's play, make it to the #November9 first & you can talk. We don't know his exact thoughts

— JC TRAN (@jctran23)
Two fairly weak excuses here from Tran. First, all nine players experience the long break together. Some used the time to study and train, while others didn't. If a player doesn't maximize their time off by putting themselves in the best possible situation to win the $10 million top prize, then they have no one to blame but themselves. Newhouse was very open that he didn't play any poker at all during the break.
Second, the "you can only talk about it if you've been there" argument is annoying when it comes from actual athletes, but a poker player? Come on, JC. The average poker player can certainly relate more to professional poker players, despite the bright lights and all of the pressures associated with the final table of the Main Event. While we can't all dunk, we can definitely shuffle chips, read two cards, and make decisions based upon those cards, the board, and our opponents.
I'm not siding with the angry mob — as a collective, the folks on Twitter are rarely correct when they get the pitch forks out — but let's pump the breaks on the holier-than-thou poker analysis.
Full disclosure, I picked Newhouse to win the Main Event, thinking he would apply some of his previous experiences and be able to rise above the pressure of the final table. Unfortunately for him, the action was extremely slow at the beginning, allowing the players to settle into the final table, and Newhouse never took his foot off of the pedal. He was just as active as he was on Day 7, and in the end his over aggressiveness led to his demise.
3. Victory for Norway
We tend to forget second place. It doesn't help that players like Tuan Lam and Martin Staszko are as milquetoast as they come, but, in the modern era, the runner-up finisher in the WSOP Main Event hardly ever walks away with any of the glory.
Felix Stephensen didn't capture the Main Event title this week, but he survived the toughest seat at the table — chip leader Jorryt van Hoof was on his direct left — and navigated his way to a score of over $5,100,000. From watching the coverage, it looked like the cards were unkind to Stephensen during Day 8, but he was able to overcome and maintain his stack. He then received some timely double ups and was the beneficiary of van Hoof's decline on Day 9.
We all knew Bruno Politano's story, and he was certainly playing for a nation, but Stephensen's appearance and success at the final table were just as important, if not more, than the Brazilian's.
Prior to Stephensen's final table run, Norway's poker laws were not too favourable. In fact, his friend and fellow Norwegian Ola "no_Ola" Amundsgard once challenged a member of parliament to show that poker is indeed a game of skill. Amundsgard didn't need the entire 10,000-hand sample to crush the politician like a grape.
In the weeks leading up to the WSOP final table, Norway legalised live poker tournaments and was open to adjusting their stance on home games.
"Prior to today, poker championships were held abroad," Norway Minister of Culture Thorhild Widvey said in a statement. "In the future, these championships could be held in Norway."
It is unclear whether or not Stephensen's run had any direct impact on the political choices in the Nordic country — as we know in America, the legal process takes a long time — but his success in July couldn't have been a deterrent. Now, he is a Main Event runner-up, representing his country very well.
Stephensen is a perfect example of what we need from our professionals in order to legitimize poker as a mind sport on a global level. Obviously he was lucky enough to bink a once-in-a-lifetime result, but he took advantage of his opportunity and was vocal about a cause he believed in. You don't have to bang the drum incessantly or champion the cause on your own in order to make an impact — leveraging your position and getting involved in the conversation is sufficient.
4. The Live Broadcast on ESPN
It's important to know who you are and what you're good at. As cliché as it sounds, "staying in your lane" is a great way to succeed.
The live broadcast of the WSOP Main Event final table on ESPN is enjoyable to me because I love poker. I've been fortunate enough to work in this industry since turning 21 in 2009, and prior to that I was your typical poker junkie, spending my time watching, playing, and talking about poker. I will always soak up poker content.
At the same time, I understand and can identify the flaws.
The first thing to recognize is the demographic shift from live streams (younger, more into the analytics of poker) to a network like ESPN (older, more interested in entertainment). What the WSOP is trying to do is take a program normally suited for hardcore viewers and package it so that their weekly viewers are able to digest the information and still be entertained. This is a very difficult task because, to the average viewer, live poker is extremely stale.
Politano's constant tanking didn't help either.
During the weekly broadcasts, Lon McEachern and Norman Chad are brilliant. They are amazing writers, they do great research, and their chemistry is top-notch. On the live show, Chad can get lost in the back-and-forth between McEachern and Antonio Esfandiari, and the three-man dynamic can become a bit awkward.
For all of the grief he received on Twitter — I will admit that I added to the snark about "energy" and such — I thought Esfandiari did a great job for the audience he was addressing. Esfandiari understands that the target viewers for ESPN don't care about top-level thinking; rather they want to be taught a few basic principles and simply helped out along the day. He is also quick on his feet and has developed a good rapport with both Chad and McEachern.
The formula doesn't seem to work on the whole, however. The live broadcast should, in my opinion, be a full-on deep dive into analytics, statistics, and high-level thinking, while there should also be the separate stand-alone shows recapping the action at the final table. Trying to meld the two together produces a show with no identity for an audience that doesn't know what exactly it's consuming.
5. RIP #TeamMedia
Oh, Martin.
If you don't know by now, Team Media bubbled the 25K Fantasy league hosted by Daniel Negreanu because Martin Jacobson was unable to bag a top-five stack heading into the November Nine. Yes, the competition ends in July.
To be fair, it would've been a minor miracle if we cashed because one of our players was able to bag a top-five stack in the WSOP Main Event, but it also would've been well deserved with subpar performances from Phil Ivey and Stephen Chidwick.
Even Jacobson was dejected when he found out in July that he could no longer accrue any points for us in our quest to top some of the best poker players in the world, but he was still proud to rep the team after he won on Tuesday, hoisting a #TeamMedia sign high into the air like the diamond-filled bracelet he had just captured.
It was a fun sweat, Mr. Jacobson. And no, I'm not at all bitter about the misclick on the bubble of the final table.
At all.
I promise.
Maybe.
Get all the latest PokerNews updates on your social media outlets. Follow us on Twitter and find us on both Facebook and Google+!