Five Thoughts: Adelson Receives Push Back, Somerville's Streaming, and More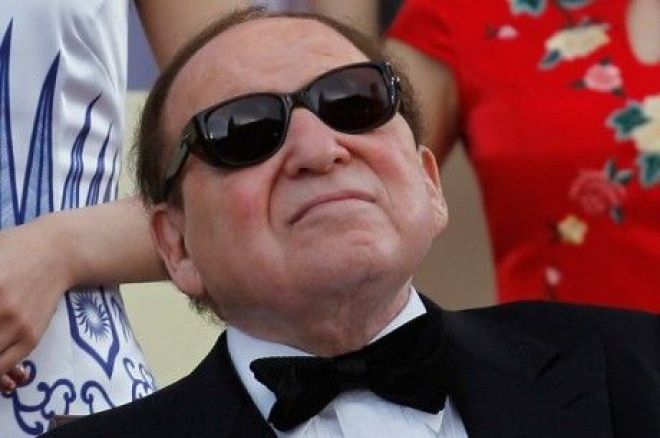 In December of 2011, eight months after Black Friday, the United States Department of Justice offered clarification on the Wire Act of 1961, concluding that "interstate transmissions of wire communications that do not relate to a 'sporting event of contest' fall outside the reach of the Wire Act."
This amended opinion omitted online gaming, allowing both the federal government and the individual states to pursue regulated, legal online poker. While federal efforts to restore online poker in America have moved at a glacial pace, Delaware, New Jersey, and Nevada have all legalized some form of online gaming. Other states, like California and Pennsylvania, have expressed interest in the intrastate model, but neither state has even voted on such legislation.
The majority of United States citizens are still waiting for their chance to play a legal hand of online poker, but the DOJ's updated opinion on the Wire Act at least gives us hope. Likewise, even though Delaware, New Jersey, and Nevada represent about four percent of the total population of America, we're less than a Presidential term removed from Black Friday.
To put things into perspective, Prohibition lasted 13 years in America.
There is one man, Sheldon Adelson, who seems a bit concerned with our brief progress since 2011. Adelson is hell-bent to stop the advancement of online gaming, funnelling millions of dollars to politicians and lobbyists so that they can carry out his wishes. In his latest attempt to thwart the legalization and regulation of online gaming, the billionaire chairman and CEO of the Las Vegas Sands Corporation wants to restore the Wire Act.
Yes, the same Wire Act that was readdressed in December of 2011.
H.R. 4301, known as the Restoration of America's Wire Act (RAWA), was introduced into both the House of Representatives and the Senate in March by Jason Chaffetz (R-Utah) and Lindsey Graham (R-SC), respectively. If passed, RAWA would "prohibit all forms of Internet gambling."
1. Lame Ducks and RAWA
Since being introduced, RAWA has picked up a handful of co-sponsors, and was a brief threat to get a hearing during this lame duck period before Congress returns at the start of 2015. Former Congressman and presidential candidate Ron Paul called the potential hearing "an open secret" in D.C., and said that Adelson is "using his political influence to turn his online competitors into criminals."
In a tweet last week, the Poker Players Alliance said that the House Judiciary Committee dropped the RAWA hearing, for now, and that we must remain vigilant during the lame duck session.
Inside info, planned Internet #poker hearing in House Judiciary cmte has been pulled. Need to remain vigilant for other lame duck actions JP

— PokerPlayersAlliance (@ppapoker)
Days later, the Washington Post reported that Adelson has received pushback from the Republican Party. Per the Post, members of the GOP are opposed to Adelson's push for federal legislation because it directly conflicts with state's rights, a core conservative principle.
"[States] don't need the federal government babysitting them," said Grover Norquist, president of Americans for Tax Reform.
Adelson has the capital to play a big role in the legislative process, and with a GOP-dominated Congress rolling in he has more allies to align with, but if Republicans hold true to their values then this will be a tougher fight than Adelson anticipated. The GOP is also evolving, preparing for a presidential run in 2016, so their transition from a "good ol' boys's club" to a younger, more progressive party may have adverse effects on Adelson's efforts.
These recent developments bring both pros and cons. On the positive side, halting Adelson's attempts to federally ban online gaming will allow the states to continue legislating for themselves. Delaware, New Jersey, and Nevada will remain open to the public, and states like California and Pennsylvania can continue to investigate the potential returns associated with regulated online gaming. While slow, the state-by-state process has potential, especially if larger states like California get into the mix and are willing to form an interstate compact.
The downside to this perceived Republic rededication to the 10th Amendment is that it also halts online gaming from being federally legalized and regulated. The pendulum swings both ways; the GOP isn't opposed to the act of banning online gaming, they're opposed to the federal government getting involved. This sentiment can change – the UIGEA was a part of federal legislation – but the 10th Amendment isn't going anywhere, and any true conservative will tend to err on the side of state's rights.
If this is true, then the online poker scene that we knew and loved will be harder to regenerate. Dozens more states will have to individually pass legislation, and then they will have to cooperate with one another to create a shared player pool. There are only three states in the mix now, and only two of them have been able to agree on a compact that has changed very little, if anything, in either state. The road to a successful state-by-state online gaming model is very long.
For now, we can wipe our brows and briefly celebrate a small victory. Adelson doesn't have control of the entire GOP, and if Republicans remain true to their roots, then pushing through any piece of federal gaming legislation will be difficult. Money talks, however, and Adelson is willing to spend. As the PPA note, we need to keep our eyes open.
2. Somerville's Streams
Be forewarned, the following is filled with bias. Jason Somerville was a guest host on the PokerNews Podcast during the entire 2014 World Series of Poker — fans will know that he is still a part of the show in spirit, mostly due to my laziness — and he is amazing. His work ethic is unmatched in this industry.
When Ultimate Poker cut ties with Somerville, it had little to no effect on his streaming series Run It UP. In fact, it allowed him to also play on WSOP.com, which is now mandatory in Nevada. Just last week, one of Somerville's live shows had more than 13,000 unique viewers.
Somerville broadcasts on Twitch, a website initially dedicated to mass multiplayer online role-playing games (MMORPG's). At first, Somerville didn't know if Twitch was going to allow him to keep broadcasting, but Run It UP was a success and the website welcomed him with open arms.
"I'm only committed to one thing right now in my life, and that's Run It UP," Somerville said. "I'm confident that 2015 will see our first officially branded Run It UP live events while we continue to pioneer poker streaming and content on Twitch, no matter where I end up moving. I'm lucky to have a few options right now for what exactly is next, but every path incorporates Run It UP in a big way."
One of the best decisions Somerville made was ensure that Run It UP was his possession. Now, even without Ultimate Poker, he can continue to grow the brand and expand his audience. The incorporation of live events, especially in Las Vegas where there are several small, hungry poker rooms, is an exciting prospect as well.
Somerville's enthusiasm is contagious. When he says things like "I believe that poker live streams are still in infancy status," he's not simply blowing smoke. He really means it and he really believes that he can play a key role in promoting this game. The statement isn't empty either, Somerville is sitting on a wealth of ideas that he believes can improve all poker streams, not just his own.
If you want to catch an episode of Run It UP, check his schedule below:
I wish Jason the very best of luck, and I look forward to watching him help our game grow even more.
3. partypoker WPT UK Wraps Up at Dusk Till Dawn
The partypoker WPT UK Main Event, the first-ever WPT Main Event held in England outside of London, concluded on Sunday at the Dusk Till Dawn Poker Club. Matas Cimbolas, who entered the final table with the chip lead, finished the day as the champion, overcoming a large chip deficit during heads-up play.
Final Table Results
| Place | Player | Country | Prize |
| --- | --- | --- | --- |
| 1 | Matas Cimbolas | Lithuania | £200,000 |
| 2 | Ben Warrington | UK | £140,000 |
| 3 | Tamer Kamel | UK | £92,000 |
| 4 | Antoine Saout | France | £67,000 |
| 5 | Phillip Mighall | UK | £48,000 |
| 6 | Patrick Leonard | UK | £39,500 |
Cimbolas pocketed £200,000 for the win, calling it a dream come true. The 21-year-old Lithuanian could barely contain himself when he was talking with Poker Hall of Famer Mike Sexton in the post-game interview.
It's rare that we see this kind of emotion from a winner, especially one as young as Cimbolas. I'm so used to players simply flashing a few smiles when prompted, but acting generally unsurprised when they win large sums of money. I don't believe that showing jubilance and acting over the top is necessary, it's just refreshing to see a player be vulnerable and emit some genuine emotions.
Cimbolas defeated Ben Warrington heads up, who actually knocked out every other player at the final table. Warrington entered heads-up play with a two-to-one advantage, but Cimbolas spiked a fortuitous double up during the match and stormed back to win.
The festival in Nottingham kicked off with the partypoker presents: WPT500 at Dusk Till Dawn, which generated a massive field of 2,133 entries. Eleanor Gudger took it down, turning £500 into £140,000, and she too showed some really nice emotion after her big win.
Gudger is recently engaged, and plans to use some of the prize money towards her upcoming wedding. She also hinted at a "super honeymoon." Gudger is a professional poker player, taking the plunge 18 months ago, and recently signed a deal with PKR.
The story gets better. She has also been teaching her father John some of the ins and outs of tournament poker, and he too booked a win on the felt. Mr. Gudger won the WPT National UK London in December of 2013, earning £12,750.
From all accounts, Dusk Till Dawn is a terrific venue that's fully dedicated to poker. Simon Trumper is a player-friendly director who is always focused on what's best for the people in his room, and this £3 million guarantee festival is a testament to his hard work.
4. Hellmuth Wins First No-Limit Hold'em Event Since 2012 WSOP Europe Main Event
Phil Hellmuth, 13-time WSOP bracelet winner and Poker Hall of Famer, won the 2014 Pittsburgh Poker Open early Monday morning, earning $54,414. Hellmuth defeated David "ODB" Baker heads up, and Matt Glantz was also at the final table.
The reason that this $1,000 buy-in event had such a stacked final table is that Poker Night in America filmed a cash game over the weekend.
"Surreal week. Won a 2015 Corvette Stingray, filmed ESPN live coverage of WSOP, filmed Poker Night in America, and won Pittsburgh Open Main Event," Hellmuth tweeted after taking down the tournament.
The win was Hellmuth's first victory in a no-limit hold'em tournament since the 2012 WSOP Europe Main Event. His sole victory in 2013 came in a £2,200 Open-Face Chinese poker tournament at EPT London, and he hadn't won a tournament in 2014 before this weekend. Prior to Hellmuth's WSOPE Main Event win, you have to go back to 2007 (!) to find a no-limit hold'em win in an open event.
The Poker Brat outlasted 2,628 players to win bracelet No. 11 that year, putting him ahead of legends Doyle Brunson and Johnny Chan.
Even crazier, this is just Hellmuth's fourth no-limit hold'em win in an open event since Chris Moneymaker won the WSOP Main Event in 2003. Ole Schemion has nine victories since 2011.
Hellmuth is a poker legend, no doubt, but his record during the post Moneymaker era isn't fantastic. Unlike Daniel Negreanu, Hellmuth hasn't put in the work to adapt with the game, and thus he has had less success, especially in big buy-in events. The Poker Brat is still a favourite to win more bracelets because he has the bankroll to compete in big buy-in mixed events with smaller fields, but I don't expect him to go on a tear like his poker nemesis Dan Colman anytime soon.
5. Jaffe's Got Jokes
Love Caitlyn Howe, she is a sweet girl, but ex-"dolphin trainer" Jonathan Jaffe trolled the living daylights out of her at the partypoker.net WPT Montreal Main Event:
While lying about an endangered, indigenous species of squirrel is not preferred, it's a lot better than silence. Kudos to Jaffe for the quick thinking, and best of luck at the final table.
Photo courtesy of Media Salon
Get all the latest PokerNews updates on your social media outlets. Follow us on Twitter and find us on both Facebook and Google+!