PokerStars Announces Rake Increase on November 4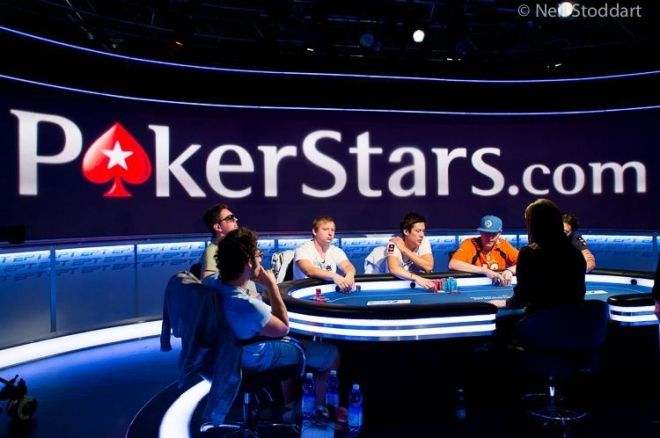 With a note sent to the public on Thursday, PokerStars announced some new strategic changes that include a rake increase at the end of the Battle of the Planets promotion.
The room's new rake structure will be implemented in two different steps between Nov. 4 and Jan. 1, 2015, whereas the Battle of the Planet promo will officially cease to exist on Saturday, Nov. 1.
Announced only few days after the introduction of a new currency exchange rate, the two changes are part of what PokerStars Head of Corporate Communications Eric Hollreiser called PokerStars' commitment " to keeping poker exciting, fresh, and relevant to new players and to loyal grinders."
Starting from Nov. 4, PokeStars will increase the rake for all stakes of heads-up hyper-turbo sit-and-go tournaments.
"Hyper-turbo scheduled tournament fees will increase from 2% to approximately half of the fees charged for other scheduled tournaments at same or similar buy-in levels," a room representative wrote on a thread posted on the Two Plus Two poker forum.
This, given the fact that PokerStars does not plan to adjust the events' buy-ins, should result in a smaller amount being devoted to the tournaments' prize pools.
"The cap for ring-game rake for hands dealt at [pot-limit Omaha or no-limit hold'em] games to exactly two players will increase to $2 for stakes $25/$50 and higher and $1 for all other stakes," PokerStars' message continued. "The cap for ring game rake for [pot-limit Omaha or no-limit hold'em] games at $25/$50 and higher stakes with 5+ players dealt in will increase from $3 to $5."
During the same day, PokerStars plans to implement some changes also to the newly added Spin & Go games. The rake of the room's hugely popular jackpot sit-and-go tournaments "will be increased at stakes $3 and above," PokerStars explained.
Initially introduced with the best rake of the industry, the Spin & Go tables will see the rake go up to six percent for the $3 and $7 events, and move from four percent to five percent for the $15 and $30 events.
On Jan. 1, 2015, "hyper-turbo satellite sit-and-go fees will be increased at stakes below $2,000 from two percent to an amount equivalent to roughly 75 percent of the fees charged for cash prize hyper-turbo sit-and-go tournaments of the same buy-in. New tournament fees will apply in rebuy tournaments for players whose play is subject to significant local taxes in the form of gaming duty and/or VAT."
PokerStars also added that it will soon provide a list of the countries and sites that will be affected by this change, even if it has also explained that "PokerStars.be, PokerStars.dk, PokerStars.uk, and PokerStars.bg will qualify due to gaming duty, and players from Germany will qualify due to VAT."
Details, Reactions, and Examples of the Changes
Here's a look at the current and new rake for different games available at PokerStars: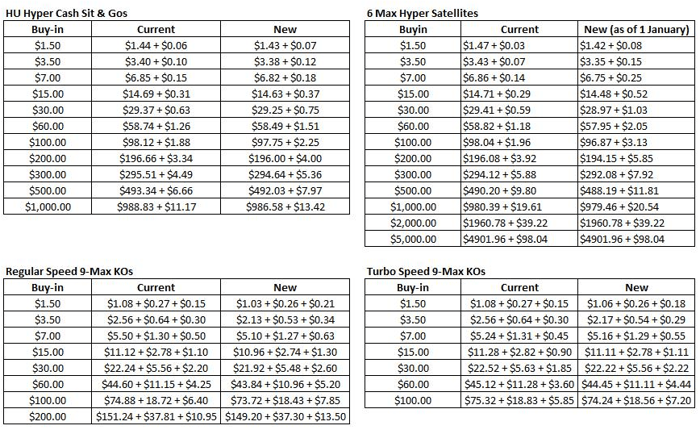 As expected, many in the poker community did not welcome the rake changes and decided to express their criticism by explaining their reasons in the comments to the original thread on Two Plus Two, on Twitter, and on Facebook.
"While it may seem that player power is limited, history has shown that organized player movement can have results," wrote a forum poster named Cellar Door in a message he used to invite other players to express their disappointment and join a mass 2-hour long sit-out on November 6.
However, as explained on a post published on the PokerStars Blog on Monday, Hollreiser believes that all the changes that PokerStars have started to introduce are needed for the good of the game.
"We make those decisions every day across the entire company," Hollreiser said. "Most changes go unnoticed, because they're meant to unobtrusively improve the player experience, like optimizing security to ensure you're playing at the safest poker site in the world."
The issue is that most of the attention often goes to some other changes "such as our recent changes to the foreign exchange (FX) charges or the rake that we apply to various games. We know that some of these decisions will not be popular in all quarters and they're not decisions taken lightly, but are made looking broadly across the poker ecosystem."
According to Hollreiser, "the game is constantly changing and evolving, as is society and technology at large. Like any good poker player, we know that you have to adapt or risk being left behind. The choices we make today aren't for short term gain; they're made because we believe they're the right thing for tomorrow."
"We'll continue to make tough calls to secure the game in the present and make bold moves to best invest in the future growth of the game, Hollreiser concluded. "Our goal continues to be to provide the best, most exciting poker experience and keep the poker universe growing."
Get all the latest PokerNews updates on your social media outlets. Follow us on Twitter and find us on both Facebook and Google+!