UKIPT Series 6 Champion Paul Findlay: "It's my dream to play poker full time."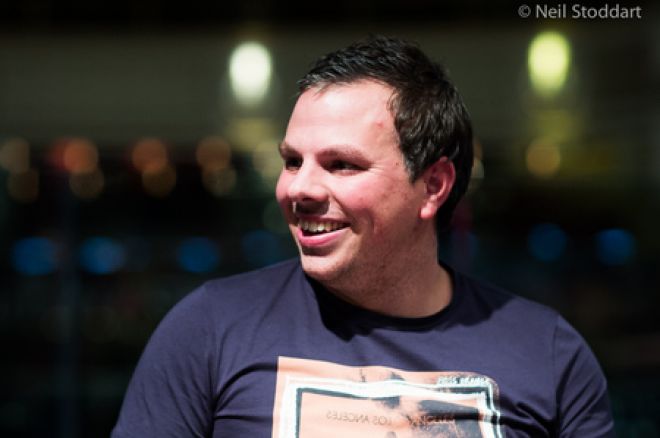 Have you ever spoken to someone and instantly taken a shining to them even though you have never met them in person? That happened to me on September 17 when I had the pleasure of chatting to Paul Findlay, the man who won the recent UKIPT Series 6 London Main Event at the Hippodrome.
Being introduced to Paul was down to a stroke of luck. After writing an article about his impressive victory and posting it on my own Facebook page, a friend commented saying he knew Paul because they had served together in the British Army and that he'd put me in touch with him if I wanted to chat to him. I did want to do this, the arrangements were made and I spoke at length – 45 minutes to be exact – with Paul about his win, how he got his start in poker, his career in the army and his plans for the future.
Sadly, it turns out that the software I used to record our conversation crashed after only six of those 45 minutes so the majority of what was said is lost. However, Paul's passion for the game of poker and the way we hit it off from the very first word spoken, much like two old friends do even if they've not seen each other for a while, mean that his story is still quite fresh in my mind.
Paul first discovered poker while serving in the army, but it wasn't the kind of poker you would find on any poker site.
"I used to play with some guys from the Australian army. It was like Hold'em, but they used two decks and you had to use both of your hole cards like you do in Omaha. When I was stationed in Germany, they were all playing proper Hold'em but nobody really took it seriously. We played for €5 and it was all about having fun."
Some time later, Paul suffered a life-changing injury when on tour in Afghanistan, one that resulted in him losing one of his legs after being "blown up," as he put it. It was during Paul's recovery from this horrific injury that his passion for poker ignited.
"The guy in the bed at the side of me was really into poker and played all the time on his laptop. I only watched him at first and then started to get a grasp on odds etc so went out, bought a Mac and started playing online."
With the support of his family, friends and Help For Heroes, Paul learned to walk again, has since become an ambassador for the charity and raised over £250,000 for them so far. One of Paul's fundraising campaigns saw him cycle to all 20 of the Premier League's football grounds, which is a remarkable achievement in its own right, never mind when you only have one of your legs.
It's a charity that Paul holds close to his heart and one that he has pledged 10% of his winnings to, meaning they'll soon be receiving a cheque for £1,239.60 thanks to Paul's UKIPT Series win.
I mentioned it was a stroke of luck that brought Paul and my paths together. You could say it was luck, albeit extremely bad luck that Paul discovered he had a knack for poker. It was also quite lucky that he was actually playing in the tournament in the first place because he thought he had qualified for the UKIPT London Main Event in October and not the UKIPT Series event!
"It's all a bit embarrassing really!" said Paul when I asked him about it.
Having turned up at the correct tournament, Paul grinded his way through Day 1 and was sat with around 80,000 chips with three hands remaining. He'd not shown a hand down all day, but that was set to change.
After losing two big pots and then winning some back when he stole the blinds, Paul was left with around 20,000 chips and considered not coming back for Day 2.
"I was talking to my mate when I got home and said that I was thinking of not going back because my stack was only 10 big blinds or so and I live 40-minutes from London. I was meant to be helping someone move house on the Sunday and he called me to ask if I was still available, and that's when I decided I was playing poker!"
Paul explained how his initial plan was to last an hour, then kept making more goals, reaching those and setting more. He also won a couple of pots from the Full Tilt Poker Ambassador Sin Melin, the second of that couple sending her to the rail.
As the tournament progressed, Paul's confidence grew
"As soon as we were in the money I knew I was going to at least reach the final table. I upped the aggression and, I think, played some good poker.
You can read about how the final table panned out and how Paul marched on to victory in this article.
So what is next for Paul and his poker playing?
"It's my dream to play poker full time. I'm at the age now where if I don't do it soon then I never will. I want to give it a try, even if it is just for a year, before I have kids and have responsibilities that mean you can't really play poker for a living. Even if I only last a year at least I can say I did it, I lived my dream for a year and won't have any regrets."
Paul talks of a superb opportunity given to him by virtue of his UKIPT Series victory. Part of his prize was an entry into the Champion of Champions tournament that awards the winner buy-ins and hotel accommodation for all of next season. Even if he doesn't secure this prize, Paul's going to jump on tour anyway.
He seems to have it all planned out. Become a regular on the UKIPT, grind online in between stops and hopefully taste more success. He's a man with tons of determination and drive and I wouldn't bet against him being a regular on the poker circuit for years to come.
There you have it, ladies and gentlemen, an insight into the man who served his country, cheated death and lost a limb, learned to walk again, raised a quarter of a million pounds for charity and then became a poker champion. I can't help but wonder what lies in store for Paul, I sincerely hope that it involves writing more cheques to his favourite charity.
Lead image courtesy of Neil Stoddart and the PokerStars Blog
Get all the latest PokerNews updates on your social media outlets. Follow us on Twitter and find us on both Facebook and Google+!