Three Things To Watch at the 2014 World Series of Poker Asia-Pacific

Donnie Peters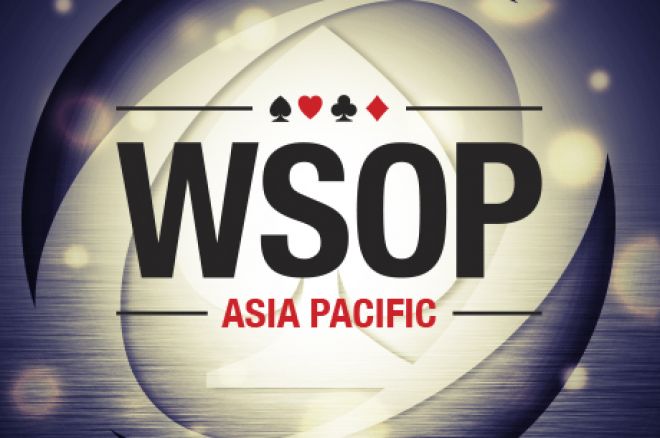 The 2014 World Series of Poker Asia-Pacific is right around the corner, kicking off Oct. 2 and running through Oct. 18. With 10 gold bracelets events lined up with buy-ins ranging from AU$1,100 to AU$25,000, the poker action will be exciting and it will be intense for 17 days straight Down Under.
Last year, the poker world was treated to some great stories coming from Australia in the first installment of the festival. To begin, the first event turned out to be a massive affair with over 1,000 players. Then, Phil Ivey won his ninth WSOP gold bracelet. Finally, Daniel Negreanu captured the WSOP Asia-Pacific Main Event title and his fifth bracelet.
While the event will be attended by plenty of big names and there will undoubtedly be many new faces that emerge into the spotlight, some stories stand out a little bit more than others. PokerNews would like to point out those that we think are the top three things to watch for at the 2014 WSOP Asia-Pacific, and we'll begin with the close WSOP Player of the Year race.
1. POY Race Hot and Heavy
Sitting atop the current 2014 WSOP Player of the Year standings is Brandon Shack-Harris with 752 points, but he's trailed very, very closely by George Danzer with 745.2 points. Following those two, there's a drop off of nearly 200 points before John Hennigan (557.88) and Daniel Negreanu (519.08) come in as the only other players above 500 points.
Last year, Negreanu claimed the title with 890.22 points. In 2012, Greg Merson won with 981.13, and in 2011 Ben Lamb was the victor with 909.05.
We have been told that Shack-Harris and Danzer will both be attending the festivities in Australia, as will Negreanu, but many of the other players in the top 10 are not, and Hennigan might as well be the flip of a coin as to whether or not he'll show up. Daniel Colman — fifth with 452.4 points and winner of the $1,000,000 Big One for One Drop — confirmed that he won't be playing anymore WSOP events this year. Others in the top 10 that will not be attending are Justin Bonomo and Brock Parker.
While it might be discouraging that so many in the top part of the race are not going, the confirmations of Shack-Harris, Danzer, and Negreanu are more than enough to keep the Player of the Year race extremely interesting. All three players can play all forms of poker, and there's 10 different events the players can get their feet wet with. Originally, we might've said the big AU$25,000 High Roller would help Negreanu make up some of the points gap, but Shack-Harris has confirmed with PokerNews that he will also be playing that event, and Danzer is known to take some shots in big buy-in events.
With the race between the top two being so close between Shack-Harris and Danzer, and the way Negreanu has been performing as of late, these three are the ones we peg as most likely to walk away with the title — for Negreanu it would be his second WSOP Player of the Year title in a row and third overall. Of course, a dark horse could emerge from the remaining field and it'd be a difficult to do so, but we're not opposed to it spicing things up.
Another interesting titbit is the fact that 2014 WSOP November Niner Bruno Politano will be heading to Australia. Politano isn't anywhere to be found on the WSOP Player of the Year leader board, but he's guaranteed at least 100 points by finishing in the top nine of the Main Event and could go on to win as many as 500 points if he wins come November. That said, it would be very interesting if Politano is able to put together a couple very deep runs while in Melbourne and give himself a real shot.
Whatever happens, it's going to be one heck of a story to watch unfold and we're hoping it goes right down to the wire.
2. Double the Bracelet Events, Plus a High Roller
This year, there are 10 WSOP Asia-Pacific gold bracelet events. Five of them are brand new, two are somewhat new, and three return from last year. The new bracelet events are highlighted by the AU$25,000 High Roller that will attract a top-level field of competitors. Then there's the AU$2,200 No-Limit Hold'em, AU$5,000 Pot-Limit Omaha, AU$1,650 Terminator No-Limit Hold'em, and AU$1,650 8-Game Dealer's Choice that are all brand new additions to the schedule.
Last year, the festival held a AU$2,200 8-Game Mixed event and a AU$5,000 Six-Max No-Limit Hold'em one, but this year the buy-ins will be swapped for those two events, making for a AU$2,200 Six-Max No-Limit Hold'em and a AU$5,000 8-Game Mixed.
Of course, the AU$10,000 Main Event will be the granddaddy of them all, but it's quite the treat to be able to feast on 10 more piece of gold as we lead into the November Nine. Seeing which players will emerge victorious and write their place in poker's history books is something everyone can be excited for.
3. Negreanu Returning for Back-to-Back Chances
Last year, Daniel Negreanu ignited his run to a second WSOP Player of the Year title at WSOP Asia-Pacific. He final tabled one event and then went on to win the Main Event for AU$1,038,825 and his fifth gold bracelet. With the success Negreanu has already had during the summer's WSOP in Las Vegas, there are two possible back-to-back stories that we need to keep an eye on.
First, Negreanu will have the chance to remain as the only player to win the WSOP APAC Main Event if he is able to defend his title. While being the one winner from a field of 400-500 players is considered a long shot, one must pin Negreanu as one of the favorites to be able to win. Just look at his success over the years, but more importantly his success in the recent year. Hint, it's amazing.
Second, as outlined above, Negreanu has the chance for a back-to-back WSOP Player of the Year title and his third overall. Although he's about 200 points off the pace, Negreanu can really make anything happen if he's able to deliver. We all know "Kid Poker" has plenty of "intentions," and you best believe he intends on winning another bracelet and capturing his third Player of the Year title.
The two players Negreanu is chasing the hardest are Shack-Harris and Danzer. We already know that all three players can play all the games very well, but Negreanu may get the tip of the cap when it comes to no-limit hold'em. With six no-limit hold'em events on the schedule, and one of them being a big buy-in of which Negreanu regularly excels in, this is where the six-time gold bracelet winner could make up the most ground.
Don't forget, the 2014 WSOP Asia-Pacific kicks off on Oct. 2, so buckle up and get ready for an exciting ride.
Get all the latest PokerNews updates on your social media outlets. Follow us on Twitter and find us on both Facebook and Google+!