My First WCOOP: Team Pro Andre Akkari Talks About His First Time Playing from Brazil

Chad Holloway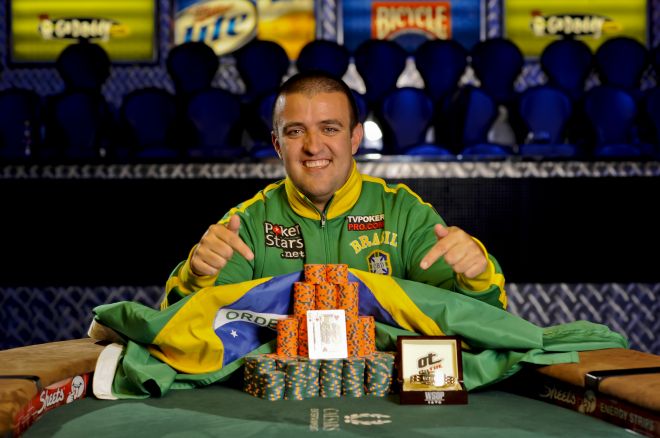 PokerStars is currently hosting the 2014 World Championship of Online Poker (WCOOP), which began on Sept. 7 and offers 66 events and $40 million in guaranteed prize money through Sept. 28.
The festival will be highlighted by a $5,200 buy-in Main Event with a $10 million guaranteed prize pool. The two-day Main Event will take place Sept. 28-29 and, for the first time ever, the final will be broadcast live. Commentary will be provided by the EPT Live team of James Hartigan and Joe Stapleton, plus members of Team PokerStars.
In preparation for this year's WCOOP, PokerNews previously spoke with Team Online's Naoya Kihara about his first time playing WCOOP, and we've decided to follow that up by doing the same thing with Team Pro Andre Akkari.
PokerNews: Thanks for taking the time to be a part of our "My First WCOOP." When was the first time you played the WCOOP?
Akkari: My first WCOOP was in 2008. It was a huge series with a lot of big tournaments like the $25,000 Heads-Up and $10,000 H.O.R.S.E.
What sort of schedule did you play that first year?
I played a lot of events, including the big ones — the Main Event, $25,000 Heads-Up and the $10,000 H.O.R.S.E. I got second place in the HORSE for $200,000. It was my biggest online result and was incredible. I had been winning online for some years, but the WCOOP brought me my best result so far.
Where did you play from that first time? Does it differ much from where you play nowadays?
I played in my first apartment in Sao Paulo, a small place, comfortable, but without the necessary conditions to be an online grinder during that time. I was starting my online career, but it was enough to bring me good results.
After that, my career started to explode, especially online where I have more than $3 million. With it, I have bought a new house with a great office — the perfect setup to play online. We built a Poker Training Center in Sao Paulo — it's like a farm with the perfect conditions to be a professional poker player. We launched it in 2012 and since then I have been grinding there with 15 professional poker players — the Akkari Team.
What's your best memory from that first WCOOP? Is there a worst memory?
My best memory so far is that H.O.R.S.E. final table. The field was incredible with all the Team Pros, Daniel Negreanu, Barry Greenstein, Chris Moneymaker — all my friends and incredible players were there and I got second place, which was a really special moment for me.
The worst memory was in 2013 when I got 14th place in the Main Event. I was the chip leader with 20 left, but then busted in 14th, which was devastating for me. It's part of the game, but the Main Event is a special opportunity to make history, especially after I built my career online, so it was a really bad moment for me. I wanted it so much. So, it'll happen in 2014!
Did you make any mistakes, be it playing or in your preparation, in that first WCOOP that you've since learned from?
In that first time, I didn't have the knowledge that I have now about being a professional poker player. From bankroll management to workout routines, I probably made mistakes all around. Now, I consider myself 100 times more prepared to play the WCOOP and to be a professional poker player.
Now I know how the mind should be connected to a good body condition, how you have to be serious with your bankroll and play just the events that fits. This is a normal history of a human being — make mistakes, learn, improve and collect.
What are your plans for this year's WCOOP — where will you be playing from, what's your schedule looking like?
I will be playing from QG Akkari Team, the poker training center here in Sao Paulo. I'll play between 15 and 25 events, including the Main Event and some other big ones, playing all Sundays, Tuesdays, but avoiding Mondays and Fridays to relax and enjoy my family.
The WCOOP is the real world championship of online poker. If you are a professional poker player, you will feel a special emotion to be playing this series. The energy and the adrenaline are always there, and you will have the chance to test your skills against the best players in the world, it's incredible. This is the emotion that I have when I played my first WCOOP and I still have when I know that another WCOOP is coming. I am so excited to play it again, I can't wait to start the action.
Get all the latest PokerNews updates on your social media outlets. Follow us on Twitter and find us on both Facebook and Google+!