Five Thoughts: The Seminole Hard Rock Misses the $10 Million Guarantee and More

Rich Ryan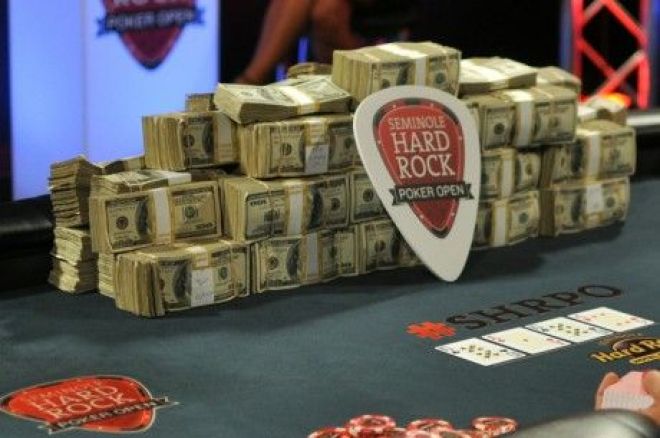 With the power of Facebook and Twitter, doom and gloom can spread quicker than a wildfire in Northern California. When registration closed after Day 1c of the second annual $10 million guarantee at the Seminole Hard Rock in Hollywood, Florida, and we learned that they fell $2.5 million short of the guarantee, Global Poker Index owner Alex Dreyfus asked the following:
Is something wrong in US/Poker? @WPT Legends entries is less than last year, and @shrpo didn't reach guarantee. What's next?

— Alexandre Dreyfus (@alex_dreyfus)
It's a fair question. In 2013, SHRPO attracted 2,384 entries and smashed the guarantee by nearly $2 million. This year's event only brought in 1,499 entries — a 37-percent decrease — and missed the guarantee by a mile. The stark falloff is very scary on the surface, but it's not as if the Seminole Hard Rock did anything differently this year that negatively affected event. If anything, they improved the event by allowing direct buy-ins on PokerStars.
Let's not forget they also held the $5 million guaranteed World Poker Tour Seminole Hard Rock Poker Showdown in April, which cleared the guarantee by three-quarters of a million dollars. In these three big-guarantee events alone, the Seminole Hard Rock has paid out $27,683,150 in prizes. That's impressive no matter how you cut it.
No, SHRPO didn't miss the massive guarantee because Americans are playing less poker. They missed the guarantee because Americans have more options than ever, and chose to play in their own backyard, a softer tournament, or a smaller buy-in event.
1. A Buyer's Market
Casinos in or near the cities of Los Angeles, Dallas/Oklahoma City, Pittsburgh, Cincinnati, Montreal, and Calgary all held "main events" during the $10 million guarantee. I am certain that there are a gaggle of other cities across the continent that also had marquee tournaments, and if you played in one or know about one feel free to add it in the comments below. The combined prize pools from the WPT Legends of Poker, WinStar River Poker Series, Pittsburgh Poker Open Summer Series, Labor Day $500,000 Deepstack, and Playground Poker Montreal Festival were over $7 million. Combine that with the $10 million guaranteed in Florida, and you get $17 million in prize pools.
And you thought poker was dead?
SHRPO's missed guarantee will make headlines, and deservedly so, but I think it's actually a huge positive that there was so much great tournament poker available this past week that dozens of professionals passed up a multimillion-dollar overlay so that they could play at their home casino or capitalize on perceived value elsewhere.
It's paramount to remember that local players are a key component to the success of a live tournament. During Labor Day weekend, there is a general abundance of free time. Grilling, drinking beer, and watching baseball can only be entertaining for so long, so offering a big guaranteed poker tournament during a three-day weekend can be a great source of revenue for a card room. So there's no wonder that the aforementioned venues that operate thousands of miles away from one another held conflicting events over the weekend. Sure it's nice when folks travel to the tournament, especially if you're posting a seven- or eight-figure guarantee, but the main focus of your average brick-and-mortar casino is to appeal to local players.
Some professionals and amateurs started banging the "multi re-entries are evil" drum, none louder than Dan Shak.
@msalsberg @SavagePoker I stand by my opinion that all these multi-day entry and unlimited re-entry events will drain all the bankrolls

— Daniel Shak (@daniel_shak)
Shak's argument leads me to ask two questions, neither of which I have the answer to:
1. Do multiple re-entry events have adverse affects on the average poker bankroll?
2. Does the success of travelling pros correlate directly with the success of individual tournaments?
Obviously if a player fires multiple entries at multiple stops and doesn't cash, they will have less money. No one can argue this premise, it's just simple math. However, do we really know if the invention of multiple re-entry tournaments has had adverse affects on the average poker bankroll? The answer is a resounding no, because we don't have a defined sample of events. We're just guessing based upon the information we've been presented, which is all we can really do.
In reality, it's impossible to tell if multiple re-entry tournaments drain bankrolls faster than cash games or side events. In the past, when players busted out of the main event at a certain stop they hopped into a side event or a cash game. Now, with the proliferation of re-entries, they simply fire another bullet. This is still the case on the European Poker Tour, where there is a festival of tournaments surrounding each single-entry main event. Are players losing less money travelling to EPT's because they only fire one bullet in the main event and play side events or cash games, or are they losing the same or more?
Professional poker players fire multiple bullets in tournaments at a much higher rate than amateur players. Some argue that this is a turnoff for amateur players, leading them to skip events in fear of facing Daniel Negreanu 10 times, but until I see data supporting this argument I will continue to believe that it is a myth. Just because one amateur tweets about boycotting a tournament due to multiple re-entries doesn't mean there aren't a whole host of others that are celebrating when they win one bullet in a mega satellite. It's certainly annoying that professionals have more lives than amateurs, and I sympathize with those that end up not playing, but I don't think those infrequent decisions reduce prize pools or player fields.
As for the second question, I'd like to see a breakdown of travelling pros vs. locals for various events. Then, the next time the venue hosts a big tournament, compare the travelling pros with the previous travelling pros. My hunch is that there will be a discernible amount of turnover for various reasons: there are new "pros," old pros move on from poker, there are different tournaments going on etc.
Besides online qualifiers, local players are the backbone to any event, and their presence can and will attract professionals looking to prey on weaker players in big fields with large prize pools.
The live poker tournament circuit has become a buyer's market, and travelling pros are looking for the best value possible – even if that means saving on a plane ticket and playing at their local venue.
2. SHRPO $100K
On Monday, there were a flurry of tweets from Scott Seiver, Ryan Fee, and the other players that participated in the $100,000 super high roller at SHRPO about a sudden change in the prize structure after the event had kicked off.
Evidently, less than a level into the tournament and with registration still open, a floorperson misspoke and said that the tournament would pay two places. After the day ended and only five players bagged, they were then told that three spots would receive money, which is actually what was planned all along. Seiver, the chip leader, lobbied against paying three places while the other four players left the tournament area. Whether it was based upon Seiver's argument or not, the staff reversed their decision and decided to go back to paying two players.
Jason Mo, who was among the five players, added the following on TwoPlusTwo:
After this went down, the floor tried to lie to me by saying payouts were 2 in their computer all along. I asked to see a sheet, the floor guy left and came back empty handed and said I was right. The floor basically admitted to us they were at fault for everything but refused to refund the ICM equity lost or even the absurdly high rake.
I refuse to speculate further because all I have is a TwoPlusTwo thread and some tweets, so unfortunately that's the only "information" I can present.
Before Day 2, which was live streamed by PokerStars.tv, the Twitter debate raged on and everyone chipped in with their two cents. Mike McDonald offered the following solution on TwoPlusTwo:
Cancel the tournament, refund rake to the players who are out, give each of the remaining players whichever is higher between their ICM value with 2 pay, and ICM value with 3 pay, fire whoever is TD and pretend the overlay in the main event was 2.6m instead of 2.5m.
Minus the whole firing part, this seems quite reasonable. Knowing that there's a live stream, however, there was no way this was going to happen. So there were only two viable solutions: pay two players or pay three players.
That's when the brilliant Ike Haxton stepped in to give his solution on TwoPlusTwo:
What you're saying here shows a fundamental misunderstanding of how tournaments do and should work. Payout structure given n players should be (and usually is) public information before the tournament starts. They don't put the payouts on the board until registration is closed and payouts are final. At no point, however, should there be any lack of clarity about what payouts would be given n entries. If that information isn't available, players must demand it be made available immediately, especially in a small field tournament. The difference between paying 22% or 33% of the field impacts play (and re-entry) decisions beginning level 1.

Once it's been announced that two spots are being paid, and play proceeds with the full field understanding that that is the payout structure, you can't change it just because it's written down somewhere (apparently not publicly and readily available) that 9 player tournaments at the Hard Rock are supposed to pay three spots.
Human error exists. This is surely a foreign concept for some of the whiz kids that populate six-figure buy-in events, but people screw up. It happens. In this case, someone screwed up and everyone at the table knew of the screw up and was able to adapt accordingly. It's like when a table accidently plays an orbit at a different blind level than every other table in a tournament. The dealer doesn't calculate the amount of chips that passed hands in the interim when he or she realizes that they're playing the wrong blind level, rather you correct the mistake and move on.
So that's what the Seminole Hard Rock did, keeping the payouts at two spots. In an attempt to rectify their mistake, they also retroactively added $50,000 to the prize pool – double the rake – to award to third place. Ironically enough, Seiver busted in third when his


was cracked by Fee's


.
Jake Schindler was crowned the champion, defeating Fee heads up to earn $570,375. It was Schindler's third victory of 2014 – he won the $25,000 High Roller at the PokerStars Caribbean Adventure and the $10,000 Summer High Roller Series V – and his sixth six-figure score. In total, Schindler has earned just under $3 million this year.
3. Arutyunyan Wins First Televised Event of Season XIII of the WPT
Season XIII of the World Poker Tour officially kicked off with the 3,599-entry partypoker presents WPT500 at Aria this summer, but the WPT Legends of Poker this past week was the first televised Main Tour stop. The $3,700 buy-in event attracted 593 entries, including 27 "Quantum Reloads" for $10,000.
Harry Arutyunyan entered heads-up play against Mike Eskandari at a four-to-one chip disadvantage, but came roaring back to defeat the local pro and etch his name on the WPT Champions Cup. Arutyunyan earned $576,369 for his efforts. Here's a look at the entire final table payouts:
| Rank | Player | Prize |
| --- | --- | --- |
| 1 | Harry Arutyunyan | $576,369 |
| 2 | Mike Eskandari | $330,110 |
| 3 | Tyler Kenney | $213,600 |
| 4 | Taylor McFarland | $145,640 |
| 5 | Tyler Cornell | $103,560 |
| 6 | Jeremy Kottler | $83,075 |
This was Jeremy Kottler's third appearance at a WPT final table, but he's never finished higher than fourth place. Tyler Kenney, the younger brother of Bryn Kenney, also fell just short, but the $213,600 he earned for third place was the largest live score of his career.
Arutyunyan scored a double elimination during five-handed play that saw him rocket up the chip counts and put him in contention. Tyler Cornell moved all in for exactly one million with the blinds at 50,000/100,000 with a 10,000 ante. Arutyunyan called, Taylor McFarland moved all in for an additional 310,000, and Arutyunyan once again called.
Cornell:



Arutyunyan:



McFarland:


Arutyunyan spiked an ace on the



flop, and scored the double knockout as the turn and river bricked off

,

respectively.
All of this took place on the brand new WPT television set, which is flanked by giant LCD screens and an all-new Monster Bar. Feast your eyes below: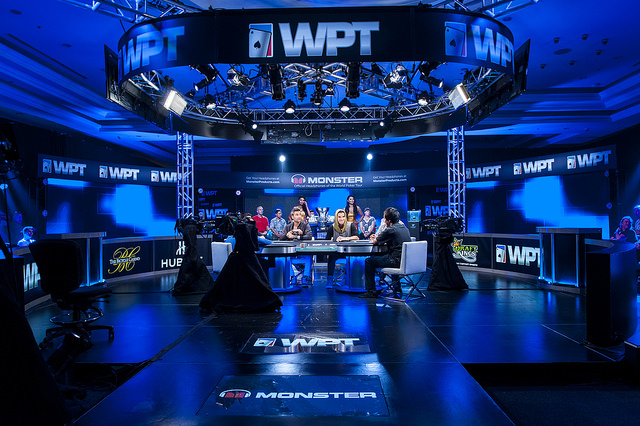 The World Poker Tour jets to Cyprus for the partypoker WPT Merit North Cyprus Classic, starting this Friday. PokerNews will be on hand to provide live updates straight from the tournament floor.
4. Blom vs. Hansen
Full Tilt Poker is at it again, pitting their two most recognizable representatives up against each other in the Heads Up Showdown.
Starting on Sept. 14, Viktor Blom and Gus Hansen will battle for a $50,000 prize. The best-of-three heads-up match will include three different variants of poker: stud eight-or-better, no-limit 2-7 triple draw, and a game to be decided by public vote on the Full Tilt Blog.
The loser either has to play 1,000 hands of micro-stakes razz or record and publish a video of themselves singing the victor's national anthem. Blom looks like he could be in a boy band, so if he loses then the latter seems like an obvious choice.
Fans can also get in on the action by depositing $20 and earnings as little as 50 FTP points before Sept. 7. Once achieving both, they will be able to play in either the $10,000 Gus Supporters Freeroll or the $10,000 Viktor Supporters Freeroll. Those who pick the winner of the Heads Up Showdown correctly will also be placed in a $30,000 freeroll as well.
It's hard to get Blom anywhere – he skipped the entire WSOP and seems to just do whatever he pleases – so this is a great way for Full Tilt to maximize his exposure and try and get their players juiced up a bit. Hansen is a bit more accessible, and he's always up for a challenge. If this was a best-of-15 series with ping-pong, beer pong, and PONG, Hansen would be all in.
Even better than pitting Blom against Hansen, I think matching both of these players with a qualifier would be even better. In fact, why not have these potential qualifiers battle against Hansen and/or Blom battleship style, like they did with their challenge at EPT London in Season 9.
In this match, I'll take the Great Dane. Hopefully the final variant won't be pot-limit Omaha…
5. Shiny New Things
In preparation for the upcoming Garden State Super Series, partypoker.com and BorgataPoker.com released a comprehensive software upgrade for their clients in New Jersey. The overhaul includes a brand new tournament lobby, enhanced in-game features, and improved geo location.
In addition, during the Borgata Poker Open, players can deposit and withdraw online funds from the cage.
In the lobby, players can now see all of the pertinent information for each tournament. Satellites are also clearly marked now, so players will know exactly what kind of event they're registering for. Sit-n-Go's are also grouped now, helping users narrow their search and decipher exactly what buy-in level they want.
In cash games, players are now able to preselect auto-rebuy. In tournaments, the same option is available for add-ons and re-buys. There are also other very helpful in-game upgrades like improve hand histories, a heads-up rematch button, and a focus on details like the current blind level.
The improved geo location offers "greater certainty and increased accuracy" for mobile users, according to partypoker. In my opinion, geo location is one of the biggest issues with the regulated online poker sites in New Jersey. Having grown up in the Garden State I have plenty of friends still living in NJ, and all of them have complained about each and every site when it comes to geo location. Unfortunately for partypoker and the like, all they're doing is complying with the New Jersey Department of Gaming Enforcement.
The $1 million guaranteed GSSS kicks off this weekend with several tournaments, including a $200 buy-in $75,000 guarantee. The event is highlighted by the $200 buy-in, $200,000 guarantee Main Event on September 14, which guarantees a $50,000 prize for first place.
Get all the latest PokerNews updates on your social media outlets. Follow us on Twitter and find us on both Facebook and Google+!