Best of the British Isles: Leigh Wiltshire 2014 Sky Poker UKPC 6-Max Champion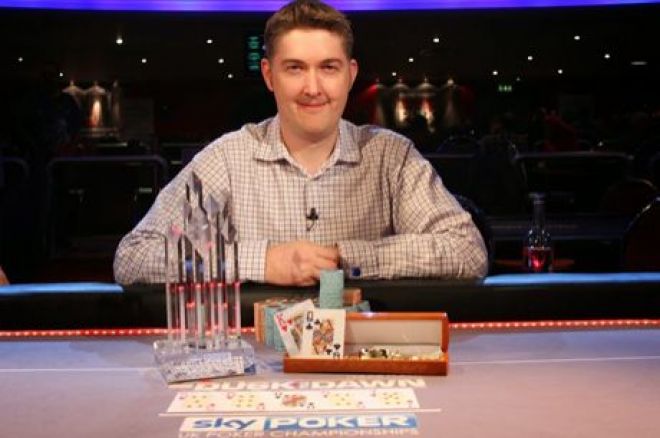 A couple of weeks ago, Leigh Wiltshire did the unthinkable and turned a £0.01 satellite victory into £110,000 when he navigated his way through the shark-infested waters of the £500,000 guaranteed Sky Poker UK 6-Max Poker Championships.
I've crossed paths with Leigh on numerous occasions in the past, thanks to my role with UK PokerNews and Leigh's with the Amateur Poker Association & Tour (APAT). Previous to meeting Leigh at the Sky Poker UK 6-Max Poker Championships, the last time I chatted with him was at the ISPT Wembley Main Event where he finished 16th. Maybe I am his good luck charm, or maybe he is a much better poker player than he gives himself credit for. The truth lies somewhere in between, I am sure.
I caught up with Wiltshire, via the beauty of Skype, a couple of days after his epic victory.
"It's been a bit of a crazy few days, hasn't it, since we spoke last week! What's amazing, Matt, is the number of non-poker friends who were completely into it despite having no comprehension of what was going on! I can't get over the number of comments and stuff from people, that sort of thing is more than humbling, it's just ridiculous!"
As I expected, Leigh was humble from the outset of the interview. His tone was that of a man who couldn't believe that he had accomplished an amazing feat. Many others would have been bragging about how they are the best poker player in the world — aka 2013 World Series of Poker Main Event winner Ryan Riess — but Leigh just seemed delighted to have won. He was even at work when we chatted and had gone to work the day after winning £110,000.
"I booked a hotel for Sunday night (the night after winning the tournament) because it was getting a bit late, then I drove back Monday morning, spent yesterday doing a business plan for a client that I had promised I'd complete before close of play yesterday, and that took twice as long as it probably should have done! Today, I'm currently sat in a bar in Southampton that is owned by one of my clients, and where I spend my Tuesdays, with people dipping in and out going "nice one!""
If you're thinking that Leigh fluked his way to victory you would be mistaken. In six-max tournaments there is nowhere to hide if you have a tough table draw and they didn't come much tougher than one of the tables Wiltshire found himself on.
"I got moved and was looking at my table and as I was walking over I was thinking "Great, so that's Sam Trickett then!" I learned a lot from watching him play; he's so relaxed and always in control of what he's doing. We got chatting a bit and then our table broke and we were moved to the feature table so the next thing I know I'm sat mic'd up on the feature table with Sam Trickett!"
Not only did the accountant from Wales avoid being demolished by Sam Trickett, he busted him on the stone-cold bubble!
"We got it all in on a



board, I had a set of deuces and I think Sam had an open-ended straight flush draw! The cards had to stay face down while the tournament staff sorted everything out and Sam asked me what I had. I told him I had deuces and as soon as he told me what he had, I thought to myself 'This is Sam Trickett, he's going to bloody hit isn't he!' But he didn't and he busted on the bubble."
Trickett would later send a congratulatory tweet to Wiltshire while he was grinding the High Roller at European Poker Tour Barcelona — those Manchester United fans have to stick together!
It wasn't only Trickett who Wiltshire sent to the rail, the legendary Neil Channing and Stephen "allinstevie" Devlin both felt Wiltshire's wrath and busted at his hands.
If I had won £110,000 from a poker tournament, my girlfriend would have had it spent before I had made the 90-minute journey from Nottingham to Huddersfield, but Wiltshire is more controlled than that and won't be splurging his winnings on a series of gadgets or cars.
"The money just hasn't sunk in, it doesn't even register at the moment. I suppose when it's in your bank account and you look at it and go "OK, Wow!" then you start to have proper conversations about what you're going to do with it."
He will be making the pilgrimage to "Sin City" sooner rather than later, though.
"I was going to go to Vegas next year for my 40th anyway, because I've never been."
When he's not eliminating poker stars from major tournaments, or saving clients money from their tax bills, Wiltshire spends his time maintaining The Pokeriety, a rapidly growing poker portal.
"I set it last year with a couple of the guys, Stuart Oliver and Mark Rowbottom, we wanted to do something that got a group of us to get together and play more events because poker is much more fun when you go somewhere with people you know and you can rail each other etc and I did my usual thing of "I'll build a website for it!" and it's evolved from there."
"I then got to thinking about what I'd want from it; all the news in one place would be handy, all the events in the same place would be handy and where I could learn a bit of strategy and that sort of thing. "
"We don't take credit for any of the work done, everything links back to the original source, so all the credit goes where credit is deserved."
Wiltshire's other passion is the Labrador Rescue Trust where he and his girlfriend are volunteers. The charity re-homes Labradors in the South-West of England and recently re-homed it's 10,000 dog! How did he get involved with a dog charity?
"My girlfriend has been the treasurer of the charity for a long time. She's an accountant who specialises in not-for-profit so she got involved with them, then I got involved, mainly looking after their website and social media side of things, in addition to going to summer fares and helping with fundraising."
Eventually, raising money for the loyal four-legged critters wasn't enough. Wiltshire and his girlfriend needed more.
"We rescued one, then rescued another and then Christmas before last we got a third one!"
You can check out the full audio version of this interview if you fancy getting a feel for Wiltshire's passion for the game and a more in-depth look at his amazing victory including a few key hands that, obviously, went his way!
Get all the latest PokerNews updates on your social media outlets. Follow us on Twitter and find us on both Facebook and Google+!