Leigh Wiltshire Wins the 2014 Sky Poker UKPC 6-Max Main Event For £110K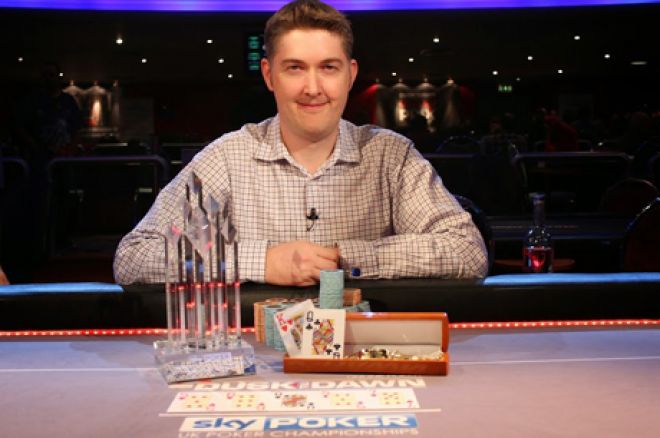 Sit down and close your eyes for a few moments and try to allow your mind's eye to conjure up an image of the perfect poker champion. Would they have worked tirelessly to promote poker to the masses? Would they be involved in helping the game at grass roots? Would this champion be regarded as one of the nicest people you've had the pleasure to meet? If this sounds like the perfect champion to you, you are in luck because on Sunday night Leigh Wiltshire won the 2014 Sky Poker UK 6-Max Poker Championships Main Event and its £110,000 first place prize.
It's hard to find faults with Wiltshire. I mean not only was he heavily involved in the Amateur Poker Association & Tour and has spent countless hours ushering in new blood to the poker world, the guy is also a volunteer at The Labrador Rescue Trust. Rumours of him turning water into wine and helping the blind see again are also circulating.
Now he has a major title in the game he loves, and he is a worthy and true champion in every sense of the word.
2014 Sky Poker UK 6-Max Poker Championships Main Event Final Table
| Seat | Player | Chips |
| --- | --- | --- |
| 1 | Stephen Devlin | 4,000,000 |
| 2 | Abhishek Khaitan | 11,780,000 |
| 3 | Neil Strike | 675,000 |
| 4 | Andy Young | 4,545,000 |
| 5 | Leigh Wiltshire | 2,080,000 |
| 6 | Paul Haycock | 1,950,000 |
Play at the final table commenced at 12:00 p.m. on Sunday afternoon and saw six players in the hunt for the £110,000 first place prize. Wiltshire started fourth in chips, which sounds worse than it actually was because his 2,080,000 stack was still the equivalent of 40 big blinds such was the great structure created by Sky Poker and the Dusk Till Dawn (DTD) management team.
Around 90-minutes into proceedings, Wiltshire scored a full double-up through the start-of-the-day chip leader Abhishek Khaitan. Wiltshire raised to 280,000 from the small blind and Khaitan called in the big blind. Both players checked the



flop, with Wiltshire checking the

turn. Khaitan led for 455,000 only to see Wiltshire check-raise all-in for 1,300,000. Khaitan called and showed


for nothing but an inside straight draw because Wiltshire held


for a set of queens. The river bricked and Wiltshire's double was complete.
Ten minutes after Wiltshire's double, the final table lost its first player.
Stephen "allinstevie" Devlin raised to 130,000 and Paul Haycock called from the big blind. Haycock then led for 150,000 on the



flop and Devlin called. The turn brought a

into play and Haycock jammed all-in with the


and Devlin called with the


that had turned a straight. There were two spades on the board meaning Haycock still had plenty of outs to come from behind with, but none of them appeared on the river and he busted in sixth place, a finish worth £16,000.
Another 20 minutes passed by before Neil Strike lost his stack and became the fifth place finisher.
The action passed around to Khaitan in the small blind and he set Strike all-in with the


. Strike called off his chips with


and although Strike paired his ten on the flop, Khaitan flopped and ace, turned trips and then rivered quads to send Strike to the cashier's cage to collect £20,000.
Four-handed play lasted the best part of three hours and ended with the demise of Andy Young. A raise to 200,000 from Young on the button was called by both Wiltshire and Devlin in the blinds. Wiltshire checked the



flop, Devlin bet 300,000 and was raised to 750,000 by Young. Wiltshire then leapt into life with a check-raise to 1,650,000. Devlin folded and Young called.
The turn was the

and Wiltshire set Young in for the rest of his 3,000,000 chips. After much deliberation, Young called and flipped over


, which was smashed to pieces by the


in Wiltshire's hand. The

river failed to alter the course of the hand and Young was gone in fourth place for £27,500.
Third place went to the dangerous foe Devlin as the hands of the clocks made their way around to 6:45 p.m. Wiltshire opened to 360,000 on the button and Devlin three-bet to 850,000 from the small blind. With the action back on him, Wiltshire four-bet to 2,000,000 and then called when Devlin five-bet all-in!
Devlin showed


to Wiltshire's


and was drawing dead by the turn of the





board. Devlin took £40,000 back to Ireland.
After acquiring Devlin's chips, Wiltshire went into the heads-up battle with Khaitan holding an 18,000,000 to 7,000,000 chip lead, yet it was far from a done deal. In fact, the heads-up battle spanned across three hours and saw the lead exchange hands on numerous occasions. But nobody remembers about that, all they will remember is the final hand of the £500,000 guaranteed event which saw all the chips go into the middle, Wiltshire holding


an Khaitan


. The board ran





and with that victory was Wiltshire's!
2014 Sky Poker UK 6-Max Poker Championships Main Event Final Table Results
| Place | Player | Prize |
| --- | --- | --- |
| 1 | Leigh Wiltshire | £110,000 |
| 2 | Abhishek Khaitan | £70,000 |
| 3 | Stephen Devlin | £40,000 |
| 4 | Andy Young | £27,500 |
| 5 | Neil Strike | £20,000 |
| 6 | Paul Haycock | £16,000 |
So there you have it, the 2014 Sky Poker UK 6-Max Poker Championships Main Event champion is Leigh Wiltshire and I think it is safe to say that never before has there been a more popular and deserving champion. Congratulations! Enjoy the winnings and make sure you spoil the dog!
Lead image and data courtesy of Sky Poker
Get all the latest PokerNews updates on your social media outlets. Follow us on Twitter and find us on both Facebook and Google+!