Five Thoughts: Ivey Posts Bail, Hellmuth Eats a Burger, and Crown Makes Headlines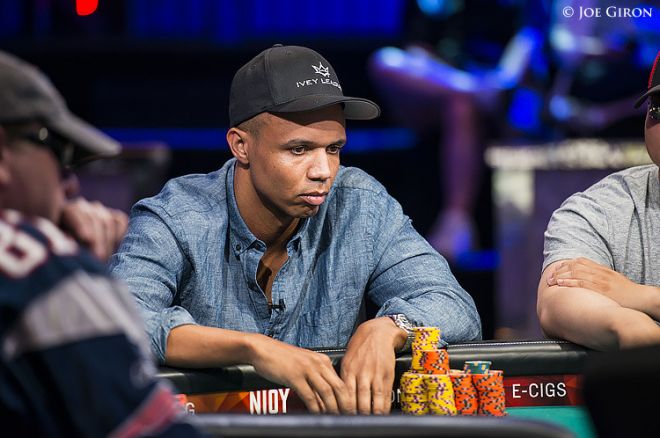 Over the course of the 32-day tournament, the 2014 FIFA World Cup was constantly a topic of conversation at the World Series of Poker. Poker players, fans, and media members from dozens of different countries came together to discuss the happenings in Brazil, and when the games were on, we all huddled around the flat-screen televisions in the Amazon Room to try and decipher what was happening because the games were only available in standard definition.
The Germany-versus-Brazil semifinal was a particularly memorable scene, because the action was growing tense on Day 2 of the Main Event, yet the entire poker room exploded into a chorus of cheers every time the Germans found the back of the net.
On the penultimate day of the summer, Germany defeated Argentina in extra time to raise the Copa do Mundo, and all seemed to be normal once again in the poker world. Until the next day.
There were 27 players left in the Main Event, and Day 7 action had just kicked off when someone sent me a link on Skype to a Las Vegas Review-Journal article. Upon clicking it, I saw a fuzzy picture of Paul Phua, who had been arrested by the FBI as part of a multimillion-dollar illegal World Cup betting operation.
According to the FBI, Phua is also a "high-ranking member of the 14K Triad."
Richard Yong and his son Wai Kin Yong were also arrested in connection to the betting operation that was held at Caesars Palace. Caesars was not a target of the FBI and cooperated with state and federal authorities, per the Review-Journal.
On July 29, Phua and his son were released on $2.5 million in bail posted by both Phil Ivey and Andrew Robl. Later that week, Ivey and Dan "jungleman" Cates split another $2 million to bail out Yong and his son.
"I have the utmost respect and trust for them," Ivey said of the Yongs, and both John Juanda and Tom Dwan added kind sentiments as well.
Juanda drafted a letter, calling the Yongs men of "honour and integrity," while Dwan offered his own homes in Las Vegas to the defendants as part of their release.
The landscape of super high-roller tournaments just got a bit more interesting.
1. Betting and Bailing
Phua and Yong have been staples in the super high-roller community, playing in numerous six-figure events and higher held from Macau to Las Vegas. Both gentleman took part in the inaugural $1 Million BIG ONE for ONE DROP, and they were both confirmed for the remix until they entered into a dispute with Guy Laliberté. The details are hazy, but as Jason Somerville explained on this episode of the PokerNews Podcast, Laliberté mistakenly vouched for a player who lost several million dollars to a group of Macau players then failed to make good on his vouching.
In turn, Phua and Yong boycotted the million-dollar tournament, which is one of the main reasons it didn't sell out and raise what could have been an additional $1,555,554 for charity.
These two happenings lead me to believe that Yong and Phua are going to take a hiatus from publicly covered poker tournaments. They'll continue to play high-stakes cash games in Macau — unfortunately I don't think "Hong Kong" Tom Hall will be as forthright with details — but I don't think either of these men are going to walk into a casino with dozens of media members who are eager to take their pictures and get them on camera.
In fact, look at all of these photos that you see when you Google their names and "illegal gambling." They're all from poker tournaments. None of them are from normal civilian life.
The allegations lobbed at the eight individuals arrested are very serious, as are Phua's alleged ties to the Triad. Unlike the crap story about NFL receiver DeSean Jackson's association with a gang in Southern California this Spring, the FBI clearly states "high-ranking." According to them, Phua isn't some guy who just hangs out with people associated with the group — he's among the leaders.
Likewise, most of the positive comments from poker pros seemed to be directed directly at the Yongs, though this could simply be misinterpretation.
We're left to wonder what Robl, Cates, and Ivey had to gain by posting millions of dollars to free these uber-rich gamblers from the Far East. I'm certain it's nice to be owed a multi-million dollar favour — or more — from some of the wealthiest individuals in the world. Still, it makes me wonder if Ivey is truly cognisant of his image and concerned about the cleanliness of the IveyPoker brand.
He didn't have a hand in the Full Tilt Poker drama, he hasn't been found guilty of edge sorting by Crockfords or Borgata, and all he did in this case was help his "friend," but none of these stories are positive for someone who is trying to launch a poker brand in an already saturated market.
2. Wearing the Crown
Crown Resorts Limited was in the news twice last week. On Friday, Crown Melbourne announced the schedule for the 2015 Aussie Millions Poker Championship, and three days later they acquired a 34.6-acre vacant site on Las Vegas Boulevard.
The 2015 Aussie Millions kicks off on January 14, and the 21-event series concludes on February 2. Headlining the festival is the $10,000 Main Event, and the three big buy-in events return: the $25,000 Challenge, $100,000 Challenge, and LK Boutique $250,000 Challenge.
Once again there is very little overlap between the Aussie Millions and the 2015 PokerStars Caribbean Adventure, large in part due to the ongoing partnership between Crown and PokerStars (the Aussie Millions Main Event is partnered with the PokerStars Asia-Pacific Poker Tour for at least two more years).
I feel like I've written this a million times, but I'll continue to write it because it wrings true: Crown is my favourite poker venue on the planet. Maybe it's the wonderful, overly helpful staff. Maybe it's the weather in Melbourne in January. Or maybe there's something in the food served at the food court, but I absolutely love the Aussie Millions.
The level of play in Australia is also not up to par with the rest of the world — thus you always see a ton of big names in contention towards the latter stages of the Aussie Millions Main Event.
Crown's purchase of a vacant space previously owned by New Frontier Casino is equally interesting. The space, for which they paid $280 million, has no finalized plans yet, but according to a press release the company expects to break ground in the latter part of 2015. The project could be completed as soon as 2018.
The partners in the project say they've studied the ever-shifting Las Vegas landscape for over two decades, and while everyone is shifting their attention to Asia, this group has their eyes set on Sin City. Exploiting market inefficiencies is a great way to make a lot of money, and maybe Crown and company see a pending shift in the otherwise lethargic Las Vegas real estate business.
3. Poker Brat vs. BBQ
In April, 13-time WSOP bracelet winner Phil Hellmuth tweeted a picture from a commercial shoot for fast-food chain Carl's Jr.. Now, the video is finally available.
[VIDEO]<iframe width="560" height="355" src="//www.ispot.tv/share/7jYL" frameborder="0" scrolling="no" allowfullscreen=""></iframe>[/VIDEO]
Wait. That's it? No lines? No blow ups? Just Hellmuth shoving a sloppy, giant, half-pound hunk of meat into his grill? Phil Hellmuth, the guy who we love because he just can't shut up, is now on national television shutting himself up with a glistening gob of fat and BBQ sauce.
Brilliant.
Beyond Hellmuth's silence, he takes a few more beats along the way. First, his lower third says "Texas Hold'em Champion." I get it, the burger has "Texas" in the name, but there are tens of thousands of "Texas Hold'em Champions." Even I've won a sit-n-go or two. Hellmuth is the most decorated player in the history of the WSOP, and even though he can also be the most annoying player in the history of poker, he is more deserving of a proper lower third.
Another beat delivered to Hellmuth from Carls Jr. is the lack of signage on his shirt. Hellmuth proudly wore his own hat with the number 13 on the side, but he isn't wearing any Aria logos or patches. If the Poker Brat was able to patch himself up for this shoot, I'm sure he would've been covered with more logos than Jimmie Johnson. Instead he is left to wear a plain, black button-up.
Did Hellmuth even take a proper bite, or is this the work of Hollywood shenanigans? Freeze the video at :10 and take a look with me. Is any of that in his mouth? Is this CGI? Did Michael Bay direct this Carls Jr. commercial?
Despite the several bad beats delivered to Mr. Hellmuth, this is a fun little 15-second spot. Hopefully there are some extras floating around somewhere with him crashing a car in the parking lot.
4. Poker Social Media Ratings
PokerStars recently linked up with social monitoring tool FollowerWonk to uncover the top poker players in the social media world. Team Pro Daniel Negreanu topped the ranks, and following him are Ivey, Liv Boeree, and Joe Hachem.
The rankings include Facebook, Twitter, YouTube, and Instagram.
| Rank | Player | Twitter Followers | Facebook Likes | Social Score |
| --- | --- | --- | --- | --- |
| 1 | Daniel Negreanu | 306K | 122K | 78 |
| 2 | Phil Ivey | 957K | 194K | 73 |
| 3 | Liv Boeree | 86.2K | 55K | 68 |
| 4 | Joe Hachem | 29.7K | 17.9K | 65 |
| 5 | Jason Mercier | 88.5K | 41.2K | 63 |
| 6 | Antonio Esfandiari | 161K | 68K | 58 |
| 7 | Jonathan Duhamel | 49.1K | 36K | 58 |
| 8 | Sam Trickett | 37.3K | 8K | 57 |
| 9 | Bertrand Grospellier | 50.1K | 12K | 56 |
| 10 | Phil Hellmuth | 194K | 73K | 55 |
Imagine if Ivey actually ran his own accounts and shared more interesting things. He has more than three times Negreanu's followers on Twitter and nearly 200,000 likes on Facebook. His reach is massive, but his message is lacking.
It isn't a surprise that Negreanu scores so high. He manages both of his accounts very well and has a large following, but I was very surprised by Boeree and Hachem. I always knew that Boeree was very important to the PokerStars brand, and they try and get her on their platforms as much as possible, but I didn't realise her massive reach. She is associated with Raising for Effective Giving, so hopefully Boeree will be able to put her reach to good work.
Hachem's high ranking becomes less shocking when you sit and think — he has the entire country of Australia on his back.
The rest of the list makes sense. Mercier mashes, Esfandiari won the biggest tournament in history, Trickett finished second in the biggest tournament in history, Duhamel is a world champion, Grospellier is the biggest Team Pro from France, and Hellmuth is Hellmuth.
Perhaps Hellmuth, who has more Twitter followers than everyone but Negreanu and Ivey on this list, would rank higher if he shortened his hashtags and omitted dollar signs from his tournament chip count updates.
5. Throwing Around Billions
On Friday, Scientific Games Corporation "entered in a definitive merger agreement" with Las Vegas-based Bally Technologies to conclude a $5.1 billon deal.
This comes off the heels of a $4.9 billion deal between Amaya Gaming and the Rational Group, and a $6.4 billion deal between Gtech and International Game Technology.
Altogether, the three deals are worth $16.4 billion — a little less than the GDP of Brunei, and more than New Guinea, Iceland, Jamaica, the Bahamas, and Belize.
Last week Donnie Peters talked about outspending Sheldon Adelson in the battle to legitimise online poker, noting that land-based casinos are spending big bucks on pro lobbies, but billions of dollars flying around in the market will have more of a direct impact. The online poker landscape is shifting in the United States. The tectonic plates aren't moving very quickly, and grinders must continue to wait and wait and wait, but there are several positive things happening across the country.
The market sets itself, and if companies are willing to spend this much money on gaming technologies, then Adelson may find himself in a fight that even his deep pockets can't win.
Get all the latest PokerNews updates on your social media outlets. Follow us on Twitter and find us on both Facebook and Google+!