Dr_Darren Gives His Bankroll an Injection Thanks to a Triple Crown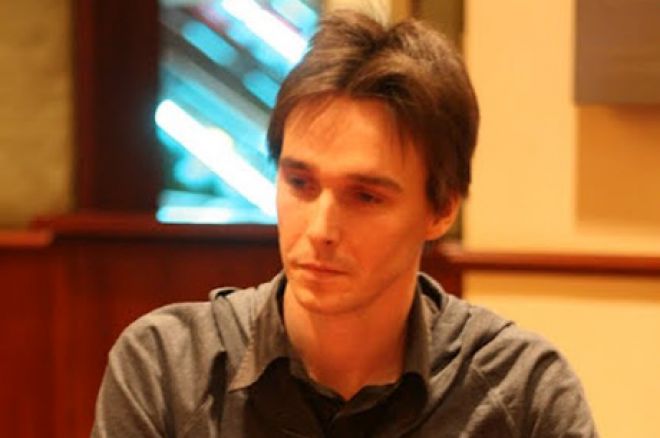 The poker community loves to read about successful players. Usually, it is the game's superstars who grab the headlines and make the rest of us mere mortals envious of their ability to win poker tournaments with apparent ease.
Earlier this week, Chris "Moorman1" Moorman, one of a select few online grinders who can claim to be a legend of the game, completed his 21st Triple Crown, an award given out by PocketFives.com to any player who manages to win three poker tournaments on three different online sites within a seven-day timeframe.
Let that soak in for a while. The fact that Moorman won three tournaments within a week is remarkable enough, but to have done it on 21 occasions is nothing short of mindboggling.
It is not only the game's greats who we should recognise, revere and celebrate because there are some talented individuals who do not play the highest stakes, yet still play at a high level. One such player is Devon's Darren Moore, a 32-year old who by day works as a researcher and by night attempts to emulate Moorman et all and grinds away at the virtual felt where he makes money from his favourite hobby.
Moore is better-known in online poker circles as "Dr_Darren" and recently secured his first Triple Crown. On July 24, Moore won Event #26 of the PokerStars.fr Micro Series, a reverse mixed max event. The following night, Moore defeated the number one ranked Brazilian Joao Mathias – who himself has three Triple Crowns – in the 888poker Friday Challenge to claim his second victory in consecutive days.
Despite winning two qualifying tournaments, Moore kept his feet on the ground during his Sunday session.
"Although I was feeling realistic that a triple crown was a longshot and not worth getting preoccupied with, I made sure I added a few extra MTTs that would qualify just in case another bink occurred."
Two of those extra tournaments were a €20 tournament at Winamax and a $5 rebuy event at partypoker. Like Moorman did when he crossed the $10 million in winnings barrier, Moore binked the partypoker tournament to get his hands on one of online poker's most prestigious awards.
A bankroll boost is welcomed by any poker player, but for Moore it means more than that. His new found cash give him the freedom to play bigger tournaments and chase even larger scores.
"In previous years I've been a bit quick to withdraw and spend money when I've had a decent score. This year one of my goals was to start with a $7k roll for MTTs set myself some bankroll management rules and grind it up. The Triple Crown took me over $20k, so it's all staying in the bankroll for online MTTs. I'll sell some pieces if there's something out of the ordinary going on like the WCOOP Challenge Series, but the Triple Crown came towards the end of MicroMillions so in general I was playing over-rolled and I don't need to pay a backer. The best thing about the cash boost is that it takes my average buy in up to the point where if I want to add in the Sunday Million regularly I now can."
Plenty of players who had gone and won three tournaments in a week may be tempted to jack in their job and become a professional poker player, yet Moore seems happy with the current mix of work during the day and playing 15 tables three or four nights per week.
"I don't think I'd ever want to have to play or have to rely on making money from MTTs with the swings involved. A long session is also draining, days off from poker are good! That said it feels like it's more than a hobby at this stage given the amount of studying I've put in, but it does pay well!"
Moore's lifetime winnings from online poker tournaments are now over $100,000 and considering his relatively low average buy-in, that figure is quite an achievement. Moore's continued success is partly down to his willingness to put the hours in away from the table where he studies CardRunners videos and sometimes sits and watches players in high stakes games, and keeping detailed notes on his opponents, but also his ability to adapt to the ever-changing conditions of the game in front of him, something Moore says is the most common mistake he sees during his sessions.
"Low stakes players just don't adjust enough, even some of the winning players. Consider all the things that we should be adjusting to: our stack size, effective stack size, position, our range, their range, board texture, our table image, antes, bubbles, ICM, who's in the pot, who's in the big blind, along with all manner of villain stats when we get in a hand. It's not enough at low stakes to wait for a good hand and proceed from there."
Those of you reading this who want to follow in Moore's footsteps will be pleased to hear that he's given a few tips that he's picked up during his many tournaments played. Tips such as not panicking when you find yourself with less than 25 big blind, or to stop trying to min-cash and instead go for the top few places where the big money is. Moore also says that you need to be aware of hand ranges, both yours and your opponents.
"Thinking about hand ranges isn't something reserved for 6max cash game players who need to balance their play against regulars. Understanding your range, your opponents' likely range and how the board interacts with both are critical."
If you play low stakes tournaments online, there is a good chance you'll be bumping into Moore at some point in your career and if you are heading to the upcoming GUKPT Goliath then he'll be there too, hoping to transfer his online skills to the live arena.
"I'll definitely be playing GUKPT Goliath and WPT500 at Dusk Till Dawn. Dublin is one city I haven't been to, so I'll be found trying to qualify for Winamax Poker Open Dublin over the next couple of months."
Congratulations to Darren Moore on what we think will be the first of many Triple Crowns and we wish you continued success at the virtual and actual felt!
Get all the latest PokerNews updates on your social media outlets. Follow us on Twitter and find us on both Facebook and Google+!