Viktor "Isildur1" Blom Wins $647,000 On Full Tilt Poker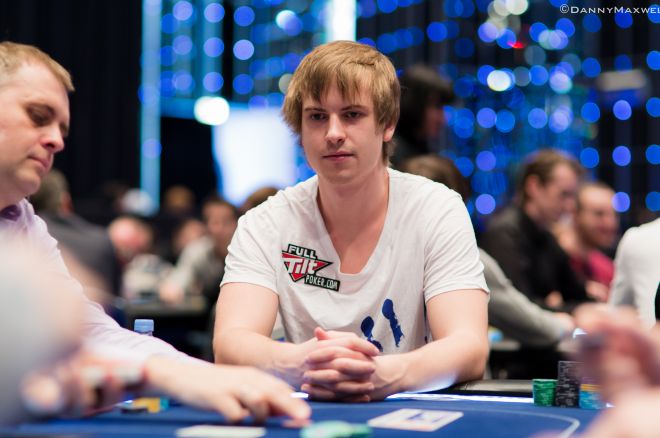 In the latest Online Railbird Report, Chad Holloway took a look back at the high-stakes online action that took place during the 2014 World Series of Poker.
From May 23 through July 23, Full Tilt Poker pro Viktor "Isildur1" Blom finished as the biggest winner with $567,862 in profit. Amazingly, Blom won more than that on Thursday alone as the day's biggest winner when he finished $647,300 up.
Blom's impressive Thursday came mostly from two sessions played at Full Tilt's FLO8 tables against player "Carlooo13," who consequently called it a night leaving the tables with the unfortunate title of the day's biggest loser.
After few unremarkable games played during the morning, Blom's first six-figure win came at the end of a two-and-a-half-hour session of $1,000/$2,000 limit Omaha hi/lo against Carlooo13 that saw Blom closing with a $116,000 profit.
Shortly after, the Swede moved Full Tilt's 2-7 Triple Draw $1,500/$3,000 tables, where her has engaged in another two-hour long battle against "thecortster", which he managed to close with a $214,000 profit.
In less time than it takes to eat a sandwich, five minutes later Blom's avatar appeared at the $2,000/$4,000 tables to play against Germany's high-stakes regular "kagome kagome."
The game between the two lasted about three hours and 40 minutes. It started very well for Blom as he quickly managed to put together a $180,000 profit. Things started to change very rapidly, however, as "kagome kagome" got back on his feet and won a good part of his losses back from the Swedish pro.
As his game against "kagome kagome" became considerably less lucrative, Blom decided to play some more $2,000/$4,000 FLO8, once again against "carlooo13." Unlike the earlier session, the new game against "carlooo13" did not take the turn Blom wanted, as the Swede started to collect a series of bad hits that brought his profit almost back to the where the day started — zero.
After the game against "kagome kagome" had ended with a $115,000 loss, the one against "carlooo13" went on for four-and-a-half hours with Blom having to reload frequently in order to be able to keep his seat at a table. Luckily for him, he was still lucid enough to get the most of out his final $40,000 buy-in and would close the game with an impressive $630,000 profit.
Besides Blom, yesterday ended up a very positive day for "kagome kagome" as well, who managed to put together an healthy $268,200 profit, further consolidating his title of 2014's biggest winner so far.
Here's an overview of yesterday's biggest winners:
| Player | Wins |
| --- | --- |
| Isildur1 | $647,300 |
| kagome kagome | $268,200 |
| ChaoRen160 | $88,600 |
| wilhasha | $83,500 |
| samrostan | $38,530 |
And here are yesterday's top five losers:
| Player | Loses |
| --- | --- |
| carlooo13 | $537,820 |
| thecortster | $214,500 |
| Trueteller | $109,981 |
| Sankler | $102,096 |
| Kanu7 | $79,273 |
Get all the latest PokerNews updates on your social media outlets. Follow us on Twitter and find us on both Facebook and Google+!