Vanessa Rousso Discusses the Inaugural Chad Brown Memorial and Charity Poker Tournament

Kim Yuhl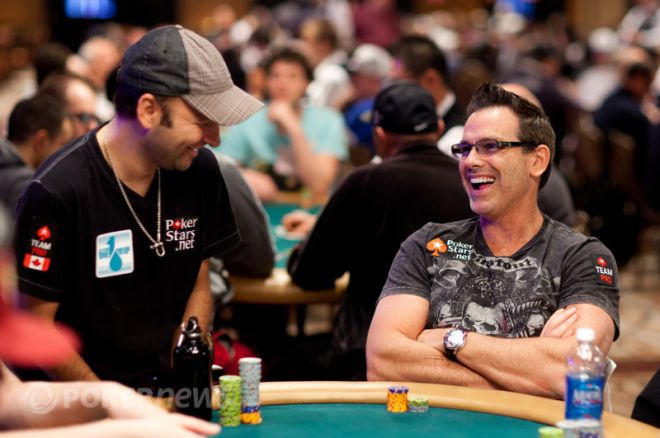 Early this month, while poker players from around the world were competing on the felt of the World Series of Poker, beloved poker pro Chad Brown lost his battle with cancer at the age of 52. Brown, who was well-respected and often referred to as the 'nicest guy in the game,' had been honored just a few days prior in a first-of-its-kind ceremony when the World Series of Poker presented with him with an honorary bracelet to celebrate his achievements in poker and in life.
Since then, hundreds of poker players and fans alike have been taking to social media to express their condolences and talk about how Brown touched their lives. Now, there's an opportunity for everyone to pay their respects and honor Brown's memory, all while supporting a great cause. This weekend, Vanessa Rousso, Jennifer Winter, Beau Eurell and Lupe Soto are hosting the inaugural Chad Brown Memorial and Charity Poker Tournament to benefit the T.J. Martell Foundation.
The T.J. Martell Foundation funds innovative medical research focused on finding cures for leukaemia, cancer and AIDS. Brown was originally diagnosed with liposarcoma in early 2011 and the T.J. Martell Foundation recently expanded its research to include this form of cancer, making it an ideal recipient of the donations raised through the charity tournament.
"I don't know if many people know this but Chad is a Leo. He loved to be the center of attention, he had a flare for the grandiose," said Rousso, Brown's former wife and close friend. "He would look at it like he was going out with a bang and celebrating his life with all the poker players that he loved. He was a poker player through and through and I know he is looking down proudly."
When we asked Rousso what the tournament means to her she responded while trying not to let her emotions get the better of her.
"Personally, it has been really tough for me," she said. "I have been there since the beginning helping Chad fight it. We thought it was gone a few times and it was obviously really disappointing every time it came back - especially the last time when it was inoperable. Chad has been preparing us for quite a while for this. This is something that I can do that is very cathartic and gives me an opportunity to pay tribute to a person that had a profound and tremendous impact on my life."
Jennifer Winter, one of Browns oldest friends and who has actually known him through each of his careers: as a baseball player, actor and poker player, adds, "Chad would be the first one to tell he lived three lifetimes in one. I know he would be so overwhelmed and full of gratitude at the generosity being displayed."
Mark Your Calendars
Inaugural Chad Brown Memorial and Charity Poker Tournament
Date & Time: July 13th, 2014 at 4 p.m.
Where: Binion's Gambling Hall & Hotel - Upstairs in the Longhorn Lounge (The Old Bull Pen)
Who: Everyone - The ceremony and tournament are open to the public.
Memorial Ceremony in Honour of Chad Brown
Details: During the ceremony, several speakers will reflect upon Chad's life and the impact he had on those around him.
Following the Memorial Ceremony, the legendary Matt Savage will be heading the floor team as tournament director for the charity poker event. PokerStars, for which Brown was a long-time pro team member, has generously offered to match all the funds raised for charity from the tournament in addition to providing the first- and second-place prizes. Sue Hammett, Director of Corporate Giving for PokerStars said, "All of us here at PokerStars are honoured to do this in Chad's name."
Inaugural Charity Poker Tournament
Date & Time: July 13th, 2014 at 6 p.m.
Details: No-Limit Holdem Rebuy Poker Tournament with $200 + $25 buy-in
The buy-in will be evenly divided between the prize pool and the charity
Each player will start with 3,000 chips and levels will be 20-minutes long
A $50 dealer add-on will be available
Players may purchase unlimited rebuys for $50 through the first six levels
All of the rebuys will go directly to the charity
Prizes
First Place (Compliments of PokerStars): Main Event seat at the 2015 PokerStars Caribbean Adventure event.
Second Place (Compliments of PokerStars): Main Event seat including hotel for five nights at the Montreal Poker Festival which will take place August 22 through Sept. 4, 2014.
Other Prizes:
Compliments of PPC Poker Tour: $240 entry to the PPC Aruba World Championship Main Event Satellite on 10/18; $60 entry to the PPC Aruba Nightly Commissioner's Turbo Tournament on 10/19; five days/four nights (October 19 - 21) at the All-Inclusive RIU Palace Resort Aruba (Double Occupancy). Valued at $1,500.
Compliments of RunGoodGear: A Tulsa Hard Rock Package valued at $1,000.
Compliments of partypoker: Three $500 + $65 Entry to the WPT500 event in 2015.
A donation from WPT Deepstacks has also been received (details coming).
Blue Shark Optics has also donated to the event. Winter told us that the prizes keep rolling in and it is hard to keep up. We will be updating this article as more information becomes available.
For those unable to attend the event in person, a donations link will be available soon at Chad's website.
Get all the latest PokerNews updates on your social media outlets. Follow us on Twitter and find us on both Facebook and Google+!