Paul Pierce, Gerard Piqué and Other Athletes Square Off at the WSOP

Kim Yuhl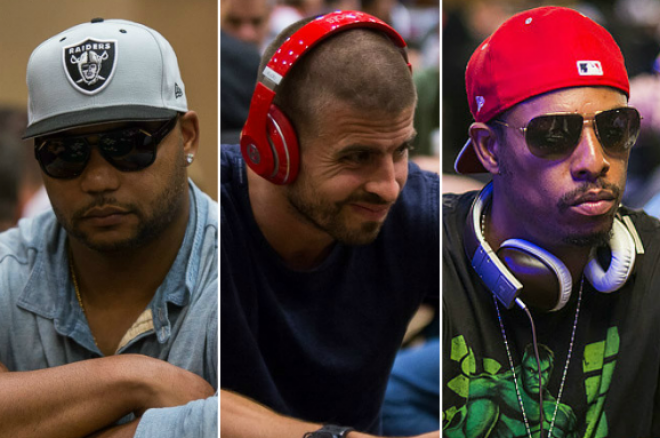 The World Series of Poker brings people of all ages, nationalities and occupations to compete on a level playing field for the most coveted prize in poker: the WSOP Main Event championship. It is often said that one of the things that makes the WSOP so great is that anyone can play and anyone can win.
A trend that seems to be on the rise is the number of professional athletes that are choosing to make the trip to Las Vegas during the summer to compete in the most famous poker tournament in the world. While not an inclusive list, we have been following FC Barcelona center-back Gerard Piqué, the UFC's Martin Kampmann, the National Football League's (NFL) Richard Seymour, NASCAR driver Jason White, Australian cricket legend Shane Warne, and the National Basketball Association's (NBA) Paul Pierce and Earl Barron.
The point of this article isn't to argue whether poker is a sport, but one thing that we have gleaned is that the game of poker can challenge the greatest of athletes through intense competition, constantly changing strategies and an element of risk. Poker offers the professional athlete a competitive arena without the potential of injury; where the only body part to hurt after a full day of play, after all, is the brain.
It appears that athletes bring some of their skills to the felt and also develop skills while on the felt to bring back to their chosen sport. Pierce, for one, said, "I have grown to love the game over the last seven to eight years. It is very competitive and mentally challenging. It helps with my patience, because in poker, you have to have a lot of patience, and that translates to the court where it helps me make the right decisions at the right time."
Finding the common aspects between the poker table and the racetrack is something White actively does. "The tournament is long and keeping your focus is probably the biggest thing you can do to help your chances. Just like you have to be able to see where you're at on the track, you have to feel where you are at on the poker table. On the track, I'm looking to pass, and at the poker table, I'm looking to steal. You have to measure up your competition and find where the best place to make a move on them is. Racing and poker are two different things, but it definitely relates in some areas," White said.
Kampmann adds his perspective from the octagon: "You have to stay cool under pressure. One mistake at the poker table and you could be out of the tournament. Same thing in fighting; one mistake and you can get clipped, knocked out, or you can get submitted. You just have to stay cool under pressure."
Even if poker is just a hobby during the off season, there is no escaping the competitive nature of tournament poker. Seymour echoes this sentiment, saying, "Poker is a fun hobby for me. I am fascinated by the game and I enjoy it. It's competitive in a different arena, and you have to be disciplined, understand and study your opponents and know your strengths and weaknesses."
Barron agreed with Seymour in that it is the competitive nature of the game that brought many athletes into a poker room. "Nobody that plays a sport wants to lose. While you will win some hands and lose some hands, it's the competitive nature that makes you want to outlast everyone," said Barron.
The athletes are showing they can hold their own against poker's best. Arguably one of the most popular, polarizing international athletes, Piqué was playing in the Pavilion Room and surrounded by media, making it virtually impossible for him to just blend in and play the game without distraction. Piqué has had a couple of cashes on the European Poker Tour (EPT) and former Main Event champion Jonathan Duhamel said in a past interview for PokerNews that Pique can play. "You can tell he has played the game before. He has some good moves, and he bluffs at the right time. It's good to have him at the table," Duhamel said.
Another apparent trend is online sites partnering with athletes to help build a poker brand. Warne, an 888poker ambassador, was seen playing on Day 1c, and PokerStars recently signed one of the biggest names in tennis, Rafael Nadal, to its roster of SportStars. These partnerships can only help poker move into new markets, while showcasing the game as one that will continue to attract elite athletes from all sports because of the skill and strategy components and competitive environment.
Get all the latest PokerNews updates on your social media outlets. Follow us on Twitter and find us on both Facebook and Google+!