PokerNews Op-Ed: It's Time For a $20 Million Guarantee at the WSOP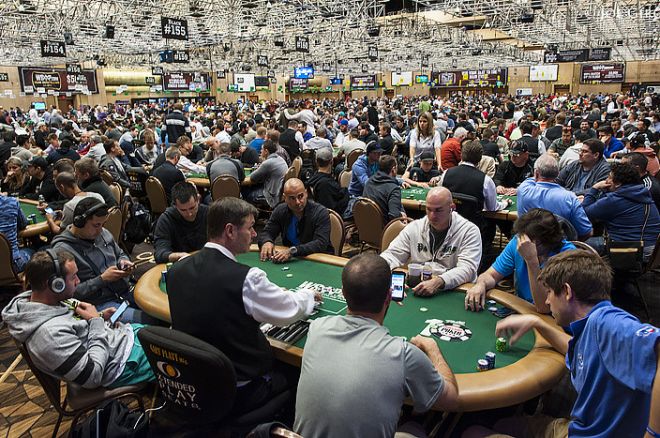 "If you build it, he will come."
That's the message Iowa farmer Ray Kinsella heard in the 1989 film Field of Dreams. It was from this message that Kinsella envisioned a baseball field and went on to build one on his farm. Well, it's time the World Series of Poker heard the same message and raised the bar to new heights.
The time for a $20 million guaranteed tournament at the WSOP is now. In fact, it probably could've been done this year. Now before you go and say, "Donnie, there have already been poker tournaments with prize pools in excess of $20 million," let me state that this would be a $20 million guarantee with a $1,500 buy-in. That would mean 13,334 entries would be needed to hit the mark, but it can and should be done.
On Saturday, the $1,500 Millionaire Maker No-Limit Hold'em kicked off. After the two starting flights completed action, a field size of 7,977 was generated, putting the prize pool at a whopping $10,768,950. Not only will the winner receive $1,319,587 in first-place prize money, but he or she will walk away with the gold bracelet from the second largest live poker tournament ever held behind the 2006 WSOP Main Event (8,773 entrants). For the second year, the Millionaire Maker surpassed numbers to hit the $1 million guaranteed first-place prize, but it was this year's field that blew everything out of the water and sparked the idea behind this piece.
With that, I'm putting the ball in the WSOP's court. They can and should hold a $20 million guaranteed event at the 2015 WSOP with a buy-in of $1,500. You might be asking how that could ever been done, but don't worry, I've come prepared with a plan.
On Day 1 of the 2014 Millionaire Maker, there were four other events going on — Day 2 of the $1,500 Shootout, Day 2 of the $1,500 Razz, Day 3 of the $1,000 No-Limit Hold'em, and Day 3 of the $10,000 2-7 Triple Draw. Stop those. They prevented a good chunk of players from firing bullets in the Millionaire Maker event and also occupied plenty of space within the confines of the Rio. As big as the place is, there's only so much space available for poker tables. I know that many players who busted from those events hopped right into the Millionaire Maker, but many could've fired more than one bullet and there could've been some extra space for the "alternates" to get into the event earlier.
There are 450 poker tables available in the Rio between the Amazon, Pavilion, and Brasilia conference rooms that are used for play. With nine players at each table, that's 4,050 players at maximum capacity to start. Because players bust fast and late entries hop right in, each starting flight's capacity if actually much higher.
Imagine four starting days – simply duplicating the Day 1 from this year's Millionaire Maker such that Friday would have Day 1a (11 a.m.) and Day 1b (5 p.m.), and Saturday would have Day 1c (11 a.m.) and Day 1d (5 p.m.). That's four starting flights worth of players, and you could hold the event with a re-entry format so that players could get in all four flights if needed. This could very easily see the total field size eclipse the 13,334 entries needed to meet the $20 million guarantee and create the largest live poker tournament ever held.
On those two starting days and Sunday's Day 2, the WSOP could cease the running of all other poker tournaments, or maybe just run an event starting at 4 p.m. on Sunday. That's it, though. Nothing else. There would be a massive field returning for Day 2, so you'd need the space in the early portion of the day, but things should be much clearer by 4 p.m. – specifically for a $10,000 championship event that the big name players will be very eager to play. For many others that bust, it'll be time to head home and back to the real world after taking a weekend shot at poker's largest tournament in history.
The WSOP is the only tournament series in the world with the ability to pull off such a feat, and I happily challenge them to do so. The event would be incredible and people would come out of the woodwork for a $1,500 buy-in event that gives them a shot at a ridiculous $2 million-plus first-place prize, a $20 million prize pool, and to be part of such a historical milestone.
Please note that the thoughts and opinions expressed in this article reflect those of the author and not of PokerNews.
Get all the latest PokerNews updates on your social media outlets. Follow us on Twitter and find us on both Facebook and Google+!