The WSOP Isn't the Only Game in Town -- Take a Look at the Vegas Cash Game Scene

Kim Yuhl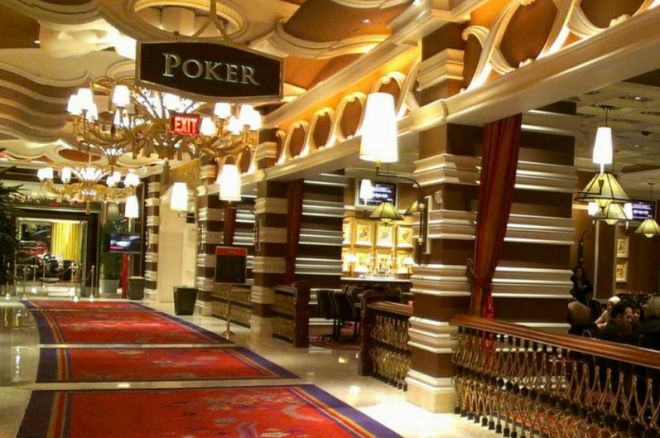 What do players — recreational and professional alike — do when they bust from a tournament at the World Series of Poker? If they don't have a friend at a final table to rail, a lot of players head to the cash games. The summer cash games that coincide with the WSOP have often been called the best cash games of the year.
We went around to the four most popular poker rooms to get the scoop on all the action happening away from the tournament floor. Bellagio, Aria, Wynn and of course the cash-game area at the WSOP are the go-to poker rooms for all levels of players. He's a rundown of what is happening and where.
About the Rooms
WSOP
The WSOP cash-game area boasts the biggest of the featured rooms with 79 tables. Situated inside the enormous Pavilion room, you can find a variety of games at all levels happening any time of day. While not the coziest of rooms, the convenience of its location to all the tournament action makes this room a must visit for anyone looking to soak up some of the WSOP magic.
Bellagio
The Bellagio poker room opened its doors in 1998 and its 40 tables have since seen some of the biggest cash games and biggest names in the game. Poker royalty can often be found in Bobby's Room, the ultra-exclusive room located inside the main poker room. It is named after the 1978 WSOP Champion and MGM Executive, Bobby Baldwin. Bellagio has been immortalized as a feature room on the World Poker Tour and as such is a must-visit room for recreational players traveling to Vegas for some poker fun.
We caught up with Randall Williams from Nashville, Tenn. as he was waiting to get on a table. Here is what he had to say. "This is my first time to Las Vegas. I was over at the Rio earlier but I have always wanted to play at Bellagio. You always hear that Doyle Brunson and Phil Ivey play here plus they offer limit hold'em which I am more comfortable playing. It's exciting for me to be here."
Aria
Located in City Centre, ever since Aria opened in 2009, its poker room has been a must stop on every poker player's itinerary. Like Bellagio, it too has three areas to its room: the main poker floor, the high-stakes area and Ivey's Room, named after one of the icons of the beloved game.
Trenton James from Scottsdale, Arizona, was waiting to get on a table during a busy Friday night at Aria. "I come to Las Vegas a lot and Aria is one of my favourite rooms. I just play $1/$3 no-limit hold'em and I seem to run good here. The room is comfortable and the service is great."
Wynn
The Wynn poker room is one of the best rooms on the strip. Located inside the five-star, five-diamond Wynn hotel, it is a favourite of locals and visitors alike. This 26-table room is a bit more quaint but equally — if not more — luxurious as the Bellagio and Aria.
Where Are The Pros Playing?
Poker fans visiting Las Vegas are always on the lookout for the pros. Of course the best place to find most pros is on the WSOP tournament floor. We wanted to find out where the pros went after busting a tournament. From our observations most of them seem to be heading over to Bellagio. On our scouting trip we spotted Phil Ivey, Phil Laak, Jen Harman, Greg Mueller, David Benyamine, Paul Volpe, David "Devilfish" Ulliott, Jeff Lisandro, Tom Schneider and Robert Mizrachi.
Aria also sees its fair share of pros in its room; we were able to spot Bobby Baldwin, Ben Lamb and Jean-Robert Bellande. One of the best sightings came compliments of both Bellagio and Aria. Aria's exclusive room, Ivey's room was playing host to Bobby Baldwin, and Bellagio's Bobby's Room welcomed Phil Ivey.
It doesn't seem that many big-name pros are hanging around the WSOP cash game area or over at the Wynn, at least on our scouting trip. That doesn't mean these rooms should be written off, though. The sheer number of games being offered in the WSOP cash area and the local flavour of Wynn make them both worth a visit.
Games
We have been observing the poker rooms through the BravoPokerLive app. This is a must-have app for anyone visiting Las Vegas who wants to play poker. It provides information on most of the poker rooms around the city and includes the number of current live games, their stakes and the number of tables running. It also will show you the wait list for each game and will tell you how to get on the wait list if applicable.
Summer in Las Vegas challenges the poker rooms to meet the demands for a wide variety of games at all stakes. You can expect the poker rooms to accommodate player preferences provided there is enough interest in the discipline and the stakes. The WSOP cash game area has consistently had the most tables running and the most variety of game types. Bellagio isn't far behind and is the only room featured here that offers limit hold'em.
Wait List
On a Friday or Saturday nights, you should probably be prepared to wait. There can often be upwards of 30-50 names on some of the lower-limit lists. Danny Mack, Live Action Manager for the WSOP and one of the Poker Room Supervisors at Caesars Palace, explained, "The wait list numbers on the lower limit games are usually large, but they move pretty quickly. The PLO lists however, are long and can regularly see wait times up to 1-2 hours on the busiest nights."
James had been waiting for about 45 minutes when we spoke at about 10:00 p.m. on a Friday evening. "While I don't love it, I don't mind the wait either. I'm having a drink and just finished watching hockey. The room is busy and I would rather have that than get on a table that is going to break in a few minutes." When asked if he called ahead, he said, "I didn't even think about that. I probably should do that next time."
Anyone can call ahead and get on the wait list at most rooms. The WSOP cash game area is one of the few rooms that does not accept a phone-in request to be wait listed. To call ahead:
Bellagio: (702) 693-7291
Aria: (702) 590-7230
Wynn: (702) 770-7654
Obviously, the busier the room, the more games and varied stakes are played. Off-peak times are generally considered to be Monday through Wednesday plus very early hours on the weekend. The busier times are usually Thursday through Sunday evenings. As always, it is hard to predict with certainty when a poker room will be busy, that is why the BravoPokerLive app comes in so handy. Use it to help you assess where to go before you head out.
Here are our observations from monitoring the games running during the last week. The games and stakes played change on a daily basis and the information we are presenting is just a snapshot. Keep in mind that if you want to play a game and can't find it, ask the poker room supervisor, they usually will start an interest list and an interest list can attract more players that want to play the game.
The WSOP Cash Game Area
| Game | Stakes Available During Off-Peak Times | Stakes Available During Peak Times |
| --- | --- | --- |
| No Limit Holdem | $1/$3, $2/$5, $5/$10 | $1/$3, $2/$5, $5/$10, $10/$25 |
| Pot Limit Omaha | $1/$2, $5/$5, $5/$10 | $1/$2, $5/$5, $5/$10, $10/$25 |
| Big O (5-card Omaha) | $1/$2 | $1/$2, $5/$5 |
| Pineapple Chinese | $10/$10 | $10/$10, $15/$15, $25/$25 |
| Omaha 8 or Better | $20/$40 | $10/$20, $20/$40, $40/$80, $75/$150, |
| 7 Card Stud 8 or Better | $100/$100 | $10/$20, $50/$100 |
| Razz | | $15/$30 |
| Mix Game | | $40/$80 |
Bellagio
| Game | Stakes Available During Off-Peak Times | Additional Stakes Available During Peak Times |
| --- | --- | --- |
| Limit Holden | $4/$8 1/2 Kill, $10/$20, $40/$80 | $100/$200 |
| No Limit Holdem | $1/$3, $2/$5, $5/$10, $10/$20 | $20/$40 |
| Pot Limit Omaha | $25/$50 | $100/$100 |
| Chinese Poker | $10/$10 | $100/$100 |
| 7 Card Stud | | $30/$60, $75/$150 |
| Mix Game | $40/$80 $200/$400 | $400/$800 |
Aria
| Game | Stakes Available During Off-Peak Times | Stakes Available During Peak Times |
| --- | --- | --- |
| No Limit Holdem | $1/$3, $2/$5 | $5/$10, $10/$20 |
| Pot Limit Omaha | $1/$3, $2/$5, $5/$10 | $10/$25 |
| Mix Game | $200/$400 | $9/$18, $500/$1,000 |
| Super Stud 8 | | $1,000/$2,000 |
Wynn
| Game | Stakes Available During Off-Peak Times | Stakes Available During Peak Times |
| --- | --- | --- |
| No Limit Holdem | $1/$3, $2/$5 | $5/$10, $10/$25 |
Whether you're in Las Vegas to play tournaments, cash games or both, this is the best time of year to be a poker player. Make it a point to get out and visit some new rooms. Who knows — you might just find some run good where you least expect it!
Get all the latest PokerNews updates on your social media outlets. Follow us on Twitter and find us on both Facebook and Google+!