Ty Stewart Talks Millionaire Maker, Botching the Dog Show, and Bringing Fun Back to Poker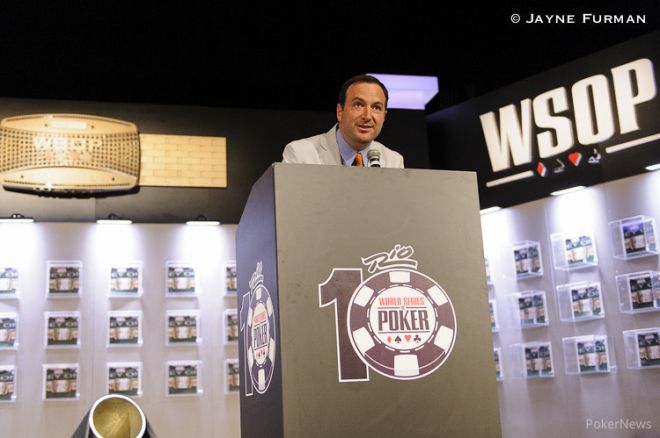 It was a party atmosphere at the Rio on Saturday as the World Series of Poker welcomed 7,977 wannabe millionaires for Event #8, better know as the Millionaire Maker. The $1,500 buy-in tournament is a recreational player's dream with an affordable buy-in and a guaranteed first-place prize of $1 million.
By everyone's account, from players to staff to media, this year's tournament exceeded expectations. And when registration closed it officially became the second-largest tournament in poker history behind only the 2006 Main Event.
With any event of this size there were bound to be some challenges, but for the most part it was great day to be a poker player. Alongside the Main Event, the Millionaire Maker is becoming a must-play event on everyone's summer schedule and is solidifying it's place in WSOP history.
To get some insight into the event, we caught up with World Series of Poker Executive Director Ty Stewart to talk about his expectations, as well as the WSOP.com and bringing the fun back to poker.
PokerNews: You must be pretty thrilled with the turnout for Millionaire Maker.
Stewart: Euphoric is a good word.
What were your expectations going into the day?
My expectations were mixed, I guess. I felt that we would be somewhere in the ballpark of last year, quite honestly. As I looked out at customers that are planning one trip, there is more competition for this event than we had last year. There is a lot of buzz around the Monster Stack which will be later in the summer. The $10 million-guarantee Main Event also has a lot of buzz and people may choose to come play satellites.
This event is designed to bring in more recreational players and with the additional competition for those player, it wouldn't have upset me in the least to see it be flat or even marginally down. That being said, I sort of now understand why it's a juggernaut and I fully expect it to be bigger next year.
It's a great time for the poker community that this kind of excitement can still be present in 2014. That you can have field sizes that big, a ROI that big and get to see so many recreational or even brand new players to the game that you may not encounter the rest of the year.
The firm data is coming but it wouldn't surprise me that we had hundreds, if not a thousand plus players yesterday who didn't play a single other poker tournament in at the last year. This is where the market is these days. More in the mid-stakes area and we are embracing the fact that the Millionaire Maker is a funnel to get people excited about the game.
The morning seemed to go off really smoothly.
Yes.
There seemed to be a bit more confusion and chaos in the afternoon, however. There were players in flight b saying they sat down at flight a tables and the late wave was confusing people into thinking their was a flight c. What happened?
There were isolated, sporadic incidents. We knew it was an ambitious plan to begin with - to have somewhat overlapping flights. To have 500 + tables and a re-entry. Everything that could have been a challenge was on the table for yesterday.
We were happy overall and first and foremost, nobody got shut out of the event. Every single person that wanted to play in this event got sat plus the lines were significantly shorter than they were last year.
There was a time in the early evening when there were no tables available and we had to go into the late wave mode and that is not something that we love. We want everyone who comes, particularly first timers, to have a really seamless and enjoyable experience.
At the moment where flight a was bagging up, and it was a bigger flight than anticipated, and 1b was coming in, well let's just say it was a real pressure cooker.
What will you do different next year?
First thing is we will expand capacity so that we don't hit a moment when we run out of tables. We will likely have even more tellers because our goal always is to avoid any type of line. There is an opportunity to expand tables to the main casino floor. Potentially even, not that I'm looking for a new marketing gimmick, but this could even be a multi-venue event. Caesar's happens to have several properties, so you can see day one spread out among multiple venues. That could be a cool thing.
Everything is on the table. We'll do an exhaustive debrief and we will prepare for an event that could hit 10,000 players next year.
This year I had mixed feelings but next year I will expect bigger. I think this tournament is developing a brand and it's developing into something that is different than any other experience in poker. One thing that we know is there are a lot of people that love poker and if they are going to make a trip, it seems like this is the trip worth making.
Other than the sheer numbers, what other logistical issues did you find yesterday?
(Laughs) I screwed up the dog show. The second wave of the dog show was actually supposed to take place in the Pavilion Room where we didn't have any restarts. And with all of the juggling going on, we agreed to let them begin in the Amazon Room. We had a few players needle us about that.
Overall though, players were embracing the fun and the sheer lunacy of the entire day which is sort of what we were going for. If you want to sum up the entire day yesterday it was that we let the dogs out. It was amazing.
What was the whole thought process behind the entertainment?
The confetti to start off the WSOP and the dog show - I guess it comes down to embracing the sheer lunacy of poker. We have always been an event that doesn't take itself too seriously. From the segment "The Nuts" to having Norman Chad as one of our lead TV talents for years.
If this can't be fun, where are you supposed to have fun? My observation over the last few years is that we have taken ourselves a little bit too seriously. So this was the year that we are going to try to do something, maybe every week, to try and bring the fun back. And hopefully everyone follows suit.
What kind of feedback have you been getting?
Overall good. Did I really expect that poker players were going to be captivated by a dog on a barrel? No. But I hope they get the message that we are trying to set the tone that this is supposed to be fun.
What else do you have planned?
I won't give away any surprises. But there will be some live entertainment and you may even see some blimps floating around the Pavilion Room.
WSOP.com is a big presence in the halls of The Rio this summer. How are your numbers?
They are ticking up. I think it's a little bit too soon to tell. I think particularly this first week that most people are coming to play live. In fact, we had our Nevada liquidity actually eclipse our New Jersey liquidity, which isn't a real surprise but I think it's a testament to the power of this event.
In fact at the height, our Nevada liquidity was beating even Party/Borgata's liquidity in New Jersey, so we would have been the market leader in New Jersey at the peak.
We are going to keep the cross-promotion going so if you want to eat and breathe poker - it's here for you. But like I said, we understand that people are coming to WSOP to play all the different live offerings we have. Hopefully, they register while they are here and get into the action at a time that is convenient for them. That's what it's all about - convenience.
Can you tell me a little bit more about the grind station?
People are learning that it's there. Being that it is on the stage, people are hesitant and aren't sure if the can or should go up there.

It does seem as if it could be off-limits.
Yes, we will continue to work on that. It's not only for physical usage, it's about signaling that online poker is here. We are going to do some stunts with that special table we have. We are going to bring some grudge matches and notable players up there to play some exhibitions. People can sweat that and the action online. Over time the usage will pick up.
So it's open and available to anyone?
It's open! There are charging stations and power strips. I sort of liken it to an airport lounge, you can go and hang out up there and the table can be used at various times. Anyone can go up and make use of the facility any time they want.
It has been a historic first week with Vanessa Selbst winning a bracelet, Phil Hellmuth chasing #14 and the historic field in The Millionaire Maker, could you have predicted a better first week?
It's all going according to plan. We've even seen Doyle Brunson in the house. We have big expectations for the summer.
We are really happy. I don't want to get overly cheesy. The last few years haven't always been easy for poker. Controversy and Black Friday with people's livelihoods challenged a lot of people. Everyone thought that this thing was just going to implode.
What we have been able to do for several years, but particularly in big moments like yesterday, is let everyone feel a bit of a swagger that poker isn't going anywhere and really unify everyone that likes the game.
I feel that people only think we are only in it for the money but I feel more proud of the way that I think everyone feels on a day like today - that playing poker is cool again.
Get all the latest PokerNews updates on your social media outlets. Follow us on Twitter and find us on both Facebook and Google+!