Max Kruse: How the German Footballer Found Poker and Challenged for a WSOP Bracelet

Christian Zetzsche

Jonathan Zaun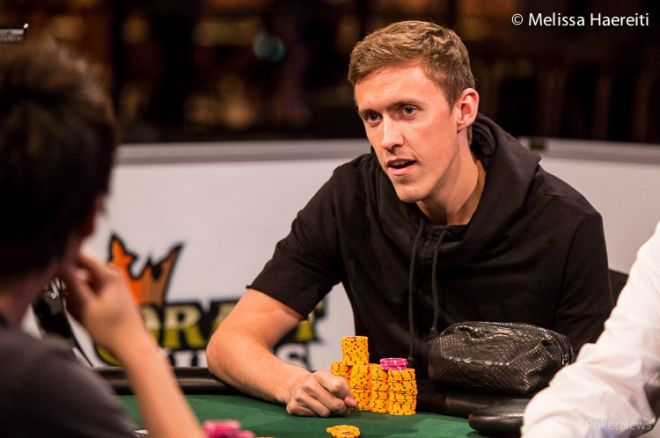 In order to rise to the realm of superior status in the world of athletics, the will to remain resilient when encountered with adversity is what separates the elite from the everyman. Muhammad Ali fell to Joe Frazier in 1971 before reclaiming his birthright as champion of the world three years later, and Michael Jordan was pushed out of the post-season by the Detroit Pistons three seasons running, before turning in a title three-peat of his own. All arenas of competition reward perseverance and persistence, which is why the ability to overcome challenges while weathering sudden reversals of fortune is also an essential trait in the game of poker.
As a 26-year old football star in his native Germany, Max Kruse had largely enjoyed a life defined by excellence and adulation, becoming the second-leading scorer for Borussia Mönchengladbach of the German football league this season. For some, there is simply not a lot of adversity to surpass, as a surplus of skill and talent allow them to compete at the highest level with what seems like ease. As the German national team prepared for the ongoing 2014 FIFA World Cup, Kruse appeared to be a shoe-in for a reserve spot on the squad seeking its fourth World Cup title, but instead he was faced with one of the most difficult dilemmas an athlete can face. Despite his scoring prowess for Borussia Mönchengladbach, Kruse was left off the German national team's roster by coach Jogi Löw last month, with the European press immediately turning to the rumor mill in search of possible explanations, pointing to a potential rift over rules between Kruse and his coach.
Being stripped of a seat on his homeland's bench for a major tournament would be a serious blow to any young star's confidence, but the prestige and patriotism of playing in the World Cup is something every footballer fantasizes about from the first time they step on the pitch. Kruse was understandably devastated by the decision, as the following farewell message to Facebook fans who hoped to see their favourite player represent the Fatherland in Rio de Janeiro demonstrates:
Well, it is difficult to say in words what I feel right now, because it is difficult to put my disappointment into words. The pain is quite deep after a few hours of my dream bursting. I have done a lot to make this dream come true but such is life. Now the time has come to shake it off and stand back up. I wish the boys best of luck for the upcoming challenges at the World Cup! I would have really loved to help but now I gotta watch it in front of the TV and cross my fingers. The potential is definitely there. Thanks to everyone that believed in me.
Despite his "dream bursting" in such dramatic fashion, Kruse lived up to his word, standing up and shaking off his disappointment en route to the Rio All Suite Hotel and Casino in Las Vegas for a poker trip with his pals. In Germany though — a country which has become the current hotbed of high-stakes action and high-roller winners — a star footballer's pals are just as likely to be poker pros. So when Kruse met up with friends Ismael Bojang and George Danzer at the World Series of Poker, he decided to try his hand at another game decided on a flat green field of play, trading in football for Event #36: $1,500 No-Limit 2-7 Draw Lowball.
After receiving a crash course in the game from Danzer — a world-class mixed-game player who went on to capture his second bracelet of the summer just a short time later — Kruse put the lessons to good use while putting the pain of missing the World Cup behind him. Weaving through a field of 241 runners like he had so many defenders on his way to the net, Kruse put on an impressive performance on his way to the final table, where he ultimately bowed out in third place for a $36,494 score. Weeks removed from what must have been a crushing blow to his confidence, Kruse responded in rousing fashion, nearly winning a gold bracelet in his first crack at no-limit 2-7 draw lowball.
An avid fan of Kruse and the rest of the boys from Borussia Mönchengladbach back home in his native Germany, PokerNews' very own Christian Zetzsche was thrilled to see one of his favourite footballers find success on the felt. Zetzsche dusted off his Deutsch for an interview that neither he nor Kruse ever could have imagined before heading stateside for the WSOP earlier this summer.
****
PokerNews: Can you tell me how you got into poker?
Kruse: I just play it as a hobby in my free time. I got into it about eight years ago. When I was 18 or 19 years old and playing for Bremen (SV Werder Bremen), some of the guys played as well and went to the casino. I was soon fascinated by that and told myself I will try that, too. Back then, I was a complete newbie.
PokerNews: Do you play in Hamburg? I heard that Jan Peter Jachtmann (who won the WSOP Pot-Limit Omaha Championship in 2012) knows you from the poker table?
Yes, I do know him. I don't really play regularly. When I do have some time, I play with the guys, but just on the side. During this time of the season it really is about football, and when I have the time for it, I enjoy spending some of it on my hobby.
PokerNews: How did it actually happen that you played the 2-7 WSOP event? It is a rather unknown poker variant that is barely played. Did you get advice from someone?
The first time I saw 2-7 was with Ismael Bojang. I checked his table because he was deep in the first big tournament of that one and peeked from the rail. Then I let them explain the game to me and that is how it all started. I decided to give it a try and that went pretty well.
PokerNews: So you actually got a crash course from George Danzer in just half an hour?
Yes, indeed. He told me the basic rules and what kind of hands you should play at the start, for example. Well, and George has won two bracelets now and apparently knows what he is talking about. That's why it all went pretty good (laughs).
PokerNews: Did you ever think you would get that far in this event?
I actually noticed very early on Day 1 that I got decent draws and a lot of good cards. Of course, you always want to get far, but that it would indeed be enough for third place was absolutely not expected. Maybe that is a poker type that I will be playing more often from now on.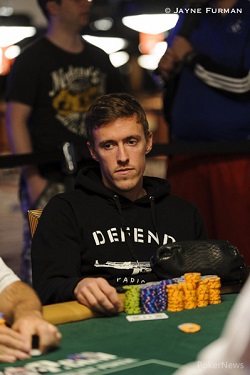 PokerNews: What would have happened if you had won the bracelet? What value would that have been for you?
As I said, poker is only a hobby for me. But when you get that far in a tournament, you are of course also a sportsman and I've got to admit that I would have really liked to win it. It would have certainly been an honor. Right now, poker is not the most important for me, but rather football. But it is good to know that you are maybe not that bad with regards to poker.
PokerNews: How do you like the Rio so far? It is obviously a slightly different Rio than you expected a while ago.
Well (laughs), since I didn't get to travel to Brazil, I had to visit the other Rio. Just kidding. Of course I am sad that I cannot be there and maybe bring home the World Cup title, but that story is done and dusted. Now I have some free time and can relax. As of July 1, I will be fully back in action with football and I'm going to put all effort into that.
PokerNews: Is it fun to be here with all the Germans and do something as a group?
Oh, it's a lot of fun. The guys are all fantastic and have lots of fun at the poker tables. They also have lots of fun in the evenings when we do something together, and for example, view the matches at the Hofbräuhaus.
PokerNews: How much poker do you play? Are they also playing in your club as well or when you travel to the matches?
No, at Gladbach (Borussia Mönchengladbach) we don't really play poker at all. It is rather uncommon that I get to play, and I only do that when I am in Hamburg or like here at the Rio. Besides that, the time for it is rather limited.
PokerNews: Which poker types do you like the most besides no-limit Texas hold'em?
Deuce-to-seven is certainly one of my new favorite poker types, but I also like pot-limit Omaha a lot. It is pretty much my absolute favorite because you have by far more action, and can also complete more hand combinations out of it.
PokerNews: Now an important question: Who is your favourite player? Besides George Danzer, of course.
I think if there is such a thing as a role model that really masters the game, it certainly has to be Phil Ivey. He is in the top three if not at the top of the poker scene for years. You can see that it is not just about luck, but the game also includes a lot of reckoning. If it has to be one pick only, it is Phil Ivey.
PokerNews: Did you randomly meet up with George Danzer and the other Germans here or did you already know them?
We did randomly meet here, but of course I knew who they were. Last year I already partied and did stuff with Ismael (Bojang) and Gregor (Derkowski) and all the other guys, so we already knew each other. But we just get together here on short notice.
PokerNews: Last question — How far do you think the German national team will get in Brazil?
Well, if you look at the first game, we surely dominated it. I think Germany is again one of the favourites like they are in every tournament. But the last few years, Germany hasn't really gotten there to do something big. That's why I of course hope that we will make it this year. But there are surely other teams that are also capable of it as well.
PokerNews: Best of luck in your poker tournaments here and hopefully you will also score many goals again for Gladbach. Thanks for the interview and we will be keeping an eye on your performance at the poker tables.
Get all the latest PokerNews updates on your social media outlets. Follow us on Twitter and find us on both Facebook and Google+!