Five Thoughts: Anderson and Volpe Break Through, Cada Snags No. 2, and More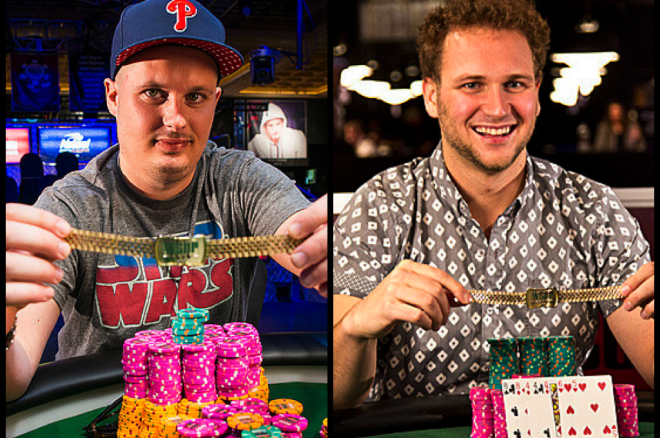 In sports, fans and members of the media always want to predict the next best thing before it becomes the next best thing. There's a sense of pride that comes with making correct projects, whether it be for a developmental player or a dark horse team. Most of the time we see talking heads and pundits throw blind darts on television, trying to say absurd things so that their hot take will become a trending topic.
It's extremely sexy to be ahead of the curve, and whether or not you are truly appreciated for "correct" predictions, the appeal of being "right" is extremely strong.
In the 2013 $25K Fantasy draft, Paul Volpe ($60) and Calvin Anderson ($45) went for more than World Series of Poker studs Jeff Lisandro, Marco Johnson, Jesse Martin, David Chiu, and John Hennigan. Combined, the young grinders scored 72 points, which would've put them right behind Robert Mizrachi in 33rd place at the end of the series.
Both Volpe and Anderson were very enticing players entering the 2013 WSOP. Both are very proficient in mixed games and had just won events in the Spring Championship of Online Poker. Volpe also had two World Poker Tour final tables under his belt from earlier in the year. Anderson reached the final table of the Irish Poker Open and also finished very high in the SCOOP Player of the Series race – an award he would've won if his EPT Grand Final travel schedule didn't conflict with some of the tournaments.
The two players weren't duds in 2013 – they cashed a combined 11 times – but their deepest run came in Event #43: $10,000 No-Limit 2-7 Draw Lowball, where Volpe bubbled the official final table.
Both players seemed to be on the verge of glory at the WSOP, and once again they were highly sought after in the $25K Fantasy draft. Volpe went for the same exact price of $60, while Anderson was bumped up $16 to $61. Only 12 players went for more money than this young duo, and they've both already delivered. Volpe is currently sixth in scoring with 112 points and Anderson is ninth with 98.
Oh, and they both have bracelets as well.
1. I Want the Gold
A few weeks back, Volpe made a return trip to the $10,000 buy-in No-Limit 2-7 Draw Lowball Championship unofficial final table, and not only did he survive the bubble – he bagged the chip lead. Volpe started the final table as the only player without a bracelet, and ended the day with all of the chips in play, defeating Daniel Negreanu heads up to capture the gold.
Negreanu was denied what would've been his seventh bracelet, and had to settle for the $156,674 second-place prize. Here's a look at the entire final table:
| Place | Player | Prize |
| --- | --- | --- |
| 1 | Paul Volpe | $253,524 |
| 2 | Daniel Negreanu | $156,674 |
| 3 | Jason Mercier | $99,313 |
| 4 | Brian Rast | $67,264 |
| 5 | Larry Wright | $47,792 |
| 6 | John Monnette | $35,549 |
| 7 | Abe Mosseri | $27,633 |
The cash was the fourth-largest of Volpe's live tournament career – his two WPT final table appearances were worth more, as was his 20th-place finish in the 2012 WSOP Main Event – and he now has over $2.7 million in career live tournament earnings. That's still roughly half of the $4.78 million he's earned playing online tournaments, according to PocketFives.
"It feels amazing to get my first bracelet," Volpe said after the tournament. "Especially in the $10K deuce. I think it's one of the toughest events of the summer. I'm super happy."
The man known as "paulgees81" or simply "Chirp" also took to Twitter to thank his friends and family for all of the love:
ty to everyone for all the love and support. means a lot but i dont really know what to say but thanks!!

— paul volpe (@paulgees81)
Volpe and I forged a bond after I selected him to win a million dollars in my 10 poker predictions for 2013. He locked up the seven-figure year without a sweat, and we were able to chat a little bit at EPT London about the sick year he was having. I always knew who Volpe was because he put up sick results online, but he wasn't really a face on the live tournament circuit until Black Friday forced him to get out of the house and grind. His deep run in the 2012 Main Event really impressed me, and I wasn't at all surprised that he parleyed it into a big year in 2013.
Two weeks later, Anderson locked up his first bracelet in Event #30: $1,500 Seven-Card Stud Hi-Low. The $190,538 first-place prize was the largest of Anderson's young career, pushing him over $1 million in career live tournament earnings.
Anderson defeated Joe Tehan heads up after whittling him down to a third of a big bet, making a flush on the penultimate hand. Tehan was also in search of his first gold bracelet.
Melissa Burr was also at the final table – her second of the summer. She finished eighth in the $10,000 Omaha Eight-or-Better Championship for $51,768.
| Finish | Player | Prize |
| --- | --- | --- |
| 1st | Calvin Anderson | $190,538 |
| 2nd | Joe Tehan | $118,014 |
| 3rd | Eric Kurtzman | $79,800 |
| 4th | Levon Torosyan | $55,319 |
| 5th | Melissa Burr | $39,181 |
| 6th | Sanjay Pandya | $28,346 |
| 7th | Jimmy Fricke | $20,932 |
| 8th | John Myung | $15,772 |
Anderson appeared on one of the first episodes of the PokerNews Podcast this summer, and couldn't set a line on how many bracelets he would win in the next few years. He didn't think he could project any further than this summer, and needs no added pressure to perform better, but he is thrilled to have captured his first bit of gold at the WSOP.
I'm overwhelmed by all of the nice tweets, texts, etc, I've received the last 20 hrs. I'm so grateful for all the love. (1/2)

— Calvin Anderson (@Cal42688)
I wish I could reply to every1. Thank u so much for all of the support, it means so much. (2/2)

— Calvin Anderson (@Cal42688)
For his bracelet ceremony, Anderson donned his classic green sunglasses that he's worn very frequently since reaching the final table of the Irish Poker Open, and he also rocked the green kit of El Tri, the Mexican national football team.
Congratulations to both Anderson and Volpe, who are worth every penny spent on them in actions in both 2014 and 2013. With their mixed games abilities, these two players are sure favorites to capture more bracelets in the coming years, perhaps even in 2014.
2. Cada Snags Number Two
After Joe Cada won the 2009 WSOP Main Event, he wasn't necessarily a fan favorite. Cada was certainly on the right side of variance en route to his $8.5 million payday, and outlasting an adored legend like Phil Ivey on such a huge stage didn't help either. I'm certain that his youth was also a detractor – the only thing old, crabby poker players hate more than bad beats is young players putting bad beats on players to become multi-millionaires.
To Cada's credit he has had great success at the WSOP after reaching the pinnacle of poker, and on Monday he became the most recent Main Event champion to win their second gold bracelet, taking down the Event #32: $10,000 Six-Handed No-Limit Hold'em Championship for $670,041.
Prior to Cada, Carlos Mortensen was the most recent Main Event winner to have captured a bracelet after winning the granddaddy of them all, taking down a $5,000 buy-in limit hold'em event in 2003.
Cada topped an extremely tough final table that featured fellow bracelet winners Jeremy Ausmus, JC Tran, and Erick Lindgren. The kid from Michigan was again very fortunate in his chase for gold, winning a coin flip against Ausmus during heads-up play for 93 percent of the chips on the table. Ausmus found a double up shortly thereafter, but was then coolered with pocket jacks against the pocket queens of Cada.
| Finish | Player | Prize |
| --- | --- | --- |
| 1st | Joe Cada | $670,041 |
| 2nd | Jeremy Ausmus | $414,104 |
| 3rd | Max Silver | $273,646 |
| 4th | JC Tran | $185,971 |
| 5th | Erick Lindgren | $129,192 |
| 6th | Dario Sammartino | $91,670 |
Our own Remko Rinkema talked with Cada after the win, asking him if he felt validated now that he owns two bracelets:
Even before locking up his second bracelet, Cada was one of the most successful post-Chris Moneymaker Main Event champions at the WSOP after winning the biggest tournament in poker. Unlike Pius Heinz and Peter Eastgate, who fell of the map completely, Cada has recorded nine cashes at the WSOP since 2009, including four final table appearances:
| Year | Event | Finish | Prize |
| --- | --- | --- | --- |
| 2014 | $10,000 Six Max | 1st | $670,041 |
| 2013 | $1,500 No-Limit Hold'em | 4th | $161,652 |
| 2013 | $1,500 Six Max | 4th | $83,558 |
| 2012 | $1,500 No-Limit Hold'em | 2nd | $412,424 |
Of the post-Moneymaker Main Event champions, only Greg Raymer has earned more money than Cada at the WSOP after winning the Main Event, and he had a five-year head start.
3. The Year of the Previous Bracelet Winner
We're just about halfway through with the 2014 WSOP – say it ain't so! – and thus far the overarching theme has been the success of previous bracelet winners. We already touched upon Cada, and he is joined by 10 other players who captured their second, third, or, in the case of Ted Forrest, sixth career gold bracelet.
With 34 tournaments in the books, that means 32.4 percent (nearly a third) of all of the bracelet events this summer have been won by previous winners. In 2013, previous bracelet winner won 15 of the 62 events held in Las Vegas (24.2 percent). In 2012, it was 13 of 61 (21.3 percent).
What does this trend mean?
We've been sold on the idea that bracelet fields are getting larger and larger, and that they are more concentrated with professional players than ever before. This trend seems very unlikely given this single concept, but there are also other factors that allow for more multiple bracelet winners. For example, there are so many bracelets being awarded each summer that after you notch one, you will have 60-plus chances to win another the following summer.
But, then again, if winning the first bracelet is supposed to be tougher than ever, then it should be equally tough to capture number two. It's an interesting, unsolvable paradigm.
Of course, we could simply chalk it up to variance and call it a day, but what's the fun in that?
The success of previous bracelet winners is certainly a positive storyline that can assist us in the ongoing war to show that poker is a skill game. Again, short-term variance should never be an indicator for macro trends, but the sample size of all-time WSOP bracelet events isn't that large. It would take centuries of data to generate a statistically significant sample, so for now all we can do is debate until our faces turn blue.
We'll return to this topic when the 2014 WSOP is done and dusted. Right now we're on pace for 22 previous bracelet winners to take down events when all is said and done.
4. Heimiller Wins Seniors Championship
The Seniors Championship at the WSOP continues to grow and grow. This year a staggering 4,425 players signed up for the event, generating a total prize pool of nearly $4 million. The winner was another previous bracelet winner, Dan Heimiller, who bested Norwegian Donald Maas heads up to earn $627,462.
It is the biggest score of Heimiller's career, and the consummate grinder now has nearly $4.8 million in career live tournament earnings. Heimiller also got to pose with the golden eagle trophy, named after Oklahoma Johnny Hale, and he spoke with our own Sarah Grant after his bracelet ceremony:
Heimiller also felt the need to revisit a tweet he sent out near April Fool's Day, where he promised to give away a percentage of his Main Event prize if he got off to a good start at the WSOP. Here's what he said:
Im giving away 2% of my WSOP Main to 1 random twitter follower! with 1 personal acct. & who retweets 3 of my tweets including this one

— Dan Heimiller (@danheimiller)
Beyond the free giveaway, the Seniors Champ is a great follow on Twitter, offering gems like this one:
Man, am I in a rut, I haven't won a over half a million in over a week ; (

— Dan Heimiller (@danheimiller)
Also joining the final table was former November Niner and Seniors Championship specialist Dennis Phillips. Phillips finished fifth for $153,883, and in 2012 he finished runner-up to Allyn Jaffrey Shulman in the same event, pocketing $372,895.
The buzz in the Rio is electric during the Seniors Championship. It's one of the special days during the summer where the general mood in the building is positive, and the majority of the people grinding are there for the love of the game. Other days that are equally pleasant include the Ladies Championship and the first few days of the Main Event.
My only gripe with the Seniors Championship is that the golden eagle has to stay with Caesars. The winner should at least be able to hold on to the trophy for the calendar year – just have it be accompanied by the cousin of the guy who curates Lord Stanley's Cup for the NHL. I'm sure that he's jealous of his family member's responsibility to one of the coolest trophies in sports, and even though the Oklahoma Johnny Hale trophy is just a little bit less prestigious than the Stanley Cup, it's still quite epic.
5. 25K Fantasy Update
WE'RE NO LONGER IN LAST PLACE!
We've received a fair share of needling – I'm looking at you, Negreanu – but there are still over 30 events to go. As I told Marty Derbyshire this week, if Ivey gets his stuff together, then we can start to mount a comeback.
We're very happy that at least two of our players – Ivey and Greg Merson – are confirmed for the BIG ONE for ONE DROP. Martin Jacobson is a "maybe," and hopefully his seventh-place finish in the Six Max Championship will push him further in the direction of a "yes."
Despite the slow start, we are very happy to see that our $1 players are putting in a ton of work. Jacobson, Merson, and Faraz Jaka have a combined eight cashes for nearly 100 points, and Jeff Madsen is the chip leader heading into the penultimate day of Event #35.
We definitely have a puncher's chance, especially if Ivey can heat up.
Get all the latest PokerNews updates on your social media outlets. Follow us on Twitter and find us on both Facebook and Google+!