Win €1 million in the Win €1M with Skrill in Brazil Promotion!

Jason Glatzer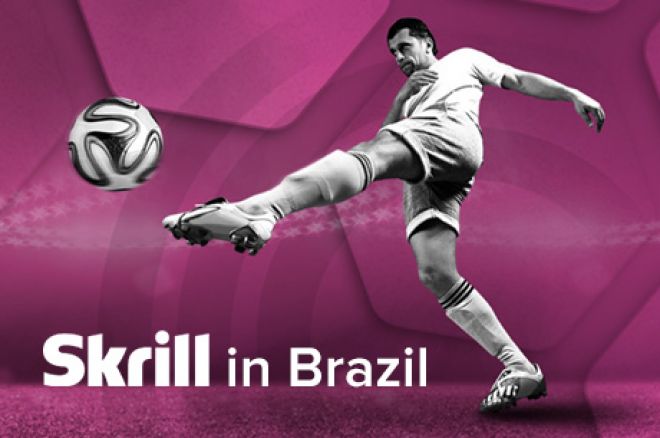 What would you do for a chance at €1 million? We bet you would be willing to do just about anything, but thanks to our friends at Skrill, we are giving you a shot just for using this award-winning e-wallet that poker players around the world love.
If you aren't already using Skrill, you are missing out. Not only Skrill is probably the best e-wallet around, but you can easily get into their VIP program and also be eligible for great sweepstakes like the one we are about to tell you about.
And, imagine that: we want to help you get started with it so much, that if you do not already have a Skrill account we are ready to give you a free $20 offer!
All you need to do to get your hands on this free loot is to sign up for a free Skrill account through us, upload $20 to your favourite poker room using Skrill, and within one business day you will have $20 back in your Skrill account. Yes, it is really t-h-a-t easy to get your hands on a free $20 and enjoy all the other benefits of owning a Skrill account.
Your path to €1 million
The World Cup is just around the corner, and to celebrate this event Skrill is giving all their loyal customers a chance at €1 million in the Win €1M with Skrill in Brazil promotion.
We aren't going to kid you and say we have a guaranteed path for €1 million, however, we are going to tell you how to optimize your chances to be the lucky winner of this amazing sweepstakes. Skrill is also awarding awesome weekly prizes to sporting events around the world in addition to having a shot at this grand prize.
Here is a look at all the weekly prizes you can win.
Italian Grand Prix, Monza
El Clasico, Barcelona
The Grand National, Aintree
Champions League Final, Berlin
The Masters, Augusta
Brazilian Grand Prix, Sao Paulo
To have a shot at €1 million and these weekly prizes is quite easy. Just follow the steps below and you can be the lucky winner of a sporting event package of a lifetime or win the grand prize.
Log into your Skrill account and click on the yellow "Enter Now" button.
Transact as much as possible via your Skrill account from now until July 13. Every €1 will give you an entry into both the weekly and grand prize sweepstakes!
That's all you need to do, the more you transact the better your chances are to win. Each week Skrill will hold a drawing to determine the weekly winner of a great sporting event package.
On July 14, Skrill will select at random one lucky person to have a shot at €1 million! Just for being selected you will automatically be guaranteed €50,000, however, you have a great chance to parlay this into much more.
If you are the lucky winner of the grand prize raffle, you will be presented with 35 envelopes with each envelope containing a potential prize amount. 25 of the envelopes contain a €50,000 slip, 7 contain a €100,000 slip, and 3 contain a €1,000,000 slip. You will keep picking envelopes until you select 3 with the same amount. Select 3 €1,000,000 envelopes before matching 3 of another amount and you will find yourself €1,000,000 richer!
Become a Skrill VIP
Becoming a Skrill VIP has tons of great perks and is very easy to become. All you need to do is opt into the Skrill VIP program via this link and transact at least €2,000 in a 30 day period, including 1% cashback on all your transactions for 30 days.
Here is a look at some of the amazing benefits the Skrill VIP program.
1% cashback on all transactions for 30 days!
Membership to their loyalty club.
Ability to get your hands on a free prepaid Skrill Mastercard which links up to your Skrill e-wallet.
Lower foreign exchange and other fees.
Ability to earn VIP points for use in their VIP store.
Access to the exclusive-concierge service.
Your own dedicated personal account manager to remind you of all the great advantages Skrill can provide you.
You should use Skrill as much as possible this summer whether you want a chance at €1,000,000, amazing sport events, or become a Skrill VIP. Sign up to Skrill via PokerNews today to get started on your path to great rewards and riches you can't find anywhere else!
Get all the latest PokerNews updates on your social media outlets. Follow us on Twitter and find us on both Facebook and Google+!