Huge SCOOP Scores Cause Major UK Rankings Shake-Up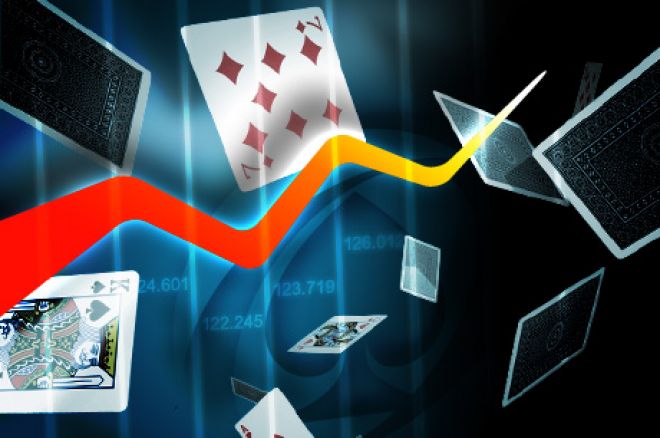 Seven days ago, Toby "810ofclubs" Lewis knocked Chris "moorman1" Moorman from the number one spot of the UK online poker rankings to give us our first new face at the top of the pile for several months.
Today, Lewis has fallen one place to second and Patrick Leonard has soared to the top of the tree and is the latest star able to lay claim to being the UK's number one online tournament player. Let's find out how Leonard not only jumped to first place but has also put close to 200 points between himself and Lewis.
Each time we check the results of the biggest online poker tournaments across all networks we seem to find one of Leonard's alias'. The lad from Newcastle, who currently lives in Hungary, can't stop going deep in seemingly every tournament he decides to play. Some of Leonard's results from the past week include:
1st place in the PokerStars $33+R NL Hold'em for $4,552
2nd place in the PokerStars $215 PL Omaha Hi/Lo SCOOP for $24,388
6th place in the PokerStars $215 NL Hold'em 1r1A SCOOP for $26,161
4th place in the PokerStars $320 NL Hold'em 6-Max for $6,360
1st place in the PokerStars.fr €250 6-Max Club for $6,426
21st place in the PokerStars $10,300 SCOOP Main Event for $36,464
1st place in the PokerStars $27 NL Hold'em Progressive Super KO for $2,919
Leonard is in sick form right now and it makes no wonder that we put him in our Brits to watch at the 2014 World Series of Poker article earlier in the week.
What makes Leonard's rise to the top even more special is the fact second placed Toby Lewis added 882.44 points to his total this week thanks to his runner-up finish in the $1,050 NL Hold'em Wrap-Up Turbo SCOOP event that banked him $164,423.
Lewis also enjoyed wins in the pokerStars $22 NL Hold'em 1R1A ($8,112), the $55+R NL Hold'em ($6,988) and a 12th place finish in the $5,200 PL Omaha SCOOP event ($14,525) yet Leonard still leapfrogged him.
Sheffield's Rick "TheClaimeer" Trigg continues to hold onto third place, while Chris Moorman has dropped to fourth spot – his lowest ranking for as long as we can remember. Rounding out the top five is Charlie "chaz_man_chaz" Combes who jumped from eighth to fifth place following a $36,464 score in the SCOOP $10,300 Main Event and a $30,784 prize for finishing third in the Sunday 2nd Chance.
Climbing into the top 10 on the back of a ginormous score is former European Poker Tour Loutraki champion Zimnan Ziyard. His runner-up finish in the $1,050 buy-in SCOOP Main Event banked Ziyard $473,499 an added 1,327.24 points to his tally, which resulted in a meteoric rise up the leader board.
Ziyard only lists his PokerStars alias on his PocketFives.com profile, which makes it tougher for him to rank highly. If he continues to help himself to huge score like this latest one and "Zimmy" will be in the top 10 for a long time.
The top 20 has two brand new faces in it, again as a result of booking massive wins during the SCOOP festival.
Christopher "MAKKAPAKK" Johnson is now ranked 14th in the UK and 151st in the world – his loftiest position yet – thanks to his third place finish in the $109 buy-in Main Event. Johnson locked up over $172,000 following a four-handed deal.
Paul "pvas2" Van Nunes is now up to 16th in the UK following his outright victory in the $2100 NL Hold'em 8-Max SCOOP event. Vas Nunes, from Surrey, took $304,005 for his win, that only became possible after defeating Ondrej "Vinkyy" Vinkalrek heads-up.
Find out more about the huge scores had by UK players in the final round of 2014 SCOOP tournaments.
Big shout out too to Ben "jenbizzle" Jones who won the $215 NL Hold'em 4-Max SCOOP for almost $51,300 and then took down the $109 NL Hold'em for an additional $9,173. Top work gents.
UK Online Poker Rankings (May 21, 2014)
| UK Rank | Player | Points |
| --- | --- | --- |
| 1 | Patrick "pleno1" Leonard | 7574.44 |
| 2 | Toby "810ofclubs" Lewis | 7387.71 |
| 3 | Rick "TheClaimeer" Trigg | 6886.72 |
| 4 | Chris "moorman1" Moorman | 6685.87 |
| 5 | Charlie "chaz_man_chaz" Combes | 6334.10 |
| 6 | Jareth "jareth3542" East | 6237.54 |
| 7 | Niall "firaldo" Farrell | 6037.96 |
| 8 | Zimnan "Zimmy86" Ziyard | 5905.35 |
| 9 | Tom "hitthehole" Middleton | 5873.20 |
| 10 | Christopher "NigDawG" Brammer | 5839.81 |
| 11 | Scott "Aggro Santos" Margereson | 5676.47 |
| 12 | Rhys "floppinhel" Jones | 5583.98 |
| 13 | Ben "jenbizzle" Jones | 5517.10 |
| 14 | Christopher "MAKKAPAKK" Johnson | 5308.73 |
| 15 | Oscar "MendaLerenda" Serradell | 5298.47 |
| 16 | Paul "pvas2" Vas Nunes | 5281.23 |
| 17 | Sebastian "BassySaffari" Saffari | 5126.21 |
| 18 | Jon "EMSBas" Spinks | 4946.14 |
| 19 | Martin "susie00" Malone | 4828.77 |
| 20 | "carpediem200" | 4826.05 |
With the SCOOP now over and the World Series of Poker only days away, it is unlikely that we will see another major shake-up of the rankings. That said, there are plenty of players lurking in positions 21-50 who may not be heading to "Sin City" and who will no doubt be putting in a ton of volume at the virtual felt instead. Should this be the case, we could have some fresh blood on our leader board.
Data and points tallies provided by PockFives.com
Get all the latest PokerNews updates on your social media outlets. Follow us on Twitter and find us on both Facebook and Google+!