Gus Hansen Wins $1.2 Million In Two Days On Full Tilt Poker

Giovanni Angioni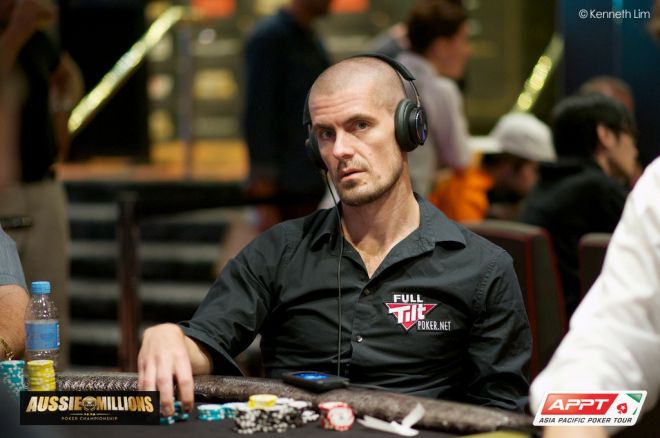 Online poker's nosebleed stakes can bring about some massive swings to a player's bankroll. One regular to the largest games in the world and no stranger to swings is Full Tilt Poker Professional Gus Hansen. Although his name still sits on top of 2014's biggest losers list, Hansen started the new week at full speed with a profit of $482,264 after three days of play, but it didn't come without a ticket on a crazy roller-coaster ride.
Hansen's march to the top of the week's biggest winners list started already on Sunday, when the 1,465 poker hands he played in 18 sessions brought him winnings for $546,688. Among the most profitable sessions played during the day, it is worth a mention the evening one that Hansen closed with a $193,000 win after playing against such players as Phil "Polarizing" Ivey, punting-peddler, Alexander "PostflopAction" Kostritsyn, Alex "Alexonmoon" Luneau, Hac "trex313" Dang, samrostan, and Patrick "FinddaGrind" Antonius at the 8-game table Khan.
Things seemed to follow a similar script also on Monday, when Hansen logged off from his computer as the online biggest winner for the second consecutive day. This time, the Danish pro managed to win even more than the previous day, putting together a $692,000 profit after 2,359 hands played in 15 different sessions.
The best of Hansen's Monday came after three extremely profitable sessions played between 5 p.m. and midnight, when he managed to put together profits for $104,100, $150,900 and $157,900 at the 2-7 triple draw tables on Full Tilt Poker.
Particularly rewarding was a two-hour session played against Viktor "Isildur1" Blom, Osama_no_Brunch and Ivey at the $1,500/$3,000 limits, which Hansen closed with a $163,200 profit.
Certainly reinvigorated by the $1.2 million in winnings put together after two days of play, the "Great Dane" headed back to the tables on Tuesday, this time to collect a very different result that pushed him all the way to the top of the day's biggest losers list. After he played 3,917 poker hands in 12 sessions, Hansen decided to get some rest with the bitterness of a $756,264 loss that ate over half of the profit laboriously put together between Sunday and Monday.
Here's a look at Gus Hansen's results over the last seven days: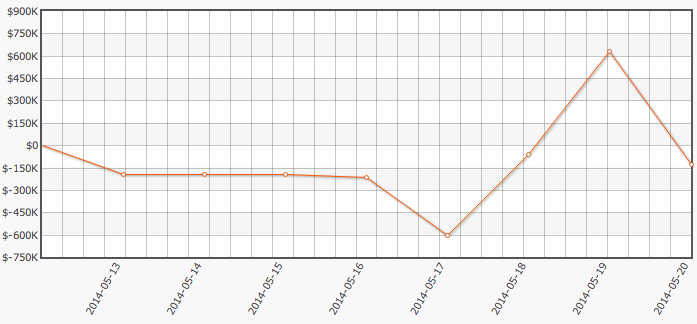 Clearly unhappy about his latest results is Hac "trex313" Dang, who currently sits atop the week's online biggest losers list with losses of $782,980 collected between Sunday and Tuesday. After he closed the previous week as the second online biggest winner with a profit of $501,848, Dang's terrible sessions started on Sunday, when the Vancouver-based American player closed with a $413,634 loss.
Likewise, Dang did not manage to play his best poker also during most of the 15 sessions he played on Tuesday, as after 2,253 hands he closed the day on the third spot of the day's biggest losers list with a $369,346 loss.
Here's a look at Dang's results over the last seven days: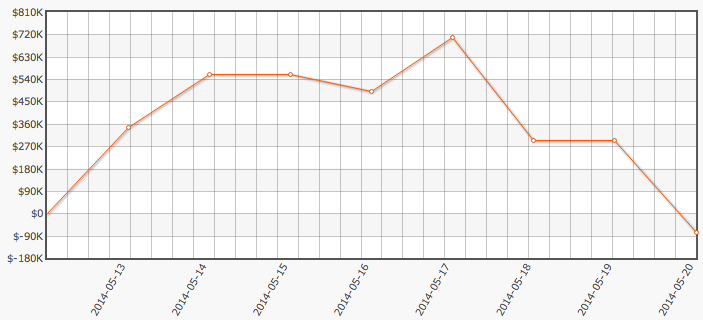 Get all the latest PokerNews updates on your social media outlets. Follow us on Twitter and find us on both Facebook and Google+!