Five Thoughts: Recap of the 25K Fantasy Draft and Rules for the World Series of Poker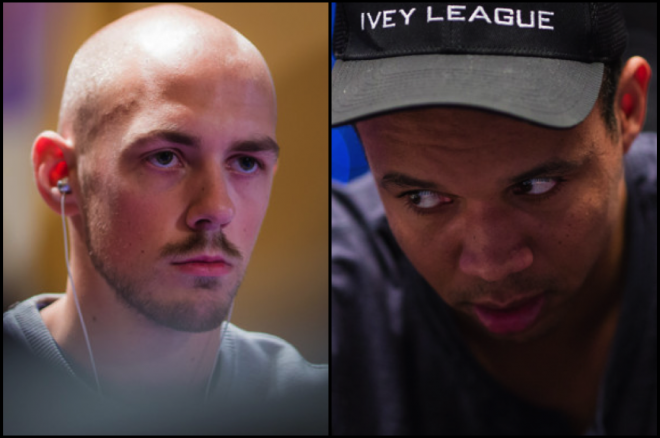 The convention center at ARIA was relatively quiet when we arrived on Monday night. The bartender was preparing the bar, clinking a few glasses as he shuffled things around, and on the other side of the room a Russian gentleman from the famed GipsyTeam forum was studying some notes. Teams started to shuffle in one by one, and the jubilant look on each player's face told you everything you needed to know.
It was draft day.
In 2011, Daniel Negreanu launched the inaugural $25,000 buy-in World Series of Poker fantasy league, attracting 15 teams an generating a total prize pool of $375,000. Thanks to an insane year by Ben Lamb, Jason Somerville and Jason Mercier took down the league, pocketing a cool $225,000.
Mercier and Somerville won once again in 2012, earning $178,750, and Matthew Waxman's team took it down in 2013 for $210,000. Waxman entrusted Donnie Peters and I, among others, for information and advice. The team produced four players with over 100 points – David "Bakes" Baker scored the most points during the summer (234) – and the team won by nearly 300 points.
This year, Donnie and I were interested in running our own team, but the $25,000 price tag was obviously too high. So, like poker players looking to make a splash in a big buy-in event, we sold action. Two players stepped forward, and we were sold out in a matter of days.
"Are you nervous?" my colleague Remko Rinkema asked me as the draft room was nearly full.
"No," I said simply.
There was no need to be nervous. The rules of the league haven't changed much since 2011, and the majority of the smaller buy-in media leagues follow the same scoring format. Nothing was foreign to us. We understood the value in certain players, and we knew exactly what strategy we wanted to employ.
More importantly, I live for draft day. It's like Christmas morning, but instead of giving gifts to your loved ones you're trying to destroy your enemies. The in-person auction format makes drafting even more exciting because it allows you to manipulate both the market and your opponents.
Negreanu welcomed the 12 teams to the draft, and then handed it off to the auctioneer. Waxman was the first team to nominate, throwing out Antonio Esfandiari, and Dan Fleyshman spent $18 on the $1 Million BIG ONE for ONE DROP winner. The next player up was Kid Poker himself, who went for $86, and then Robert Mizrachi tossed out Phil Ivey.
1. Enter Ivey
Fantasy poker is very similar to fantasy basketball. There are a handful of elite players like LeBron James and Kevin Durant who seem to crush the WSOP because of their skill set and the volume they put in, and then there are dozens upon dozens of players who are all very talented, but are all similar in overall value. In an auction format, this makes the "stars and scrubs" strategy a no-brainer, because the players that will be available at the end for $1 are just as likely to accrue points as the players selected for $10-$20.
Donnie and I created a list of eight players, two of which we absolutely needed to draft:
Phil Ivey

Daniel Negreanu

Jason Mercier

Phil Hellmuth

Scott Seiver

David "Bakes" Baker

Scott Clements

Stephen Chidwick
We were willing to spend a hefty amount of money on Ivey, and ended up getting him for $101.
Ivey is a very polarizing player, and had an absolutely dreadful 2013 WSOP, but we're just two years removed from a summer where he reached five final tables. He's also in the final year of a big three-year bracelet bet, and is taking a lot of action for 2014 as well. During Somerville's stream on Monday night, Negreanu said that Ivey is booking all of the action in their bracelet bet, and that the total amount at the time was $250,000.
Players still have a few hours before the first open event to book action, and I'm willing to wager that Ivey will participate in some cross-booking throughout the summer as well. Nobody grinds the WSOP like Ivey does, and with $99 was plenty of money to spend on seven other players.
2. Shoe Bombs For the Win
After we selected Ivey, Mercier went off the board for $87 and Dan Kelly for $66. The next player to be nominated was Stephen Chidwick, one of our desired eight players.
The bidding started slow and steady, but then it climbed up into the 50s. Donnie and I waited a bit, not wanting to increase the price anymore that it needed to be, and then got into the action. In the end it was us and two Russians – GipsyTeam and Sergey Rybachenko – going back and forth, and we snagged "Stevie444" for $66.
To close out Season 10 of the European Poker Tour, Chidwick cashed in four consecutive Main Events. He also finished seventh in the PokerStars and Monte-Carlo® Casino EPT Grand Final High Roller for $259,139, and third in the EUREKA Main Event for $126,757.
Chidwick, who has over $2.5 million in career live tournament earnings to go with over $4.1 million in online earnings, also played in the WSOP National Championship, showing his devotion to winning a bracelet and racking up accolades.
"I'm definitely very goal-oriented," he said on a recent episode of the PokerNews Podcast. "It's definitely a goal to win lots of bracelets."
Not "a" bracelet, "lots." Here's to "lots of bracelets" during the 2014 campaign!
3. Rounding Out the Team
After collecting Ivey and Chidwick for a combined $167, or max bid was $28. Every time a talented player was nominated, we immediately went all in – no one was getting a fantastic deal on our watch.
To our delight, Chidwick was tied for the second least expensive player among our elite eight. Phil Hellmuth went for $54 to Team Fleyshman, which really is excellent value.
We were also pleased to see that Vanessa Selbst went for $70, Marco Johnson went for $67, and John Monnette went for $63. Again, our only objective during the middle stages of the draft was to get other teams so spend as much money as possible.
Well over an hour passed before we were able to grab our third player. We went all in for $28 on Mike Leah, who I predicted to win the $50,000 Poker Players' Championship in the upcoming Global Poker Index WSOP magazine, but the GipsyTeam had $44 to spend and outbid us by a dollar.
There were still some very valuable players remaining, and we were very happy with our final six players:
| Player | Price |
| --- | --- |
| Andrey Zaichenko | $11 |
| Chris George | $10 |
| Martin Jacobson | $1 |
| Faraz Jaka | $1 |
| Jeff Madsen | $1 |
| Greg Merson | $1 |
Zaichenko plans to play at least seven $10,000 buy-in events, George is a mixed games specialist, Madsen is en fuego and plays all of the games, and Jacobson, Jaka, and Merson are going to play all of the no-limit hold'em events. Merson is likely to play ONE DROP, while Jacobson is a "maybe."
For a complete look back at how the $25K Fantasy Draft went down, check out our Live Reporting blog.
4. The ODB League
After the 25K Fantasy draft was complete, David "ODB" Baker tweeted the following:
(1/?) $500 wsop fantasy pool. Draft an 8 person squad using tonight's 25k prices. Your team must not exceed $200 in cost.

— David Baker (@audavidb)
(2/?) email me your team to [email protected] before noon tom. Set up or pay me...I'll decide prize distribution when I see how many

— David Baker (@audavidb)
(3/?) you can enter max of 2 teams. Each team $500. Gl and I must know you or arrange payment Wednesday or before. One draft entire wsop

— David Baker (@audavidb)
This DraftKings-like concept is great, and at $500 it allows even more people to get involved in the 25K Fantasy league. Baker suspects that the pool will be 50-70 entries, and could even climb up to 100.
There are a few players that instantly pop out as great values:
| Player | Price |
| --- | --- |
| Mike Leah | $29 |
| Mike Gorodinsky | $35 |
| Adam Friedman | $13 |
| Andrey Zaichenko | $11 |
| Ismael Bojang | $3 |
| Chris Tryba | $1 |
You can also add all of our $1 players to that list, including Merson, who we should've just maxed out for $9 to ensure that we would get him at the end of the draft. Instead we mistakenly nominated him for $1, but luckily no one bid. If we did get him for $9, his ownership percentage in ODB's league would've been extremely low. With him likely to play the ONE DROP, he's an absolute steal at $1.
It will be interesting to see how many teams think like Donnie and I and target Ivey or one of the other big names. This format is more value friendly because you're not actively bidding and the market inefficacies are laid out right in front of you. I still think Ivey and the other stud players have value, but unlike the 25K Fantasy league, other teams can benefit from their successes as well.
In the end, this league is all about picking lesser-owned players with a ton of upside. I'm really excited to sweat this league along with the 25K Fantasy league, and ODB deserves some props for the idea and hosting the competition.
5. Quick WSOP Rules
The World Series of Poker is upon us once again, and to close out Five Thoughts I'd like to list a few quick rules to help out the newcomers and refresh the old faces:
Wash your hands in the bathroom.
Fist bumps only in the hallway, especially if you didn't wash your hands in the bathroom.
Wash your hands in the bathroom.
Think before your tweet.
Don't berate dealers.
Don't "crumble" cards.
Show a tiny bit of respect during bracelet ceremonies, or just wait outside
If you see Eskimo Clark, say no.
Then tell him to wash his hands in the bathroom.
Use deodorant.
"Excuse me, sir" sounds a lot more pleasant than "Hey, POKERNEWS!"
Have fun.
WASH YOUR HANDS IN THE GODFORSAKEN BATHROOM.
Get all the latest PokerNews updates on your social media outlets. Follow us on Twitter and find us on both Facebook and Google+!