Five Thoughts: 10 More Confirmed for Pro-Heavy ONE DROP; Rounders Inspiration Dies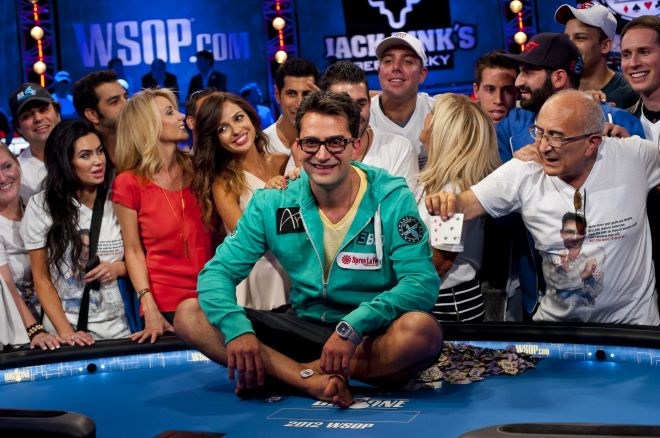 On Monday, the World Series of Poker announced that 10 more players are confirmed for the $1 Million BIG ONE for ONE DROP. Leading the new confirmations is Vanessa Selbst, the first woman to participate in the seven-figure extravaganza, and joining her are several members of Team Germany, along with Jean-Robert Bellande and 2013 ONE DROP High Roller winner Tony Gregg.
With this announcement there are now 33 confirmed players — more than half of the 56-player cap — and 20 of them are professional poker players. In 2012, 26 of the 48 entrants were professionals, and two more very established players are currently selling action:
Selling action in One Drop at face value. 26% sold so far in two days. Get it while it lasts!

— Greg Merson (@GregMerson)
I'll be selling 50% of my action for The One Drop $1 million buy in this year. Get at me if you want to buy a piece. $5k minimum.

— Daniel Negreanu (@RealKidPoker)
I would be shocked if either Daniel Negreanu or Greg Merson got shut out because they couldn't raise the money.
At this rate, 60 percent of the players in the field will be pros, compared to 54.2 percent in 2012.
The WSOP also announced expanded television coverage from ESPN. The Worldwide Leader in Sports will be on hand for all three days of play, and there will be a two-hour timeslot dedicated to each.
July 15, 9-11 p.m. EST: Day 1 and Day 2
July 22, 9-11 p.m. EST: Day 2 and final table bubble
July 29, 9-11 p.m. EST: Final table
The $1 Million BIG ONE has temporarily replaced the Big One as the biggest "one" at the WSOP, so naturally we'll lead with that in this week's Five Thoughts.
1. 10 More Confirmed for Pro-Heavy ONE DROP
You hear the one where Philipp Gruissem, Fabian Quoss, Max Altergott, Tobias Reinkemeier, Igor Kurganov, and Niklas Heinecker walk into a poker room? I forget how it goes exactly, but I'm sure there are some suckers involved.
As mentioned above, this year's ONE DROP is likely to feature a higher percentage of pros than the first. On top of that, Brandon Steven and Paul Newey have played a ton more poker since the first time the event was held — it was the first time Newey ever played in a proper tournament — and Talal Shakerchi, who isn't confirmed yet but participated in the first ONE DROP, just won an event in the Spring Championship of Online Poker.
Thank goodness JRB finally found someone to punt a million dollars.
Initially, the WSOP feared that this million-dollar tournament couldn't exist without a stronghold of charitable businessmen like Guy Laliberté and David Einhorn — and to an extent this remains true because the professionals need there to be some sort of value — but two-thirds of this year's field could be comprised of pros. If the event is held again in 2016 or beyond, then I am willing to wager that an even higher concentration of the participants will be professional poker players.
This is a turnoff for some amateur players who are more concerned with value than the experience. Haralabos Voulgaris may be one of those players — although he has also spoken out about both the slow structure and slow play — tweeting the following to a fan who inquired about him playing the ONE DROP remix:
Many people have pointed out that inflation plays a role in these big buy-in events, and they're right. According to data.bls.gov, the $10,000 buy-in at the 1971 WSOP Main Event is now worth $58,343.95. On the flip side, $1 million in 2014 equals $171,397.38 in 1971. It's all about perception.
The value of this tournament is shrinking with more and more pros, but the super high roller regulars can afford to take this risk because either their bankrolls are bigger than ever or their backers' bankrolls are bigger than ever. If all of Team Germany (I'm excluding Altergott and Ole Schemion, who isn't confirmed yet) bricks in the ONE DROP — this is highly unlikely — then they're still up over $16 million in earnings collectively since the start of 2013. That doesn't account for losses, but it doesn't account for online winnings either — Heinecker was up $6 million in 2013.
If they can get someone in the winner's circle, they'll be up over $30 million in 19 months.
As for the TV expansion, this is fantastic. The ONE DROP is as captivating as the Main Event because of the big buy-in, and it will garner mainstream attention even if it isn't the first ever seven-figure poker tournament. It should also make for a great lead into the Main Event coverage.
2. RIP Joey Knish
According to Brian Koppelman and David Levien, writers of the poker cult-classic Rounders, Joel "Bagels" Rosenberg passed away at age 58 last Thursday. Bagels was the inspiration for the character Joey Knish, played brilliantly by John Turturro, and greatly impacted the entire film with his attitude, "which was wry, wise, and full of heart."
Here's an excerpt from the piece about Bagels:
Although he'd gut you at the table, away from it, he wanted the best for you, encouraged you. Our friend Shecky told us story after story of Bagels helping someone out, loaning them some dough, letting them take over his route driving the baked-goods truck that earned him his nickname, whether for a night or a week.
One of the many iconic scenes in Rounders is when Matt Damon's character Mike McDermott is talking with Knish outside after just going broke. Knish warned McDermott not to sit in the game, suggesting he find a softer seat at The Chesterfield or elsewhere, and could easily said "I told you so," but he doesn't. Instead, he consoles McDermott and, like Bagels, offers to let him drive the truck if necessary.
Koppelman and Levien reveal in their piece that Bagels is actually credited with the line "in the poker game of life, women are the rake," which was written for Edward Norton's character "Worm" in the film. There's also an excellent story about when he bluffed a fellow Jewish grinder out of a pot, and the opponent became self-defensive. I advise that you go check out the punch line and the rest of the terrific article here.
Like most all poker fans, Rounders has a special place in my heart, and it is sad to see an inspiration for the film gone so soon. Rest in peace, Bagels.
To celebrate the 10-year anniversary of his $5 million Main Event win, PokerNews contributor and advisor Peter Alson spoke with Greg Raymer for an extensive interview, which you can find here. Among the topics discussed were his passion for the game, getting older, and his prostitution scandal from 2013.
On his arrest, Raymer makes it clear that he never broke the law. Indeed, all of the charges were dropped as long as the 2004 Main Event champion pledged to do community service, which is something he says he already does a lot of. As a Libertarian, Raymer's only regret is breaking a promise between he and his wife.
"To me, that's my crime," he says. "Not being faithful to my wife."
Raymer makes a very fair point, and the Libertarian viewpoint is very pro online poker. Believe it or not, the idea that two consenting adults can engage in sexual activity — one for profit and one for pleasure — isn't far off from the idea of someone gambling at home in their underwear. To a Libertarian, these are freedoms we should be allowed because we are not negatively affecting our neighbours and fellow citizens.
While Raymer's argument makes sense theoretically, we live in a world driven partially by morals, and these moralistic tendencies leak into our statutes and laws. And, when we break statutes and laws, we must pay some sort of penalty.
As for poker, Raymer admits that he is getting old.
"My memory stinks," he admits. "But then it's always been bad."
Raymer also adds that "the average player today is tremendously more skilled than they were before I won the Main Event."
Fossilman is extremely self aware, and understands the difficulties of being a professional poker player in 2014. That's why he opts to crush the Heartland Poker Tour rather than playing in high rollers, and he's established himself as a great teacher with the Fossilman Training brand. Creating income off of the felt is paramount, and Raymer has been able to do that after his PokerStars sponsorship expired.
It will be interesting to see if Raymer receives a ceremony for the 10-year anniversary of his win at the WSOP. I think that the staff is more likely to celebrate Phil Hellmuth's 25-year anniversary.
4. Canada Cup Kicks off Friday
During the Fall of 2013, I was lucky enough to head to Montreal, Canada for an event hosted by Full Tilt Poker. When I arrived, I was horrified to find out that the venue — the Playground Poker Club — was a 20-minute taxi ride away in Kahnawake.
My horror was short lived, however, because Playground absolutely blew me out of the water.
"I've never been so happy to commute," I kept on telling my colleagues.
Not only is Playground a massive space with poker tables from wall to wall, the staff is excellent, there are televisions everywhere, and the adjourning Rail Coal Fire Bistro is delicious. You can also enjoy food from the Rail while you're playing, thanks to the overly helpful waiting staff.
Well, on Friday the world's largest online poker room heads to Playground for the PokerStars Canada Cup, and next week they are hosting a $2 million guarantee main event. The buy-in for the tournament is $3,000, and it features three starting flights with a next-day re-entry format. There will also be a $10,400 buy-in High Roller.
These events all take place after SCOOP, so I expect to see some of the best players in the world in attendance, including Team PokerStars Pro, native, and 2010 WSOP Main Event winner Jonathan Duhamel. Playground ambassador Jeff Gross will also be in attendance, and he calls the venue one of his favourites in the world.
"These guys have the formula down to a T," he says.
I can't possibly recommend this venue enough, and if you catch a bad run of cards in the tournament, Montreal is a beautiful city and the weather is finally turning around in Quebec.
5. Pennsylvania Study on Online Gaming Makes Senator a Believer
Pennsylvania State Sen. Kim Ward believes their study on iGaming painted a "very intriguing" picture of the prospects of licensing and regulating the activity in the Keystone State.
Ward chairs the Senate Community, Economic and Recreational Development Committee that ordered the study, and now supports bringing online gambling to Pennsylvania after remaining neutral on the topic.
"Internet gaming, pensions and liquor are the big issues on our plate," Ward said in a phone interview with PokerNews. "iGaming hasn't been there in the past, but now that this looks like it could be a source of income it will probably become a prominent part of the discussion."
The study estimates that iGaming could generate $184 million ($77 million from poker) in revenue in one year, and $307 million ($129 million from poker) in subsequent years.
Only one casino has spoken out against online gambling, but there's absolutely no way that it is the Sheldon Adelson-owned Sands Casino Resort Bethlehem.
OK. Maybe it is.
With an estimated 12.7 million inhabitants, Pennsylvania is the sixth-largest state in the U.S., and if iGaming becomes legal, it would be the largest state to allow online poker by nearly four million. With California at a standstill thanks to an argument over bad actor clauses, the Keystone state may be our best hope going forward.
There is an iGaming bill in the House in PA, but Ward believes that any meaningful legislation will originate from the Senate, where the study was done. That means we have to wait — something we're becoming very accustomed to doing post Black Friday.
This is all good news on the legislation front. We need influential figures like Ward to have a positive outlook on the prospects of iGaming. The road will remain long, however, and we will have to simply be patient as bills pass from committee to committee.
Get all the latest PokerNews updates on your social media outlets. Follow us on Twitter and find us on both Facebook and Google+!