Dave Shallow and Richard Kellett Chop the 2013 UKIPT Nottingham High Roller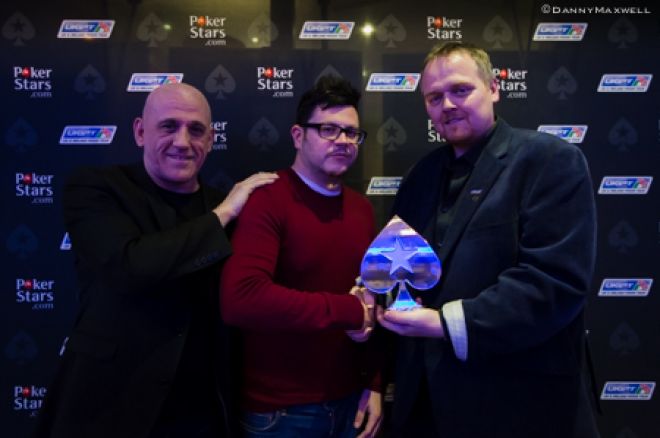 There's a long-running joke on the European poker Tour's live stream where the commentators James Hartigan, Joe Stapleton, Marc Convey and Matt Broughton sing "Everybody loves a chopped pot" whenever there is a split pot.
That particular quartet must be singing their little hearts out this morning following the news that Dave Shallow and Richard Kellett chopped the remaining money pot in the 2014 UKIPT Nottingham High Roller event at the Dusk Till Dawn (DTD) club on Wednesday night.
Day 2 of the £3,300 buy-in tournament started with 35 players and 13 of those were paid. Scraping into the money were start-of-the-day chip leader Ben Vinson (13th for £6,050), 2012 Grosvenor UK Poker Tour (GUKPT) Coventry winner Martyn Frey (12th for £6,050), Marcin Kreft (11th for £6,500) and Emanuele Pani (10th for £6,500), the latter's exit setting the final table.
2014 UKIPT Nottingham High Roller Final Table
| Seat | Player | Chips |
| --- | --- | --- |
| 1 | Mohammed Sadiq | 180,000 |
| 2 | Richard Kellett | 437,000 |
| 3 | Dave Shallow | 420,000 |
| 4 | Matthew Davenport | 256,000 |
| 5 | John Haigh | 90,000 |
| 6 | Patryk Slusarek | 146,000 |
| 7 | Eleanor Gudger | 130,000 |
| 8 | David La Ronde | 130,000 |
| 9 | Steve Warburton | 228,000 |
It took over two hours for the final table to lose its first player, that dubious honour going to John Haigh. He may have started as the shortest stack, but Haigh battled valiantly, it is a shame he didn't manage to ladder up the payouts.
Haigh's exit was confirmed when Shallow opened to 15,000 and Haigh moved all-in for 17,000. David La Ronde and Richard Kellett called the preflop raise, but both folded when Shallow bet 18,000 on the



flop.
Haigh flipped over


and was way behind to the


of Shallow. The turn and river failed to come to Haigh's rescue and he busted in eighth place.
There was no two hour wait before the next elimination because Steve Warburton lost his stack to Kellett 25-minutes after Haigh busted.
Warburton opened the preflop betting round with a raise to 12,000 from the cutoff and Kellett responded by three-betting to 31,000 from the small blind. Warburton considered all of his options before settling on a four-bet all-in for 150,000. Kellett paused briefly then called.
Kellett showed


and was a huge favourite against Warburton's


. Kellett's situation improved further on the



flop, and Warburton was drawing dead by the

turn. The

completed the board and Warburton said his goodbyes.
Next to go was DTD regular Mohammed Sadiq after a battle with fellow short-stack Eleanor Gudger. Gudger, a Team PKR Pro, moved all-in for 101,000 (around 12 big blinds) from the button with what turned out to be


and Sadiq opted to call off his 87,000 stack from the big blind with


.
By the river the board read





and Sadiq crashed out in seventh place.
The six remaining players gained some precious elbow room soon after Sadiq had left when Patryk Slusarek lost a coinflip for his tournament life. From early position, Slusarek opened to 16,000 and Kellett made it 43,000 to go from the small blind. Slusarek moved all-in for 270,000 and Kellett called.
Kellett's


were narrowly ahead of Slusarek's


and stayed the best hand throughout as the board ran





.
Five became four almost immediately after when Kellett again claimed the stack of an opponent. This time it was Kellett who opened the betting with a raise to 18,000 and La Ronde called. Both players checked the



flop, leading the dealer to put the turn card into view – the

.
La Ronde bet 20,000 on the turn, Kellett raised to 45,000 only to see La Ronde move all-in for more than 200,000. Kellett snap-called and rightly so because he held


for two pair. La Ronde rather sheepishly turned over


for a pair and inside-straight draw, a hand that failed to improve when the

completed the board. Game over for La Ronde.
Matt Davenport was the next high roller to fall, initially losing out in a battle of the blinds to Shallow. A raise to 26,000 from Shallow in the small blind was met with an all-in three-bet of 325,000 from Davenport in the big blind. Shallow called and his


beat Davenport's


when the five community cards fell





.
That hand left Davenport on life support and it was no surprise to see him jam all-in from the button with


. Sadly, for Davenport at least, Gudger woke up in the small blind with pocket aces! Davenport paired his queen on the flop, but received no further improvement and he became the fourth place finisher.
Those chips that Gudger collected from Davenport were soon merged into the stack of Kellett when she opened from the small blind and Kellett called in the big blind. A



flop saw Gudger initially check and then check-raise to 65,000 after Kellett bet 28,000. Kellett called and it was off to the

turn.
Gudger open-shipped her 200,000 stack into the middle of the DTD felt and Kellett beat her into the pot turning over


for two pair as he did so. Gudger needed to his a queen as she held


, but the river wasn't a lady and the last female player in the tournament headed to the rail in third place.
There was no heads-up battle in this particular tournament as both players decided to split the remaining prize pool down the middle and take £68,000 each. Shallow goes down in the UKIPT history books as the tournament's champion by virtue of having the larger stack of the two but both players seemed happy with the result.
2014 UKIPT Nottingham High Roller Final Table Results
| Place | Player | Prize |
| --- | --- | --- |
| 1 | Dave Shallow | £68,000* |
| 2 | Richard Kellett | £68,000* |
| 3 | Eleanor Gudger | £36,950 |
| 4 | Matt Davenport | £28,950 |
| 5 | David La Ronde | £23,350 |
| 6 | Patryk Slusarek | £18,200 |
| 7 | Mohammed Sadiq | £14,400 |
| 8 | Steve Warburton | £11,200 |
| 9 | John Haigh | £8,500 |
So that concludes the £300,000 guaranteed UKIPT Nottingham High Roller. The £1 million guaranteed UKIPT Nottingham Main Event is in full swing, stay tuned for a recap of Day 1a's action.
Lead image courtesy of the PokerStars Blog
Get all the latest PokerNews updates on your social media outlets. Follow us on Twitter and find us on both Facebook and Google+!