2014 World Series of Poker: PokerNews Staff Predictions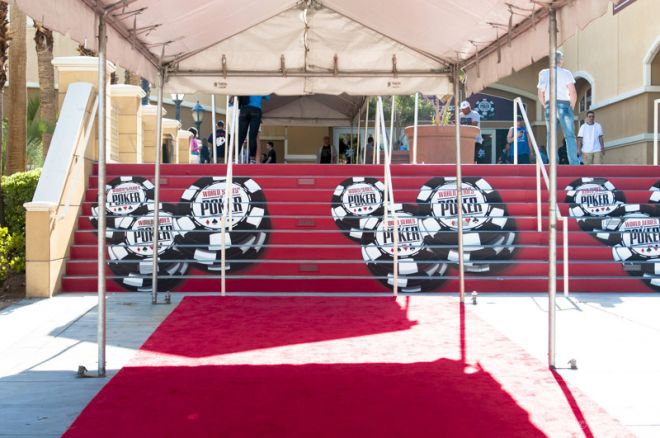 The to delight of poker players and fans around the world, the 45th Annual World Series of Poker officially begins today at the Rio All-Suite Hotel and Casino in Las Vegas. In preparation, the team at PokerNews HQ has been finalizing schedules, teams, and more, but we also took time to peer into our crystal ball to make some predictions. Our team of "analysts" is comprised of editor-in-chief Donnie Peters; managing editor Brett Collson; producer and presenter Sarah Grant; senior news editors Rich Ryan and Chad Holloway; social media manager Pamela Maldonado; PokerNews.NL contributor Frank Op de Woerd; Learn.PokerNews editor Martin Harris; European editor Giovanni Angioni; and UK PokerNews editor Matthew Pitt.
Here are the 2014 WSOP PokerNews Staff Predictions. (Note: These picks are for entertainment purposes only — unless Chad Holloway is right, in which case, you might not ever hear the end of it.)
Who will win WSOP Player of the Year?
Donnie Peters: Scott Clements. He's an excellent all-around player who will be putting in a heavy schedule of events. The test could be if he travels down to Australia in October to really go for the title, but if he's in top contention after the summer, I see him making the trip.
Brett Collson: Stephen Chidwick. He plays every game, and plays them all well. Chidwick is one of the most tenacious grinders on the circuit and doesn't let anything affect his mindset. If there's a dual bracelet winner in 2014, it will be Stevie.
Sarah Grant: I think Vanessa Selbst is due for a WSOP POY banner by now. She was head-to-head with Ole Schemion for EPT Player of the Year, but couldn't quite capture it. She is done with school, married and seems to be very sharp this year. I expect a lot from her this series if she can stay focused on poker and not let the other dramas impact her game.
Rich Ryan: Stephen Chidwick. Like Matthew Ashton, stevie444 can play all of the games, and he's in form after cashing in four consecutive EPT Main Events and finishing seven in the EPT Grand Final High Roller.
Chad Holloway: I'm going to say Greg "FBT" Mueller. He's always going deep, especially in the mix games, and he's lost around 50 lbs. headed into the WSOP. He's motivated and disciplined, and if the cards fall his way he could put up some big results.
Pamela Maldonado: Scott Clements. From past interviews and experiences from seeing him play live, he's one of the most motivated and eager players I've seen. His determination for winning another bracelet is strong and after coming close twice last year, he'll be hungry.
Frank Op de Woerd: Phil Ivey. He's at it big time this year, with these crazy big side bets. There's a lot of big names competing for this, but when Ivey has his mind set to it, there's no one better.
Martin Harris: David "Bakes" Baker finished in the top five in the WSOP POY race two of the last four years, and was 19th in another. He plays all variants and all stakes at a high level (plus lots of events, which matters, too), so he's my pick.
Giovanni Angioni: Stephen Chidwick. He's been doing very well for a while now. He can play all of the games, and I am sure he will be in Vegas with the perfect mindset to score something big.
Matthew Pitt: I'm going with Stephen Chidwick. He's in great form right now and I have a sneaky feeling that he's going to be going all out for a bracelet this year. He'll be playing all the high buy-in events, mixed games, so he's my choice. Plus he looks badass now with his shaved head!
Which WSOP newcomer will have the biggest impact?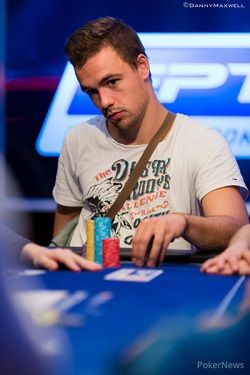 Peters: Ole Schemion. While Schemion's said he's playing only a few events, I'm going to say he plays much more than he has led on to believe. And with the way this kid wins events, a gold bracelet is definitely within reach.
Collson: I'm going to play the numbers game and go with Alen Bilic. We don't know how many events Schemion, Dominik Panka and Lukas Berglund are going to play, but Bilic has already confirmed that he'll be playing as many as 20 no-limit hold'em events.
Grant: I would like to say Ole Schemion but since he isn't planning on coming for more than a few weeks of the series I will put my money on Jordan Westmorland. He has a great head on him and is the type of guy who could endure two months of straight poker and still have a smile on his face. I think his attitude and laid back personality will be contagious in the poker world.
Ryan: Remember when Annette Obrestad's photo was placed all around the Rio when she finally turned 21? Ole Schemion's face should be printed on the decks. He's only planning on playing a few events, but as the reigning GPI Player of the Year, all eyes will be on the young German.
Holloway: Christoph Vogelsang. To me, he seems like the rookie that will be totally focused on poker. He's not the partying type, so the Vegas scene won't get to him. I think we'll see the man known as "Tight-Man1" only make some noise in 2014.
Pamela Maldonado: Dominik Panka. He's won both a Main Event and a High Roller event showing his capabilities of defeating both recreational and big-name pros alike. From the Google Hangout with Sarah, he showed he is a reserved player with the focus of excelling his poker career. I'm looking forward to seeing what he can do.
Op de Woerd: Christoph Vogelsang will play the Big One for One Drop, so that's an easy pick. There's not much anticipation for this fine player to make his debut, so all the more amazement will follow when he wins it.
Harris: "Biggest impact" can be interpreted in various ways, but if we're talking about a new WSOP player making deep runs and earning headlines this summer, Ole Schemion is a good choice.
Angioni: It depends. I think Ole Schemion is a fairly obvious choice – he's 'the guy' now, and I don't think he will disappoint anyone during these WSOP. However, I will keep my eyes also on Giuliano Bendinelli. He is an interesting Italian kid who has recently moved to London and has been playing some pretty good poker for the last year and a half. He was supposed to debut at the WSOP one year ago, but then he had to change his plans at the very last minute. You will see, he will not be there to do some sightseeing.
Pitt: If Lukas Berglund actually heads to the WSOP he would be a solid choice, but he's quite a shrewd guy so could stay at home and grind the much weaker fields online.
3. Which big-name pro will be the biggest disappointment?
Peters: Phil Hellmuth. He surely won't disappoint in terms of entertainment value, but this will be the year Hellmuth bricks any big results and final tables. No 14th bracelet for the "Poker Brat" in 2014.
Collson: I picked Mike Matusow last year and he won a bracelet. Sorry Mikey. I'll go with Antonio Esfandiari this time around. Expectations are high with the return of the ONE DROP, and as good as Antonio is at no-limit hold'em, he doesn't play enough of the other games to offset any negative variance he might run into in the smaller hold'em events.
Grant: Sam Trickett. It seems after a whirl wind couple of years he is slowing down a bit. Maybe he is giving some his other incredible mates a chance to catch up or maybe he is just busy with other things…like beefing up to fill out those muscle tees. Either way, I don't think this year we will be seeing as much of him at the final tables.
Ryan: Mike Matusow won a bracelet last year, but he won't make a final table this year.
Holloway: Matthew Ashton. Last year he killed it at the WSOP by making several final tables and winning the $50,000 Poker Players' Championship. Had it not been for Negreanu, Ashton would have been been the Player of the Year. Last I heard Ashton wasn't even going to be at the WSOP, instead opting to spend the summer at the World Cup. I can understand that decision, but given what he did last year, it'll be disappointing if he doesn't return for a title defence.
Maldonado: Phil Hellmuth. No ONE DROP, already has 100th cash, and from outside observation he boasts his lifestyle and public appearances, which doesn't reflect an urge to achieve much this summer. Sure, he'll probably play a lot of events but I don't see much success happening.
Op de Woerd: The anticipation for Ole Schemion's debut is too high. I even see him not care enough for the small events, and (though I don't have any inside information) he might fancy some World Cup action in Brazil and miss some. A lot of people just expect him to do well, but there's a big difference between grinding the European Poker Tour and a two month action-packed WSOP full of early busts, terrible heat and lots of parties.
Harris: Don't like trying to peg someone for a WSOP bust like this, but I'll make a foolhardy guess and suggest Michael Mizrachi as someone who could play 30-plus events and come up dry to interrupt a five-year streak of Series successes.
Giovanni Angioni: Phil Ivey. I know some (many?) will say this is probably the stupidest choice ever, but I simply think he's not going to win any bracelet this year. He may get some not-too-bad results, perhaps break even, but that's not what we all expect from the world's best player. No bracelets for him – and well, that's going to be a disappointment!
Pitt: I'm going to go with Matusow. I also think that Ivey is going to be amazing or totally pants with no middle ground.
Daniel Negreanu and Phil Ivey have big bracelet bets this year. Will either win one?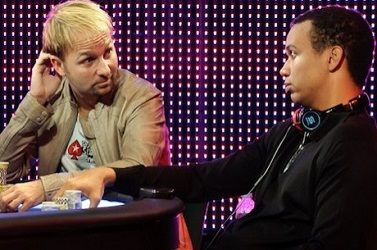 Peters: Yes, and the numbers say they are a favourite. Since 2000, Phil Ivey or Daniel Negreanu have won a WSOP gold bracelet on U.S. soil eight times, which equates to 57.14 percent of the time. Since the poker boom in 2003 when the fields began to grow, they have won a bracelet six times, which equates to 54.55 percent of the time. It also plays to their favor that the Big One for One Drop is back and limited to 56 players, the $10,000 championship events are back and many will have less than 200 players, and there are more events on the schedule this year. Plus, Ivey's rumored three-year bracelet bet is in its final year, pushing him harder to win a piece of gold.
Collson: There will be plenty of close calls, but I think both fall short of paydirt this year. Either way it will be a fun sweat all summer long.
Grant: Daniel for sure. You can't stop this guy. He is a powerhouse of positive energy and incredible skill. He has taken some time off this year in order to focus on the WSOP for most of his events and I think he will be in top form as a result.
Ryan: Yes, and they should both be arrested for grand larceny. Even money, boys? Really? And people want to bet against them? Insanity.
Holloway: No. I think they'll both have good years and make several final tables, but ultimately I think they'll fall short in Vegas. Of course I'm not willing to put my money where my mouth is.
Maldonado: Neither. The competition is getting more steep with players like Schemion, Panka, Gruissem coming into the picture. I will say Negreanu has an edge over Ivey to win a bracelet but for this summer, it won't happen.
Op de Woerd: I have big hopes for Ivey and Negreanu. I think this is about even money. If I had $10k to spare and had to place a bet, I would want their side of the bet.
Harris: No. Three final tables between them, though.
Angioni: Negreanu will, numbers are on his side to support this and I am pretty sure he will. On the other hand – even if I can't base this on anything more serious than my gut feeling, I am going for zero bracelets for Phil. Just don't ask me to put my money on it!
Pitt: (Tosses coin) No.
How many players will enter the Main Event?
Peters: 6,975. The $10,000,000 guarantee, the addition of satellite qualifiers from WSOP.com, and the return of Full Tilt Poker money to U.S. players will lend itself to a very nice increase in field size.
Collson: 6,700. What Donnie said. All of the above factors will cause an increase in attendance.
Grant: 6,489. A few more than last year with some extra qualifiers here and there…but pretty much on par with most the major events in the world. They add a few players but nothing too dramatic…unless you are in Eastern Europe and things are going gangbusters.
Ryan: 6,866, making it the third-largest Main Event of all time.
Holloway: 6,811. With the $10 million guarantee first-place prize and WSOP.com satellites, I think we'll see the number increase from 2013, but nothing dramatic.
Maldonado: 6,808. 2011 saw 6,865 and 2013 had 6,352. A happy median is 6,658 with some extra. I don't see a big jump.
Op de Woerd: 7,613 - give or take. That's a lot more than the 6,352 the event attracted last year, but less far less than the 8,000-plus I hear people whispering. I hope WSOP.com will have a big impact, and the $10,000,000 guaranteed might draw some more local qualifiers and more people wanting to gamble.
Harris: Am going to guess between WSOP.com and "Main Event Mania" satellites they'll boost the overall total this year a bit to 7,039.
Angioni: 6,707. I don't think the $10,000,000 guarantee is going to make a big difference, yet qualifiers on WSOP.com and the U.S. economy going slightly better than during the past years will help to bring some more people in, making the main event bigger than in 2013. But yes, the number is quite random.
Pitt: 6,800. I think we'll see a slight increase based on players having Full Tilt money and a few qualifiers from the Nevada facing sites. I don't believe the $10M guarantee for first is going to make much of a difference at all.
Who will take down the BIG ONE for ONE DROP?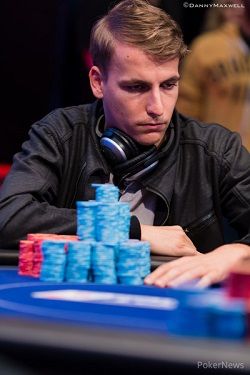 Peters: Greg Merson.
Collson: Philipp Gruissem. The world's best High Roller player will strike again.
Grant: Ole Schemion. He isn't coming to the WSOP for more than a couple weeks from what he said in an interview I did with him in Berlin. But when he does come he has to ship at least one huge event. He doesn't disappoint so I would say he could definitely destroy the BIG ONE.
Ryan: Tony Gregg. He will then rush off to play his late-reg stack in the $10K Stud immediately after raising his second bracelet.
Holloway: Philipp Gruissem. He is a high-roller king, and as we all know the Germans dominate.
Maldonado: Obvious answer — Gruissem. Rooting for Erik Seidel. He's due for a legacy win.
Op de Woerd: Almost all of the players registered are great players, what do you expect with a $1,000,000 buy in. It's easy to pick one of the German players, or someone like Ivey, Negreanu or Esfandiari. I'll go with Talal Shakerchi though. I like the underdog story. He's very wealthy and fearless. He proved himself a more than good player, both live and online. I think some not too familiar with the European circuit might underestimate him.
Harris: Brian Rast will outlast a final table full of Germans to win $20 million-plus after Jean-Robert Bellande bubbles.
Angioni: You can pick the name you prefer – I just know he's going to be German. That's a fact.
Pitt: He will definitely be German and I'd imagine his friends will call him Philipp.
Will Chad Holloway repeat in the Casino Employees Event?
Peters: No chance.
Collson: He's very serious about making another deep run. But from experience there are just too many landmines in this shallow-structured event. Chad will go busto in Level 5.
Grant: Unfortunately that seems highly unlikely and in a game of probabilities I would have to bet against that. However, if he does…I promise to keep my hair a normal color for the interview.
Ryan: Chad Holloway will bust on the exact bubble, crumple his cards, and be banned from all Caesars properties.
Holloway: I hope so, but chances aren't good. It's a turbo, so don't be surprised if I'm out in the first three levels. If I make it past that, then I'm a favorite to make the money. That's just how I roll.
Maldonado: Absolutely not. I say he busts before 2nd break.
Op de Woerd: No, he'll bust in the third level.
Harris: After triple-barreling with air early and getting called down, Chad unfortunately busts prior to the dinner break and finishes at the Hooker Bar… but not before handing over his autographed Bird Shirt to the player who eliminates him!
Angioni: I don't see who else would, if not him. After the victory, Chad will celebrate bringing Nolan Dalla to a sushi restaurant where he will convince him to share his food with a bunch of people continuously talking about pets and poker hands.
Pitt: Sadly, for Chad at least, I'll be winning the employees event this year after missing out in 2013 as I was reporting at Wembley Stadium. I'd be happy to meet him heads-up where I wouldn't chop – No Chop Pud.
Combined number of events played by Howard Lederer and Chris Ferguson?
Peters: One. I don't think Chris Ferguson will ever play a WSOP event again, but I think Howard Lederer will — namely the $50,000 Poker Players' Championship this year to start.
Collson: None. Maybe a few years down the road we'll see Chris or Howard step into the Rio. The disaster at the old Full Tilt Poker is still too fresh in people's minds.
Grant: Zeo. After this long I would be shocked if they ever returned.
Ryan: Do the Rio Deepstacks count?
Holloway: Zero. I think eventually they will make their way back to the WSOP, but I don't think 2014 is the year.
Maldonado: None. I predict sightings away from the Rio, namely Lederer returning to the tables at Bellagio. No tournaments.
Op de Woerd: One. Chris Ferguson will play the Main Event, Lederer will be absent the entire series.
Harris: Zero.
Angioni: Zero. I think they both know it is still too early for them to show up. Don't they?
Pitt: Are either of them stupid enough to turn up to the series? Surely they both have plenty of $100 bills under their mattresses from their Full Tilt shenanigans.
Which pro will go on the first Twitter rant of the series?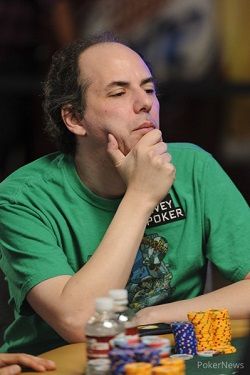 Peters: How could it not be Allen Kessler?
Collson: Seriously, how could it not be Allen Kessler?
Grant: Phil Hellmuth. With one of the biggest mouths in poker I expect a solid Hellmuth rant and name drop very early on in the WSOP.
Ryan: If Phil Hellmuth plays the $25,000 Mix Max, he's a huge favorite. Unless he wins, there will be heartbreak.
Holloway: Phil Hellmuth will get knocked out of the first tournament he players by some guy simultaneously playing on WSOP.com via a laptop. This won't sit well with Hellmuth, and we'll hear about it.
Maldonado: Daniel Negreanu. His first event he will be so cold from the Rio freeze but not cold enough to ramble why the first card off the deck was stupid from the start.
Op de Woerd: Chad Holloway will bust in the third level of the Employees Event and will rant on Twitter, Facebook, Instagram, Google+, Snapchat and YouTube, about how bad a structure the tournament has.
Harris: Hellmuth will rant, because Hellmuth. But not on Twitter, where he'll be reporting instead that he's IN THE ZONE and ready to WALK THE WALK and play GREAT POKER. Luke Schwartz a possible a candidate here, but Allen Kessler the heavy favourite and my pick.
Angioni: Phil Hellmuth. I don't know if it will be about the new carpets or about some kid who busts him – but I bet it's going to be him. And it's going to be fun.
Pitt: The question should be at what time on the first day of the series will Alan Kessler start moaning about something.
We encourage all of our readers to make their own predictions in the comments section below!
Get all the latest PokerNews updates on your social media outlets. Follow us on Twitter and find us on both Facebook and Google+!