What Are The Best Poker Headphone Brands?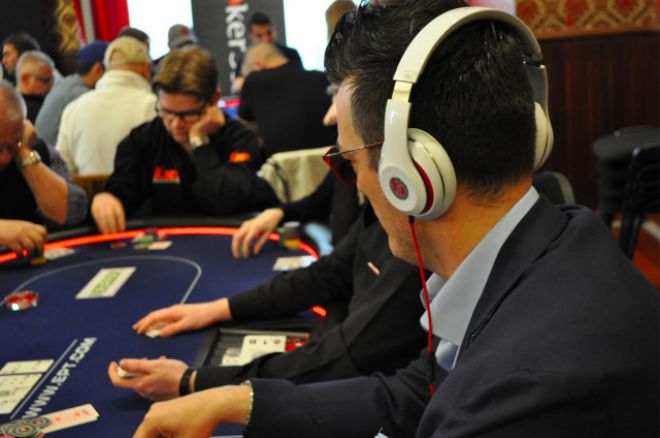 Head to any card room in any casino around the world and you will almost certainly see a large number of poker players wearing headphones. This popular gadget is almost as common at the poker table as the traditional poker hoodie, with everyone from 18-year old internet grinders to middle-aged businessmen sporting them.
Choosing the right headphones for the poker table can be a difficult and arduous task, not least because there are several different styles, having to choose between open-cup and closed-cup and so many brands screaming that their product is the best that you could spend thousands of pounds on a dozen or so pair of headphones before finding the right ones for you.
First, let's split the types of poker headphones into the three most distinct styles that are out there: in-ear, on-ear and over-ear. Each of the types are self-explanatory, but let's look at each one anyway.
In-ear: This headphone type is extremely common both in the poker world and outside it. Most mobile phones, MP3 players and similar devices come with the in-ear "earbuds" that you wear by placing inside the ear. Think of the white Apple headphones that you see hanging out of the ears of people wherever you go and you have in-ear headphones.
On-ear: On ear headphones are your traditional headphones that are usually worn over the head with the cups – those bit that the noise comes out of – resting on your ears.
Around-ear: These are the larger, less portable of the three headphone types, but are also usually the most comfortable for wearing for long periods of time and have the best sound quality. As the name suggests, the cups fit over the wearer's ears much like a DJ's might.
Which Is The Best Poker Headphones Brand?
Ask a room full of poker players which is the best poker headphones brand and you will be bombarded with dozens of replies, all with their own set of pros and cons. Although I'm no audiophile, I have reported on dozens of major tournament where poker crowds of headphone wearing poker players are competing to have seen what the most popular brands seem to be.
Bose
When it comes to noise-cancelling headphones, Bose are the daddies. Noise-cancelling headphones are an absolute Godsend to a poker player, especially one who travels a lot and travels by air. Have you ever tried listening to your favourite music while flying? It's almost impossible, even if you pup the volume right up. With Bose's noise-cancelling technology, all you do is flick a switch and the vast majority of background noise disappears.
The biggest downside to Bose headphones is you will pay a premium for them. Their in-ear QuietComfort 20 will set you back £260, while the QuietComfort 3 On-ear headphones cost the princely sum of £300. My personal favourite, and the cans that I own, are the QuietComfort 15 at £260.
Beats By Dre
They may have only been around since 2008 but that has not stopped Beats By Dre from becoming one of the most popular poker headphone brands. The majority of photographs you see of poker players wearing headphones will be an image of Beats in some way shape or form.
Owners of Beats love them, despite their sound quality being often slated by those in the know. The main selling point of Beats is they look great, much cooler than their Bose counterparts – remember that looks aren't everything!
Beats have several in-ear options ranging from £80-£120 with the on-ear range – known as Solo and Mixr – starting at £160 and increasing to £220.
The around-ear Beats are, like Bose, noise-cancelling and are one of the most common poker headphones. Studio class start at £270 and go up to a wallet-draining £390, while the Pro Beats go for £350-£390.
They're not cheap, but they are great headphones for at the poker table.
Sennheiser
German company Sennheiser have been around since the 1940s and are still producing some excellent headphones to the present day. The company prides itself producing high quality audio for a wide variety of situations.
You will be able to find cheap Sennheiser on-ear headphones for as little as £50 although their great mid-range on-ear headphones (Momentum On-Ear) will set you back £170. The Momentum around-ear cost a more substantial £260.
For those of you who want to plash the cash, Sennheiser produce the HD700 and HD800 that cost a staggering £600 and £1,000 respectively!
Those are the three poker headphone brands that I notice most often, but also look out for other major brands such as Sony, Pioneer, Klipsche, PSB and Shure.
What brand of poker headphones do you prefer and why? Let us know in the comments box below.
Get all the latest PokerNews updates on your social media outlets. Follow us on Twitter and find us on both Facebook and Google+!