Tom "hitthehole" Middleton Wins the WCOOP Challenge Series Main Event For $500K!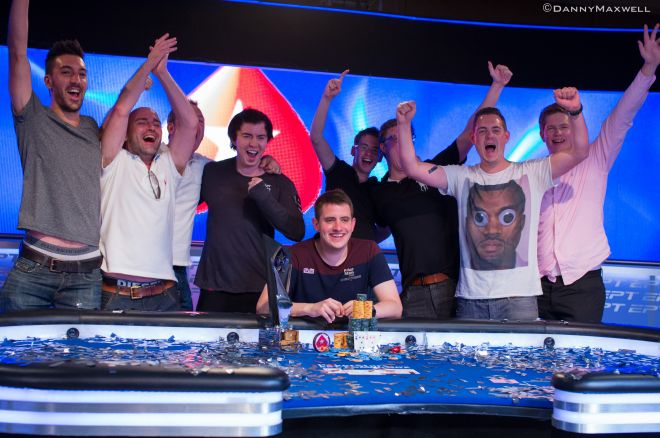 Leeds' Tom Middleton, "hitthehole" to his online opponents and "Middy" to his nearest and dearest, has added a $500,000 score to his already impressive list of poker accomplishments after taking down the 2014 WCOOP Challenge Series Main Event as calendars around the world flipped over to April.
The $2,100 buy-in WCOOP Challenge Series Main Event attracted 1,624 players, meaning the prize pool stood at a whopping $3,248,000. Of those 1,624 hopefuls, only 65 managed to navigate their way through the shark-infested waters of Day 1, Middleton ending that action-packed day with 641,245 chips – enough to place him seventh overall.
Plenty of big names were still in with a shot at the $532,834.40 first place prize, but one-by-one they fell by the wayside. Luminaries such as Anthony "wwwBTHEREcom" Gregg (77th for $6,496.00), Ireland's Mick "BIGMICKG" Graydon (72nd for $7,145.60), the United Kindgom's Tom "GaggleoKings" Ambler (54th for $8,444.80), Ambler's fellow Brit Matt "OffTh3Radar" Davenport (48th for $8,444.80), Team PokerStars Pro Angel Guillen (44th for $9,419.20), Andrew "stato_1" Hulme (26th for $12,667.20), and Maria "Femmeonfelt" Ho (15th for $20,137.60) seeing their tournaments cut short before the final table.
By the time the final table was reached, Middleton had increased his stack to 4,716,851 chips, which gave him a slender lead over Norway's "ventox" who had 4,669,529 chips at his disposal.
2014 WCOOP Challenge Series Main Event Final Table
| Seat | Player | Chips |
| --- | --- | --- |
| 1 | Tom "hitthehole" Middleton | 4,716,851 |
| 2 | bboooommmmmm | 1,511,609 |
| 3 | Bryn "BrynKenney" Kenney | 3,300,660 |
| 4 | ventox | 4,669,529 |
| 5 | somnium89 | 2,974,463 |
| 6 | ShankingYou | 618,470 |
| 7 | Stella948 | 3,007,067 |
| 8 | jbrown8777 | 876,958 |
| 9 | David "WhooooKidd" Baker | 2,684,393 |
Bryn Kenney may have started the nine-handed final table third in chips, but he was the first player out of the door. "bboooommmmmm" doubled through Kenney when his


held against


, leaving Kenney with slightly more than 15 big blinds. After paying the blinds and antes, Kenney found himself down to 1,234,051 chips so when the action folded to him in the small blind and he looked down at


there was only one move to make – All-in.
Kenney did shove his 12 big blind stack into the middle and was called by ventox who held


. Kenney couldn't improve to a pair or better and his tournament came to an abrupt end in ninth place.
Middleton then bolstered his stack when he sent "jbrown8777" to the rail shortly after Kenney's exit. Ventox min-raised to 200,000 only to see "somnium89 call and then jbrown8777 squeeze all-in for 904,458 from the button. Middleton, in the big blind, reshoved his massive 4.6 million stack into the middle, forcing folds from ventox and somnium89. Jbrown8777 showed


and was way behind the


of Middleton. The aces in Middy's hand held and jbrown8777 fell in eighth place.
"ShankingYou" was the next player to bust, again at the hands of Middleton. Having doubled moments earlier when he his quad sixes, ShankingYou opened to 252,000 and then called off his remaining 1.5 million chips when Middleton moved all-in from the small blind, Middleton had made his move with


, ShankingYou the call with


. The



flop widened ShankingYou's lead, the

on the turn giving Middleton a flush draw. A virtual burn card later and the river came into view…the

, completing Middleton's flush and sending ShankingYou to the sidelines.
Bakes Busts
Next to head for the rail was the hugely talented David "WhooooKidd" Baker, better-known simply as "Bakes" in the poker world. Down to 1,910,928 chips, Baker open-shoved from the small blind with the


in his hand and was looked up by Middleton and the


. The





board flirted with the idea of coming to baker's rescue, but alas it did not and only five players remained in the tournament.
Middleton's run-good continued as he sent ventox to the rail in fifth place. A raise from Middleton was met first with a three-bet all-in for around 3 million from ventox who had been dealt a relative monster in the shape of


. However, Middleton had opened with


and had one of the easier calls to make in his illustrious career. Call he did and when the five community cards fell





it was game over for a disappointed ventox.
Our hero took a short break from eliminating players to allow bboooommmmmm's


to prevail against somnium89's pair of sevens, with the chips going in preflop. "Somnium89" picked up over $217,000 for his fourth place finish, while Stella948 scooped the $292,320 third place prize after Middleton's


defeated his


when he flopped a set and turned a boat. What a life.
That hand left Middleton with 14,211,425 chips and his now sole opponent, bboooommmmmm, holding 10,148,575. Shortly after heads-up play began, the players discussed a deal and eventually it was agreed that Middleton would lock up $460,000 leaving $422,594.40 in the hands of bboooommmmmm and $40,000 still to play for.
After locking up potentially life-changing money, the action restarted. Bboooommmmmm went on a mini heater and managed to draw level with Middleton before the following hand all but ended the contest. A raise to 320,000 from Middleton was called by bboooommmmmm and the air shared a



flop. Bboooommmmmm led for 796,666 and Middleton responded by raising to exactly 2 million. Bboooommmmmm put in a raise of his own, setting the price to play at 3,866,666 and Middleton called. The turn was the

and with over 9.3 million already in the pot, it seemed like a no-brainer for the 7.5m stack of bboooommmmmm to go into the middle. It did just that, then Middleton called to disocver his


was ahead of bboooommmmmm's


. The

completed the board and left bboooommmmmm with only 142,150 chips!
That tiny stack went into the middle with


and Middleton called with


. A deuce on the flop was enough to win the pot for Middleton and the remaining $40,000 in the prize pool! Middleton also picked up a $5,200 entry to the 2014 WCOOP Main Event and a customised money clip for his win.
2014 WCOOP Challenge Series Main Event Final Table Results
| Place | Player | Prize |
| --- | --- | --- |
| 1 | Tom "hitthehole" Middleton | $500,000.00* |
| 2 | bboooommmmmm | $422,594.40* |
| 3 | Stella948 | $292,320.00 |
| 4 | somnium89 | $217,616.00 |
| 5 | ventox | $154,280.00 |
| 6 | David "WhooooKidd" Baker | $121,800.00 |
| 7 | Ben "ShankingYou" Palmer | $89,320.00 |
| 8 | jbrown8777 | $56,840.00 |
| 9 | BrynKenney | $32,480.00 |
*reflects a heads-up deal
Congratulations to Tom "hitthehole" Middleton who can now add the title of WCOOP Challenge Series Main Event champion to his list of accolades, which of course include 2014 European Poker Tour Barcelona champion!
Get all the latest PokerNews updates on your social media outlets. Follow us on Twitter and find us on both Facebook and Google+!