Simon Deadman: "My confidence is so high right now."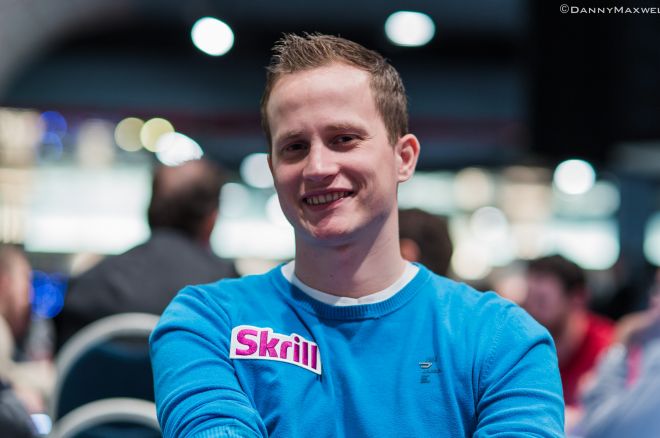 Head to a major live poker tournament in the United Kingdom or in Europe and you will probably find Simon Deadman there, hovering up chips like they are going out of fashion. When you inevitably bust out, head home and check the results online, you will probably find Deadman's name in the list of players who have cashed.
Although only three months of 2014 are done and dusted, the year is shaping up to be one of the best in Deadman's career as he has already amassed more than $350,000 in innings from live tournaments. Deadman's 2014 results are as follows:
2nd place in the Genting Poker Series Nottingham Main Event for £70,000
2nd place in the €2,500 FPS Deauville High Roller for €87,280
27th place in the £500 DTD Deepstack for £1,250
30th in the £1,080 GUKPT London Main Event for £2,250
2nd in the Genting Poker Series Birmingham Main Event for £27,755
15th in the £550 UK Poker Championships Six-Max Event for £2,750
2nd in the £1,080 GUKPT Manchester Main Event for £40,000
Remarkable results I am sure you will agree and results that must boost Deadman's confidence to record levels.
"My confidence is so high right now with the year I've had so far, my self-belief is too but to be honest it always has been." Said Deadman to UK PokerNews. "I'm very confident in my own ability and my own style that I have for live tournaments."
Ask anyone on the live poker circuit about Deadman and they will all agree that he is an exceptional player; Paul "ActionJack" Jackson recently described Deadman as the most talented live poker player in the UK, which is some accolade. So why is it that Deadman has come on in leaps and bounds in 2014? It can't all be down to variance, surely?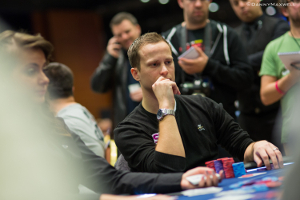 "Variance is always a factor when you're playing tournaments, but I have been working really hard on the mental side of the game. I'm eliminating a lot of small mistakes, being very focused and controlling my emotions when I'm playing."
The Hunstanton-born pro epitomises the world professional both at and away from the table, making sure that he is fully prepared to play at the best of his ability at all times.
"I'm very professional in my approach to a tournament, my friends give me stick about it but for me it's what prepares me to play my best. I make sure I'm never traveling far on the day of the tournament so I leave the night before if I need to. I try to get a good night sleep and never drink or go out the night before. I make sure that I am up in time for breakfast and a coffee and I never late-reg if I can help it."
Like many of the British pros, Deadman travels to tournaments with a close-nit circle of friends, all of who are fellow professionals. Being surrounded by like-minded people has helped Deadman progress as a player.
"I'm fortunate enough to travel and play with some friends who are very good players so we're always discussing hands and strategy and picking each other's brains. Mitch Johnson comes with us too."
In addition to his friends – and his trademark never-ending supply of jumpers – you will often find someone else on Deadman's rail, his fiancée Shola Akindele, whenever she has the chance to be alongside her man.
The pair now live in Leeds, having moved there for Shola's work. Shola is quite a poker player herself, but her playing has taken a backseat as he career is higher up on her list of priorities, and Deadman credits his beau with keeping his feet on the ground despite his recent and continued success at the felt.
"Shola's been huge influence! Shola has been so helpful in making me be mentally prepared and she keeps me grounded."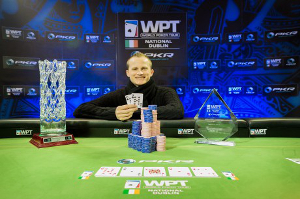 Unlike many of his peers, it's not often you will find Deadman sat in front of a monitor for hours grinding online poker. The human element of poker is vital for the sociable pro and he feels that is missing from the online poker world.
"I think I've played 2-3 online sessions this year and only on a Sunday really.
I play poker for a living because I enjoy it. I love playing live tournaments. I love the social side of the game and the interaction with other players. For me it just isn't the same online; I just don't enjoy if half as much."
Deadman will be on the road for a few months as he heads to Italy, Monaco and then to Las Vegas wth "work" before taking a well-earned break from the game for some relaxation time.
"I plan on going to San Remo and Monte Carlo this month. Then I have my brother's wedding in Cuba in June, after that we're going straight to Vegas for the last three weeks of the World Series Of Poker, finishing with the Main Event.
Post-Vegas, we will be staying in America for another two months travelling all over and enjoying the summer. I might need to win the Main Event to pay for everything that Shola has planned though! :-)
Does Deadman think he can bink something in 2014 after four runner-up finishes?
"Like I said my self-belief is pretty high so the simple answer to that is....Yes."
Get all the latest PokerNews updates on your social media outlets. Follow us on Twitter and find us on both Facebook and Google+!