Robert McAdam Is Crowned 2014 Genting Poker Series Southend Champion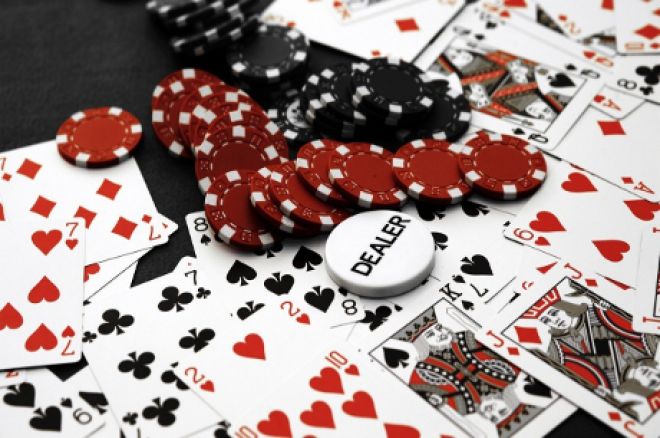 In February 2011, Robert McAdam finished 59th from 1,058 entrants in the UKIPT Nottingham Main Event for a £1,690 payout. He then didn't register a major live tournament score for three years until on Sunday night he walked away with £33,730 by winning the 2014 Genting Poker Series (GPS) Southend Main Event. It was definitely worth the wait for McAdam.
McAdam was one of the shorter stacks at the final table with 409,000 chips in his arsenal. All eyes were on Ben Winsor (1,761,000), Leon Campbell (1,041,000) and Dean Clay (1,040,000) who were three "millionaires" present.
2014 Genting Poker Series Southend Main Event Final Table
| Seat | Player | Chips |
| --- | --- | --- |
| 1 | Danny Tran | 380,000 |
| 2 | Josh Venman | 663,000 |
| 3 | Martin Hogarty | 279,000 |
| 4 | Rob McAdam | 409,000 |
| 5 | Leon Campbel | 1,041,000 |
| 6 | Dean Clay | 1,040,000 |
| 7 | Ben Winsor | 1,761,000 |
| 8 | Briony Stone | 715,000 |
| 9 | James Burke | 701,000 |
McAdam's fortunes changed on the second hand played when he got his chips into the middle with


on a



flop against the


of chip leader Winsor. A

on the turn was no help to either player, but the

completed a flush for McAdam and he saw his stack swell past the 800,000 mark.
The first casualty of the final table came 40-minutes into proceedings and saw Martin Hogarty exit. Hogarty was down to 200,000 chips at the 8,000/16,000/2,000a level and opted to open-jam with his


. Instead of winning the blinds and antes uncontested, Hogarty picked up a caller in the shape of James Burke and his dominating


. The [8h6h5] flop wouldn't have looked out of place on the front of a Valentine's Day card and left Hogarty drawing completely dead. The

turn and

river completed the board and Hogarty crashed out of the tournament in ninth place, good for £2,380.
Some three hours passed by without and elimination before Josh Venman busted. Venman, who finished second in last year's GPS Southend Main Event, opened to 87,000 and then called when Briony Stone three-bet all-in from the big blind. Stone had Venman covered in terms of chips and crushed in terms of hand strength; her


leaving Venman's


drawing to two outs. Those outs never appeared as the board ran out





to send Venman to the rail in eighth place, a finish worth £3,310.
Venman's seat hadn't even gone cold before another player was felted. Burke opened the preflop betting, McAdam three-bet from the button and Burke called. The flop came down



and in a flurry of activity Burke found himself all-in with the


and in a hole world of pain against Mcdam's pocket aces. The turn and river failed to come to Burke's rescue and he headed to the cashier's cage to collect £4,250 for his seventh place finish.
An hour later and the defending champion was sent packing, dashing any hopes of a back-to-back victory. Danny Tran, the aforementioned defending champ, opened to 80,000 only to see Stone three-bet to 200,000 from her seat in the big blind. Tran moved all-in for 600,000 in total and Stone called.
Tran's tournament life rested in the hands of the poker gods as he flipped over


, while Stone revealed a pair of kings. The



flop hit both players hard, but Stone's hand was still much stronger. A jack on the turn opened up the possibility of a split pot as a ten on the river would improve both players to the same straight. The river was a three and Tran busted in sixth place, good for £5,500.
Five became four with the exit of Winsor not long before the clock struck 7:30pm. Campbell raised, Winsor pushed all in for 575,000 and Campbell called. Campbell held the less than stellar


yet it was still a better hand than the


of Winsor. The





board kept Campbell ahead and Winsor exited the tournament area in fifth place and collected £6,750 for his efforts.
Mere minutes after Winsor busted the tournament became an all-male affair as Stone crashed out in fourth place. Stone committed her 800,000 chips with


and needed some help from the board because McAdam looked her up with the


. An ace on the flop, a five on the turn and a full house completing ace on the river were not what Stone wanted to see and he tournament came to an abrupt end. Stone won £8,750 for his superb performance, especially when you consider she qualified for the Main Event for a paltry £5!
On the hand after Stone's exit, Dean Clay was sent to the showers. He moved all-in for 700,000 with what turned out to be pocket fours and McAdam called with


. It was a classic race, a race that McAdam won as the board ran out





. Clay picked up a cool £15,000 for his third place finish.
That left McAdam and Campbell to play heads-up for the title and the £33,730 first place prize. McAdam held a huge 5,390,000 to 1,435,000 chip lead over his opponent and although Campbell doubled his stack early on in the encounter, the gap in stacks proved too much.
The final hand took place at 8:00pm, some seven hours after play began at the final table, and saw Campbell limp, McAdam raise to 250,000 and Cambell call. A



flop saw McAdam lead, Campbell move all-in and McAdam call.
Campbell revealed


for second pair and McAdam


for top pair. That top pair held as the turn and river bricked off, busting Campbell in second place and leaving McAdam to revel in the glory of becoming a GPS champion.
2014 Genting Poker Series Southend Main Event Final Table Results
| Place | Player | Prize |
| --- | --- | --- |
| 1 | Rob McAdam | £33,730 |
| 2 | Leon Campbell | £22,500 |
| 3 | Dean Clay | £15,000 |
| 4 | Briony Stone | £8,750 |
| 5 | Ben Winsor | £6,750 |
| 6 | Danny Tran | £5,500 |
| 7 | James Burke | £4,250 |
| 8 | Josh Venman | £3,310 |
| 9 | Martin Hogarty | £2,380 |
Next up for the GPS is a trip to Stoke starting May 21. Will McAdam be there to defend his title? Only time will tell.
Data courtesy of the Genting Poker Blog
Get all the latest PokerNews updates on your social media outlets. Follow us on Twitter and find us on both Facebook and Google+!