PokerStars.it EPT10 Sanremo Day 4: Westmorland Leads; Coren and Kravchenko Still in Contention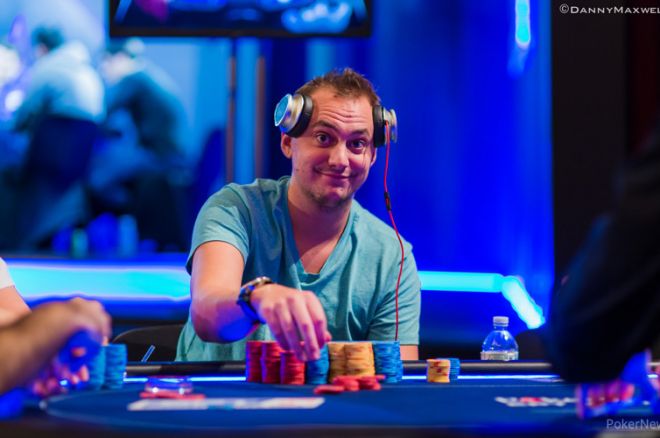 The fourth day of the PokerStars.it European Poker Tour Sanremo Main Event promised to be not too long. The goal was to play down from 39 to 16 players, or five full 90-minute levels.
The tournament started out with a group of familiar faces still in contention. Leading the way was Spanish pro Raul Mestre, who had 942,000 to work with when the tournament started at noon. Because he started out as the chip leader, and because he was seated at the same table as Team PokerStars Pro Vicky Coren, Mestre took his seat at the feature table. So when the first hand played out, and proved to be the biggest of the tournament till that point, the entire world was watching.
Mestre came to play, so much was sure. He opened the button and called Jordan Westmorland's three-bet. Westmorland continued to fire on the



flop and

turn. Mestre called like he had a real hand, but he didn't. Once the

river fell, Westmorland took it easy and checked. This was Mestre's chance, and he bet a hefty 260,000. Westmorland snap-called. The first hand of the day was worth a million in chips and Mestre showed the


for absolutely nothing. Westmorland had kings and grabbed the chip lead.
Mestre would prove during the rest of the day that there was actually reason to his madness. One thing was sure, his image was set. When he got pocket queens not much later he grabbed Andrey Lobzhanidze's entire stack. Lobzhanidze rivered a flush, but it was no good against Mestre's flopped full house.
Lobzhanidze wasn't the first one to go on Day 4, though. Former PokerStars Caribbean Adventure winner Dimitar Danchev, and Dan Murariu, who made a deep run in the EPT Vienna Main Event just three weeks ago (13th for €44,950), both got knocked out already by the time Lobzhanidze made his way to the payout desk. It was in the same hand that they busted, and it was Team PokerStars Pro Alex Kravchenko who benefitted from the double elimination. Kravchenko's kings knocked out Danchev, who had ace-king suited and Murariu, who had ace-queen suited, and boosted his stack to 900,000.
Kravchenko and Mestre would share the table for the entire day and both showed they really knew what they were doing. Kravchenko really put his pedal to the metal from time to time and raised every other hand, while the previous days he'd been tight most of the times. Mestre showed his aggressive side as well. Combined with the creative lines he's known for, he eliminated more than his fare share of people.
Another Team Pro on the radar was Coren. She's anything but a full-time professional. She's a writer and presenter with a weekly column for The Observer and The Guardian newspapers, and she hosts a television quiz show on BBC Four, according to her Wikipedia page. All those totally different things would make for a recreational player in most cases. But not with Coren, the Team Pro again showed today she can battle it out with the best. She had quite some swings, peaking at 1.2 million, but ending with 535,000. She's still in the running to be the first player ever to snatch two EPT titles, having already one won back in London during Season 3.
Not all big names made it through to Day 5, though. Olivier Busquet lost a big flip early on with ace-queen to pocket tens. He lost another pot to two pair where he had to muck on the river, but his final hand was a true bad-beat situation. He got it in with ace-king against Louis Salter's ace-nine. A nine on the flop and turn made him drawing dead by the time it was time for a river. Salter himself would get hit by a bad beat as well. His jacks lost to Jeffrey Hakim's pocket tens when all the chips had went in before the first community cards had been dealt as well.
Besides the already fallen Danchev and Coren who was still in strong contention, Michael Tureniec was the third former EPT winner still able to grab that beloved second title in an EPT at the start of the day. It wouldn't be so for the Swedish superstar. Calm, cool and collective as always, he squinted from behind his designer sunglasses, eying down anyone even thinking of making an impression on the Scandi high staker. But even the seasoned Swede needed to win flips to make it to his win back in Season 7, and today the crucial flip went the other way, and it was again Kravchenko responsible. In a button-versus-big-blind situation, all the money went in with eights (Kravchenko, button) versus ace-king of spades (Tureniec, big blind). Five cards no higher than a queen and a big lack of spades made for an early exit for Tureniec (26th for €15,130).
Besides famous players as Coren and Mestre, there's a bunch of players still in you might recognize from the online games. There's Stephen "stevie444" Chidwick, who has been killing it live lately. And again here in Sanremo he's at it. He doesn't even have time for high roller tournaments, he's always still in the main event by the time late reg closes for those. He brings 833,000 to the table on Day 5 after a swingy day where he needed to hit an ace once to stay alive amongst other things.
And what do you think of Ariel Celestino? The Brazilian superstar, known online as "ArielBahia" online, already won two FTOPS events, he has a SCOOP watch at home and just last year he won the Super Tuesday on PokerStars. He knows his stuff, and proved that here in Italy as well. He's short, though, and with just 376,000 in chips he'll need to make something happen early on on Day 5.
You can look out for Celestino on Day 5, but there's a whole group of other accomplished players. Hakim is going deep in yet another EPT, former chip leader Lukas Berglund still has chips, and Jorma Nuutinen is here to show that the Fins still rule in no-limit hold'em.
Of course, there are Italians with chips as well. Andrea Benelli has been playing poker for as long as we can remember, and can still do it like no other. Or take someone like Bruno Stefanelli or Giacomo Fundaro, Italian players who walk the walk and talk the talk. Leave the talking to the Italians.
Leading the way is Jordan Westmorland from the United States. Besides the kings at the beginning of the day, those kings that cost Mestre many chips, he had a lot of other big hands. He showed sets, hit multiple pairs and was just running hot. But make no mistake, it's not just run good, there's someone behind the wheel who exactly knows what he's doing. More than once he snapped off big bluffs — more than once a bluff made by Andreas Goeller.
The remaining 16 players return to the Casino Sanremo theater at 12 p.m. on Saturday. Play will only be halted when the tournament is down to the final eight. Check back with PokerNews for more live updates, more video interviews and the best photos you can find anywhere on the web from your favourite poker players.
| Table | Seat | Player | Country | Chip Count |
| --- | --- | --- | --- | --- |
| 1 | 1 | Giacomo Fundaro | Italy | 1,460,000 |
| 1 | 2 | Bruno Stefanelli | Italy | 1,044,000 |
| 1 | 3 | Ariel Celestino | Brazil | 376,000 |
| 1 | 4 | Alex Kravchenko | Russia | 743,000 |
| 1 | 5 | Andrea Benelli | Italy | 1,340,000 |
| 1 | 6 | Jeffrey Hakim | Lebanon | 422,000 |
| 1 | 7 | Stephen Chidwick | United Kingdom | 833,000 |
| 1 | 8 | Jorma Nuutinen | Finland | 1,564,000 |
| | | | | |
| 2 | 1 | Jordan Westmorland | United States | 3,074,000 |
| 2 | 2 | Vicky Coren | United Kingdom | 535,000 |
| 2 | 3 | Andreas Goeller | Italy | 693,000 |
| 2 | 4 | Vincenzo Scarcella | Italy | 344,000 |
| 2 | 5 | Emmanuel Pariset | French | 465,000 |
| 2 | 6 | Raul Mestre | Spain | 1,776,000 |
| 2 | 7 | Lukas Berglund | Sweden | 1,088,000 |
| 2 | 8 | Andrija Martic | Croatia | 954,000 |
Get all the latest PokerNews updates on your social media outlets. Follow us on Twitter and find us on both Facebook and Google+!