Patrick Clarke Wins the 2014 Paddy Power Poker Irish Open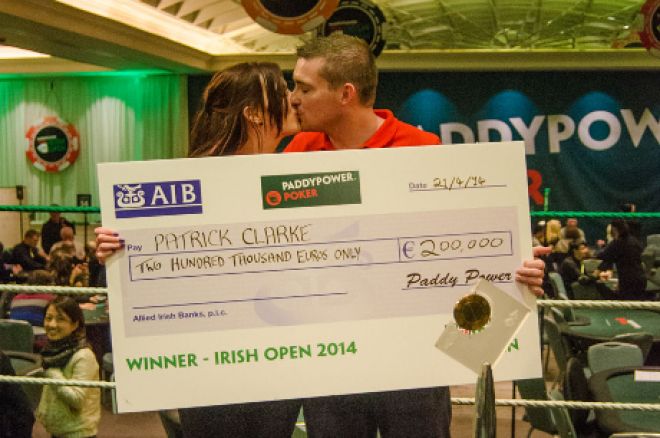 Patrick Clarke's name has joined the likes of Noel Furlong, Liam Flood, Joe Beevers, Neil Channing, James Mitchell, Kevin Vandersmissen and Ian Simpson as players who have won the Irish Open after he took down the 2014 edition of the Paddy Power Poker sponsored tournament.
The tournament resumes at 2:00pm with nine players still in the hunt for the title, meaning one elimination was needed to set the official final table. That elimination came in the shape of Antoine Smits who came over the top of a 110,000 opening raise from Clarke with a 510,000 all-in bet. Clarke instantly called and showed


which held against Smits'


then the board ran out





.
Smits' exit meant the final table was set, with each of the finalists lining up as follows:
| Seat | Player | Chips |
| --- | --- | --- |
| 1 | Patrick Clarke | 2,800,000 |
| 2 | Barry Donovan | 1,500,000 |
| 3 | Dave Pollock | 1,550,000 |
| 4 | Liam Chevalier | 1,700,000 |
| 5 | Thomas O'Shea | 1,300,000 |
| 6 | Oliver Lynch | 1,000,000 |
| 7 | Jonathan Lundy | 850,000 |
| 8 | Michael Gilligan | 800,000 |
It only took 12 hands before the final table lost its first player. Jonathan Lundy moved all-in when first to act with what turned out to be


and Clarke flat called with the


. The other active players folded and when the board ran out





it was game over for Lundy.
Another 25 hands played out before Barry Donovan busted out in spectacular fashion. Donovan opened to 175,000 and only Clarke, seated in the big blind, called. The heads-up duo shared a



flop, a flop that Clarke initially checked, Donovan bet 230,000 and Clarke check-raised to 515,000 only to see Donovan shove for around 2.5 million! Clarke called and flipped the


on their backs, while Donovan showed


! Clarke's set of tens were the best hand but any king, queen or club would have improved Donovan and practically busted Clarke. The

fell on the turn and although the

was black, it was the wrong suit and Donovan busted. As Donovan said his goodbyes, Clarke got busy stacking up his monster stack of 5.2 million chips.
Next to be sent to the sidelines was Michael Gilligan who became another Clarke victim. Gilligan was down to 5.3 big blinds when he moved all-in from the hijack for 530,000 with the


so Clarke's called from the cutoff with


was standard. The button and blinds relinquished their hands and the dealer got to work spreading the



flop. Clarke paired his ace but, like in the hand that eliminated Donovan, he needed to avoid a club. Clarke did just that as the

and

completed the board and confirmed Gilligan's exit.
Five became four a few hands later when Clarke took a short break from busting players to allow Thomas O'Shea to send Oliver Lynch to the rail in fifth place. O'Shea opened to 400,000 and then called with the


when Lynch three-bet all-in from the small blind for 1.3 million with


. A ten on the flop of the





board was more than enough to win the pot for O'Shea and Lynch exited the tournament area.
O'Shea was then involved a number of large pots, one claiming most of his stack, another rebuilding it and a third that felted him. The latter saw O'Shea open with an oversized 550,000 bet from the button, a bet that Clarke moved all-in over the top of. O'Shea called off his last 1.5 million, showed


and needed help to beat Clarke's


. The





board didn't even flirt with the idea of helping O'Shea and he was sent to the cashier's desk to collect fourth place money.
Three-handed play lasted over 30 hands after the dinner break and ended with the demise of Liam Chevalier. A min-raise to 240,000 by Chevalier on the button was greeted with a 725,000 three-bet from Clarke and a folded from Dave Pollock. Chevalier announced he was all-in and Clarke called.
Chevalier turned the


on their backs and Clarke the must superior


. Those eights held on a





board and heads-up was set.
In addition to the massive €69,500 jump between second and first place, both players had to consider the €50,000 on offer for being the Paddy Power Poker Sole Survivor, a prize added for the last standing Paddy Power Poker qualifier.
Clarke started the heads-up battle with 8.37 million to Pollock's 3.74 million chips and was always in control of the tie. The on the 139th hand of the final table Pollock limped from the button and Clarke checked. The



flop saw Clarke check to Pollock, who bet 350,000. Clarke leapt into action with a check-raise to 800,000. Pollock wasted no time at all in moving all-in and Clarke called just as quickly as Pollock had bet.
Pollock:



Clarke:


Clarke was way in front with his pair of kings and it stayed that way as the

landed on the turn and was followed into the limelight by the

. Pollock picked up €130,500 for his runner-up finish while Clarke won the €200,000 first place prize and an additional €50,000 to boot!
2014 Paddy Power Poker Irish Open Final Table Results
| Place | Player | Prize |
| --- | --- | --- |
| 1 | Patrick Clarke | €250,000* |
| 2 | Dave Pollock | €130,500 |
| 3 | Liam Chevalier | €97,500 |
| 4 | Thomas O'Shea | €73,800 |
| 5 | Oliver Lynch | €54,500 |
| 6 | Michael Gilligan | €38,500 |
| 7 | Barry Donovan | €26,500 |
| 8 | Jonathan Lundy | €19,250 |
That I all for this year's Irish Open, congratulations to Patrick Clarke on his fantastic victory and thank you to the Paddy Power Poker blog for all of the data and images used in our recap articles over the past week.
Get all the latest PokerNews updates on your social media outlets. Follow us on Twitter and find us on both Facebook and Google+!