My First EPT: Team PokerStars Pro Jason Mercier's Special Connection to Sanremo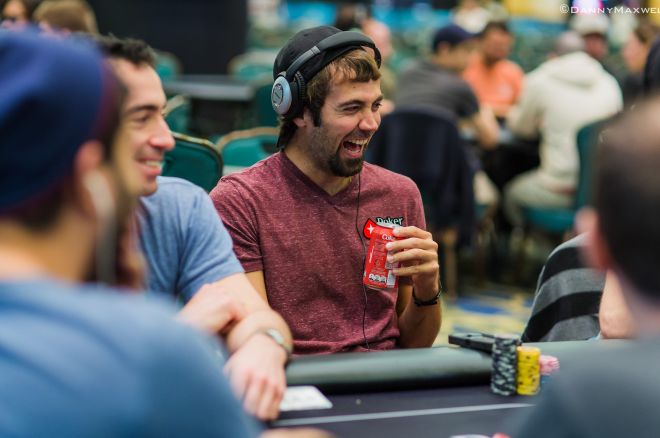 Just two stops remain in Season 10 of the European Poker Tour (EPT), and what a season it has been. The EPT has gone all out to celebrate its 10th anniversary by transforming all of its events into festivals, offering players extracurricular activities (i.e. Segway tours in Vienna), and putting on some of the best tournaments in the world.
The EPT has a long and storied history, and in our new series, My First EPT, we've delved into the past and explored various EPT origins, from players to on-air personalities and everyone in between.
In our inaugural piece leading up to the EPT Vienna, we talked to EPTLive co-host Joe "Stapes" Stapleton, who had his first EPT experience – which included a Halloween costume and partying with Daniel Negreanu – back in Season 7.
Since EPT Sanremo is just around the corner, we thought we'd talk to someone who had his first EPT experience at the Italian Riviera: Team PokerStars Pro Jason Mercier. Long before he donned the red spade patch, Mercier was just a young online kid from South Florida. Then, in Season 4, he won his way into the EPT Sanremo Main Event and won it for €869,000.
His run to the title is well documented, as was the stabbing incident that followed later that night. What hasn't been explored so much are the events and days leading up to his win.
PokerNews recently spoke with Mercier about his first EPT.
PokerNews: The EPT Sanremo is coming up. That's the place that started it all for you. Do you still feel a special connection to that place?
Mercier: Yes, it's been nice going back each year and reminiscing all that happened in 2008. There will always be a special place in my heart for that leg of the tour.
We've all heard the stories surrounding your victory, from the hands to you being stabbed afterwards. What I want to hear about is how you felt before the tournament. What was it like entering an EPT venue for the first time? Were you intimidated?
I was more excited than intimidated. I was really just amped to be there and to be playing for over a million dollars. I had been on quite a heater the last 15 months before that (online), so was really just hoping to keep it going and make a splash in the live arena.
Likewise, we all know what happened in the tournament when you made it deep, but what was it like in the early goings? Were you comfortable playing at your first-ever EPT table? Did you know anyone on that first trip? What sort of things did you do during the breaks/free time?
I was fairly comfortable, having played a lot of live poker in casinos in Florida where you only have to be 18. I had a rough Day 1 in the event getting as low as 3,500 in chips at the 100/200 level, and just being happy surviving on to Day 2. I had met up with a few online guys that I knew and met all of their friends on that trip, so pretty much spent the breaks talking to them about how we were doing in the event.
Do you recall meeting any players on that first trip that you're still friendly with today?
I met and played against a lot of poker players on that trip that I'm still friendly with today. At my starting table alone, I played against Michael Martin, Anthony Spinella, and Tyler Cornell, all of whom I'm still friendly with. That trip was the beginning for me establishing good relationships and connections in the poker community.
It also was your first time being on TV for poker. Was that an intimidating experience?
Not at all, I just put the cameras out of my mind. I made it a point to not worry about being on television and just to focus on the task at hand which was trying to win the event.
How do you think your life would be different if you hadn't won the EPT Sanremo Main Event? Where do you think you'd be today?
I'm not exactly sure where I would be if I hadn't won EPT Sanremo. I know I would still be playing poker, but whether that would mean I'm grinding online cash games, or playing big live tournaments like I am now. I had plans to play the World Series of Poker in 2008 whether I won EPT Sanremo or not, so it may have just been a matter of time before I had a breakout win.
If you had to give your younger pre-EPT victory self some advice, what would it be and why?
I'd tell myself to not get caught up in all the nonsense outside of the game. Sports betting, playing table games, drinking, drugs, and chasing women- all of them are just distractions/leaks in my opinion, and ultimately affect your game and your life negatively.
Any advice for those players who might be playing EPT Sanremo for the first time?
Don't ever give up, no matter how short stacked you get. Maintain focus and take it one hand at a time!
Remember, the PokerNews Live Reporting Team will be on location to bring you all the action from the EPT10 Sanremo. You can check that out in our live reporting section. For further information, including a look at the full EPT10 Sanremo schedule, visit the PokerStars EPT website.
Get all the latest PokerNews updates on your social media outlets. Follow us on Twitter and find us on both Facebook and Google+!
Lead image c/o the PokerStars Blog