My First EPT: Team PokerStars Pro Eugene Katchalov's Grand Final Cash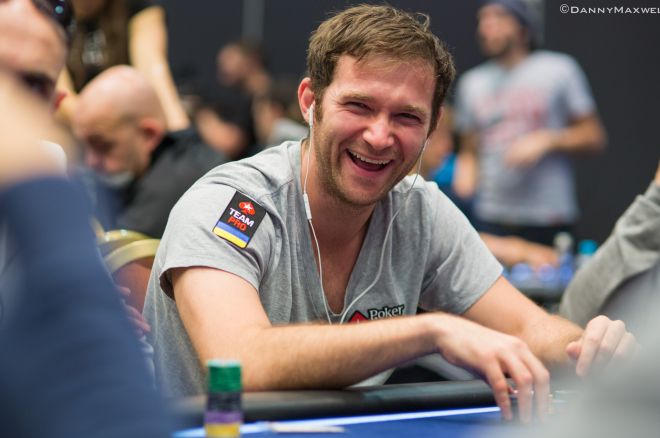 Just one stop remains in Season 10 of the European Poker Tour (EPT) — the 2014 PokerStars and Monte-Carlo® Casino EPT Grand Final. The EPT has gone all out to celebrate its 10th anniversary by transforming all of its events into festivals, offering players extracurricular activities such as Segway tours in Vienna, and putting on some of the best tournaments in the world.
The EPT has a long and storied history, and in our new series, My First EPT, we've delved into the past and explored various EPT origins, from players to on-air personalities and everyone in between.
In our inaugural piece, we talked to EPTLive cohost Joe "Stapes" Stapleton, and then we caught up with Team PokerStars Pro Jason Mercier about his first EPT, which of course was his victory in Sanremo.
Now, with the Grand Final kicking off in Monte Carlo this week, we decided to talk Team PokerStars Pro Eugene Katchalov, who placed 18th in the tournament way back in Season 1. It was just Katchalov's fourth live score, and his first-ever EPT main event.
So what memories does he have from way back in 2005? PokerNews decided to find out.
PokerNews: How did you come to play your first EPT? Was it a buy-in, satellite, or something else?
Katchalov: EPT Monte Carlo was one of my first major events and my first EPT main event at the time. I was already playing cash games quite a bit and had some small successes in tournaments, so I had the confidence and bankroll to risk playing a big main event like that. I had a friend who took half of my action in the event and I was able to buy the other piece for myself. I had an amazing run and it was certainly one of those memorable events that inspired me to play more in the future.
Any memories from that first EPT stand out?
Though it was a long time ago, there are bits and pieces that I remember clearly. I remember being in awe of Monaco itself as I've never been exposed to such wealth prior to that. At the time, I was still quite new to the game and shy in general. Though I wasn't particularly comfortable at the table, the enjoyment that I got from playing the game made me overcome any other natural "deficiencies" like shyness or discomfort.
You finished 18th in that event. At the time, was that disappointing or a great accomplishment?
I remember being disappointed and happy at the same time. It felt great to go so deep and even make a little profit, but of course there is always a bit of disappointment when the "big" money was just a little further away. Either way, I remember having a great time and had a lot of confidence and inspiration to take away for future tournaments.
Do you remember how you were eliminated? If so, care to share?
Surprisingly, I actually do remember how I was eliminated in that event and even by whom. I remember I was a bit short from 30 people on down, but then accumulated a pretty good stack and got moved to a new table. After about an hour or so of being card dead and losing the few hands I would play, I finally picked up


and got into a preflop raising war with Antony Lellouche who had


. He had me slightly covered and won the flip to crush my dreams.
You got to play with some big-name pros in that event. Do any stand out?
I do remember that there were plenty of big names in the tournament and I was certainly still in awe that I was lucky enough to be able to play with them. Some of the names that stood out to me at the time were Gus Hansen, Isabelle Mercier, and Alexander Stevic, who was having lots of success. I even remember that I called Isabelle Mercier's bluff in some big pot with a weak hand and was very happy that I was able to extrapolate the hand and make the correct call. I don't remember the hand itself, but I remember I had


for ace high on the river on some paired board in a multi-way pot.
Did you meet anyone at that event that you're still friends with, be it other players, EPT staff, etc.?
I think I was still fairly shy at the time and so didn't interact all that much with others. I came to the event with my good friend Nick Schulman and besides him and a few other guys that I already knew from the US, I didn't really make any new friends at that time.
Did you ever imagine that you'd go on to become a Team PokerStars Pro and be playing a ton of EPTs?
Becoming Team PokerStars Pro was at best a dream, but never something I even imagined would be possible. I also had a side job in trading which was really my main job and so taking on poker as a full-time job was not something I even considered. As the years went by and I was doing better and better in poker and after my first couple big wins, I started to get more and more recognized and from playing lots of high-stakes cash games, I knew many of the top pros and had what I believed to be their respect. Only after I took up poker full time did I consider that perhaps being invited on the team would be possible.
What's your best EPT Monte Carlo memory from any season?
I think my best memory is actually from that first time that I played an EPT in Monte Carlo. I vividly remember getting cashed out after finishing 18th and having all the cash laid out in front of me with each bill separated. It all seemed quite crazy at the time and I was just amazed that I could make so much money in such a short time. It was of course also somewhat bitter-sweet considering that the pay jumps were just about to become big.
What's your favourite thing to do in Monte Carlo other than play poker?
The food! Being surrounded by France it is no surprise that Monaco has some of the best-tasting restaurants in the world. I remember during one trip specifically I was doing well financially and decided to go to the three-Michelin Star Louis XV with my good friend Nick Schulman. We dressed up in suits — as was required — and had one of my most memorable and best, albeit super expensive, meals in my life.
What advice do you have to anyone visiting Monte Carlo for the first time?
Monte Carlo is one of the smallest countries in the world and you can actually walk through most of it. I would recommend doing just that and seeing all the beautiful landscapes, homes and yachts that people have there. The sheer amount of wealth that is there is very evident just looking at the cars that people drive there so it is certainly something unique to see. There are also some beautiful and famous places to visit nearby in France such as Eze, so I would certainly recommend seeing that as well.
Get all the latest PokerNews updates on your social media outlets. Follow us on Twitter and find us on both Facebook and Google+!