Best of the British Isles: GUKPT Champion Rhys "floppinhel" Jones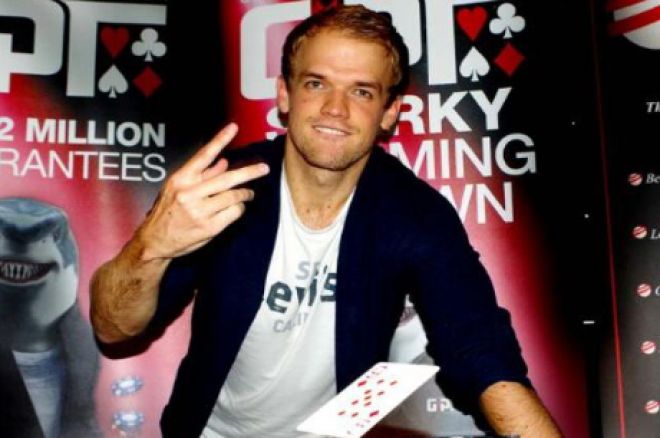 Rhys Jones is one of the best tournament poker players in the world. The lad from Portsmouth has over $2.4 million in winnings from his online poker exploits and additional $425,000 from his live poker endeavours.
Jones recently won his first major live title when he took down the Grosvenor UK Poker Tour (GUKPT) Manchester Main Event for £42,000. Although the money is obviously welcomed by Jones, we have a feeling that actually winning a live event meant more to him.
"It feels great! I've had some decent side event final tables across Europe and even some near misses on huge scores at the World Series of Poker (WSOP) and Aussie Millions so it feels nice to finally get a first place and the trophy!"
The GUKPT Manchester Main Event's final table was a star-studded affair and Jones had to contend with players such as Karl Mahrenholz, talented cash game specialist Steve Warburton and Jones' heads-up opponent Simon Deadman.
Warburton, Deadman and Jones made a deal when the tournament was three-handed. Warburton crashed out in third place before Jones sent Deadman to the rail in second, leaving Deadman with his fourth runner-up finish of 2014. Jones was full of praise for his heads-up opponent.
"He's had a lot of seconds lately but that won't carry on for long because he plays extremely well - I just got the better cards this time."
The man known as "floppinhel" in the online poker world is good friends with some extremely talented poker players in WSOP bracelet winner Craig McCorkell, Christopher "NigDawG" Brammer and Toby Lewis. Rubbing shoulders with legitimate stars of poker has obviously had a positive effect on Jones' career, as it would you.
"These guys are the best, but don't tell them that!" said Jones before adding, "A combination of their talent, composure and respect for the game that they play for a living is what makes them great people to speak to about poker. They're not the only ones; UK poker is full of great guys with similar traits, it's great to be a part of."
The quartet have great respect for each other, but which of them does Jones think is the best?
"This puts me on the spot so I'm going to be vague with my answer! Of those three, Craig speaks about poker better than anyone I know and is the one I'd go to first for an in-depth chat about strategy or specific hands."
"Brammer, on the rare occasion he actually gets out of bed, plays the most inspiring style - puts me and other people in the toughest spots – so I'd want him on my table least of the three. Toby is just ludicrously consistent, extremely composed and just barely makes a mistake, the kid wins $50k every Sunday and it's tough to argue with results. It helps that he also hasn't lost an all in since 2008, which makes him a tough opponent!"
Jones has cashes dating back to 2008, making him a relative veteran of the game. Poker's regulars constantly harp on about the standard of the average player getting better with every passing year, yet Jones manages to more than keep his head above water in challenging times. Is it getting harder to win?
"That's an interesting question, it for sure gets harder to win playing a style that was previously considered good or optimal. Poker is about adjusting, whether it be adjusting to new trends, new opponents, or old opponents making adjustments to you. If the games you're playing aren't the toughest and you're a step or two ahead of at least the majority of your opponents you'll do just fine."
A key to Jones' continued success is having a fixed routine, a structure to his day. Jones likes to get up, exercise and then get on the grind, altering the number of tables he's feeling depending on how he's feeling and how the Poker Gods are treating him.
"If all goes to plan I'd wake up between 10am and midday, try to get to the gym or some form of exercise for an hour of two, eat and then settle down to play around 4:00pm or 5:00pm, earlier on a Sunday. I stop registering for tournaments depending on tiredness, how I'm feeling and just how over it I am for the day, but rarely stop registering before 9pm and rarely register for any tournaments after midnight."
"Some days I like to keep tables down to between 6-9 and give them my full attention and other days I like to play up to 18 and grind it out to some loud music. There are lots of MTTs that I don't like to miss, anything red on stars is key I guess."
Craig McCorkell, one of those players in Jones' close circle of friends, was recently quote vocal about the problem of ghosting in major online tournaments. Ghosting is where another player takes over from another or gives them advice during the latter stages of a tournament. It's an unethical practice at best, but does Jones think it is as big of a problem as some would make out?
"Ghosting is a problem, and an unfortunate one at that. People should know 100% who they're playing against and be able to use previous knowledge on a player to their advantage. Like Craig said, poker has a "one player per hand" rule and that player should be the one associated to that online account. However, it seems near impossible to police - hence why it is a problem."
Just because something is difficult to police doesn't mean that we shouldn't at least try to. How would Jones combat the ghosting problem?
"Besides some drastic bans based on high levels of suspicion to scare people off the idea of ghosting it's going to remain a problem. It's just some clever people, often backers, who have found a way to benefit from a form of cheating that they're going to get away with. I even understand why they would and the appeal of ghosting, its just ethically terrible and against the rules. Hopefully someone clever solves it and we can all know for sure who we're up against one day."
Most professional poker players are going to be on the road for much of the next few months because the European Poker Tour Sanremo and Grand Final festivals take place in April and the 2014 WSOP kicks off in May. Jones is planning on heading to Las Vegas this summer and is bracelet hunting.
"I'm on the fence about San Remo, probably should go but we'll see. 100% going to Grand Final which I'm excited about; Monaco is amazing, the schedule looks great and it's my first time playing the Main Event out there. As for the WSOP, I'll be there from the start until the end. I'm always very excited about Vegas, we'll see if that level of enthusiasm remains if I brick the first few events! Hopefully you'll see me holding up one of those shiny gold things with 50 drunk Brits behind me!"
Jones was on our list if five Brits to look out for in 2014 so if he does return home with a WSOP bracelet, our prediction will have been bang on the money.
Get all the latest PokerNews updates on your social media outlets. Follow us on Twitter and find us on both Facebook and Google+!