Laurence Houghton Wins the WPT National London Main Event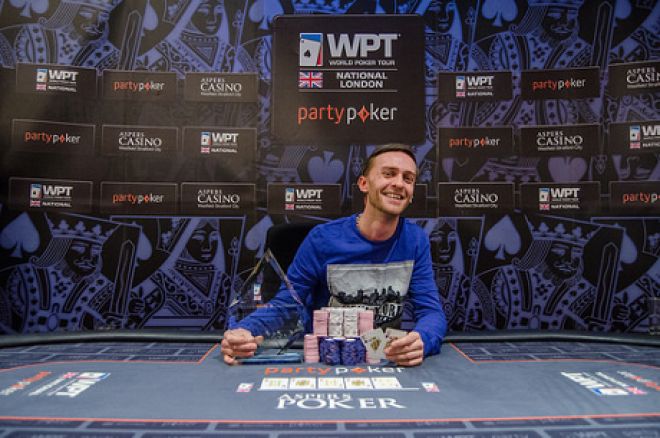 It has been somewhat of a whirlwind start to 2014 for professional poker player Laurence Houghton. First he and his long-term girlfriend Natalia became parents to a beautiful baby girl in late January and now he has won the first major live title of his illustrious career.
Houghton, better-known to many as his online alias "rivermanl," is one of the most successful online poker tournament grinders of all time. With over $5.5 million in online winnings, there are few who can match Houghton in terms of money won. Online, Houghton has 91 career victories yet until Sunday night he had never won a major live tournament. Quite remarkable when you think about it.
The final day of the partypoker World Poker Tour National UK Main Event started with 24 players returning to the Aspers Casino Stratford on Sunday, each hoping to go all the way and secure the £27,500 first place prize and the title of champion for themselves. Some 3.75 hours after play resumed Yilfer Sheveet's


lost to the


of David Gassian with the chips going in on a




board. The river failed to come to Sheveet's rescue and he crashed out of the tournament in 10th place. This meant the nine-handed final table was set, with the nine finalists lining up as so:
| Seat | Player | Chips |
| --- | --- | --- |
| 1 | Arvin Ravindran | 2,150,000 |
| 2 | Laurence Houghton | 1,420,000 |
| 3 | Davod Gassian | 5,790,000 |
| 4 | Gareth Holt | 685,000 |
| 5 | Bobbie Brummitt | 1,845,000 |
| 6 | Steve Owens | 370,000 |
| 7 | James Mitchell | 635,000 |
| 8 | Chaz Chatta | 1,070,000 |
| 9 | Edjis Cergars | 480,000 |
One of the big names at the final table was the first player out of the door as the final table got underway. Short-stacked Steve Owens moved all-in for 250,000 from middle position and the 2010 Irish Open champion James Mitchell three-bet all-in for around 600,000 to isolate him. The next four players folded, but Gareth Holt called and covered Mitchell by 100,000 chips.
Owens:



Mitchell:



Holt:


Holt shot into the lead upon the arrival of the



flop, leaving Mitchell drawing to running cards in order to stay in the tournament. The

turn was a complete blank for all three players and a double elimination looked the most likely outcome. That was until the

landed on the river to improve Owens to a five-high straight, trebling his stack, slashing the stack of Holt and sending Mitchell to the rail in ninth place.
A couple of hands later and Mitchell was joined on the sidelines by Edjis Cergars. Down to 240,000 chips and with the blinds and antes set at 20,000/40,000/5,000a, it as unsurprising to see Cergars open-ship his stack into the middle with the


in his hand. Instead of winning the blinds and antes, Cergars picked up a caller in the shape of Arvin Ravindran and his


. To jacks on the





board were more than enough to win the pot for Ravindran and the tournamrnt had lost two players in quick succession.
Owens must have used up all of his luck in Mitchell's exit hand because he was the next player to fall by the wayside, finishing in seventh place. Owens looked down at


and moved all-in for 385,000 chips. Chaz Chattha called with the far superior


toput Owens at risk. The





kept Chattha's tens in front and Owens busted.
Next to go was Bobbie Brummitt who, in addition to £5,540 in prize money, also picked up a £1,000 package to the partypoker WPT National UK Newcastle Main Event in May for being the last partypoker qualifier in the tournament! Brummitt came unstuck when the chips went piling into the middle of a board reading




, Brummitt holding


but Gassian had flopped a straight with the


.
As the blinds increased to 30,000/60,000/10,000a, the last five players in the competition discussed the possibility of a deal, although the terms could not be agreed on and play resumed with the payut schedule in its original guise.
This meant that when Gassian was eliminated in fifth place – his


failed to get there against Houghton's


– he picked up a still respectable £6,900 for his efforts instead of something far more substantial.
Four became three soon after thanks to a horrible beat for the popular Chattha. The action folded to Chattha in the small blind and he opened with a raise, a raise that was called by Ravindran. The duo watched on as the dealer spread the



flop. Chattha then opted to check-call a bet from his sole opponent. The turn was another Broadway card, namely the

and Chattha checked again. Ravindran fired out a much larger bet and then quickly called when Chattha check-raised all-in for 3 million chips! Ravindran was in terrible shape because his


that looked so strong on the flop was now crushed by the


in the hand of Chattha. After burning a card the dealer flipped an ace onto its back, improving Ravindran to an unlikely full house and leaving Chattha to wonder what could have been. Had Chattha won that pot, Ravindran would surely have finished fourth and Chattha would have been a significant favourite to have left Aspers Casino as a champion. Ouch.
Chattha's seat hadn't even gone cold when Darren Holt shoved with


and Houghton looked him up with the dominating


. Neither player improved by the river, leaving Houghton's ace-kicker to scoop the pot, bust Holt and take the tournament into the heads-up stage.
Houghton went into the one-on-one battle with a 7.7 million to 6.6 million chip advantage over Ravindran, but his vast experience was like having an extra couple of million chips at his disposal. Despite that, Ravindran manage to win a few early pots to draw level and then take the lead, but one hand flipped the tournament back into Houghton's favour.
The hand in question saw Ravindran bet 500,000 on the




board and Houghton raise to 1 million. Ravindran responded with a 2.3 million bet, which in turn saw Houghton move all-in for 6.7 million. Ravindran eventually folded and claimed to have


, which was the best hand because Houghton flopped over


for nothing but an open-ended straight draw.
Ravindran clawed his way back in front again before a huge pot went Houghton's way when his


improved to a flush on the turn of a





board, Houghton having a river-shove paid off. That hand gave Houghton a 10.2 million to 4.2 million chip lead and the writing was on the wall for Ravindran.
Shortly after that big hand it was all over. Houghton had constantly attacked Ravindran and the latter was left nursing a 10 big blind stack. That stack went into the middle whilst holding


and Houghton called with


. The



flop was not what Ravindran needed, and neither was the

turn because it locked up the tournament for Houghton. The

river made Houghton an unnecessary straight and the title of partypoker WPT National UK London champion was his.
partypoker WPT National UK London Final Table Results
| Place | Player | Prize |
| --- | --- | --- |
| 1 | Laurence Houghton | £27,500 |
| 2 | Arvin Ravindran | £19,400 |
| 3 | Darren Holt | £12,500 |
| 4 | Chaz Chattha | £9,300 |
| 5 | David Gassian | £6,900 |
| 6 | Bobbie Brummitt | £5,540 |
| 7 | Steve Owens | £4,610 |
| 8 | Edjis Cergars | £3,680 |
| 9 | James Mitchell | £2,760 |
Lead image courtesy of the partypoker blog, taking by the excellent Alin Ivanov
Next up for the popular fledgling tour is a trip up the A1 to Newcastle during the May Bank Holiday. Qualifiers are already running in the partypoker lobby and start at an affordable $1.65.
Get all the latest PokerNews updates on your social media outlets. Follow us on Twitter and find us on both Facebook and Google+!