James Parker Wins the 2014 GPS Sheffield Main Event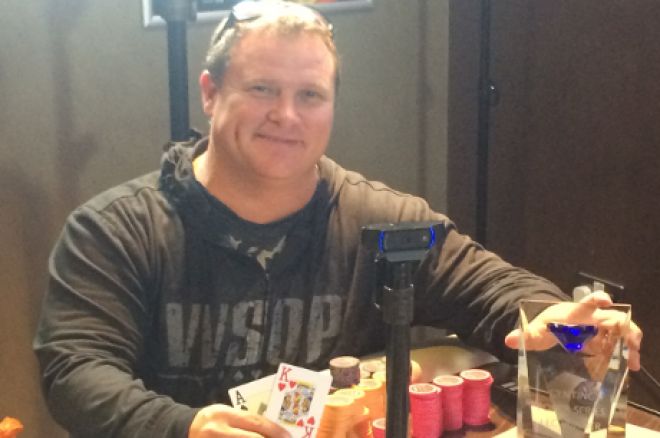 James Parker's journey back to South Africa will probably pass a lot faster thanks to him winning the 2014 Genting Poker Series (GPS) Sheffield Main Event title and him having £22,120 in his suitcase!
Parker started the final day in the middle of the pack with 350,000 chips at his disposal and by the time Andrew "stato_1" Hulme burst the final table bubble – his


lost a flip to Ali Mallu's


– Parker had only managed to add 105,000 chips to his stack and found himself with the unwanted title of "final table short stack."
2014 Genting Poker Series Sheffield Main Event Final Table
| Seat | Player | Chips |
| --- | --- | --- |
| 1 | Gabriel Tuna | 617,000 |
| 2 | Richard Kellett | 1,470,000 |
| 3 | Charles Akadiri | 961,000 |
| 4 | Steve Devine | 765,000 |
| 5 | Ali Mallu | 2,774,000 |
| 6 | Steve Warburton | 1,628,000 |
| 7 | Dean Clay | 1,290,000 |
| 8 | Ashley Locker | 609,000 |
| 9 | James Parker | 455,000 |
The first player to bust from the final table was Garbiel Tuna, who opened to 50,000 and then four-bet all-in when Mallu made a huge three-bet. Mallu called with the


and Tuna turned over


. The



flop gifted Tuna a set of tens, but the

turn gave Mallu outs to a straight. Everyone could sense an ace was on its way and it was, completing Mallu's straight and sending Tuna to the rail in ninth place.
A few minutes later and Steve Devine joined Tuna at the bar having busted in eighth. Richard Kellett raised to 50,000 and was called by a handful of people including Devine. The action checked to Kellett who bet 70,000 on the



flop, Devine raised to 170,000 and only Kellett called. The turn was a jack and Kellett initially checked, Devine bet 250,000 and Kellett moved all-in. Devine snap-called off his remaining 400,000 and despite Kellett fearing his


were up against a set, Devine could only muster


for top pair. A nine fell on the river and the final table as down to seven players.
Seven handed play lasted for two hours and ended with the exit of Charles Akadiri. With the blinds at 20,000/40,000/5,000a, Akadiri's 480,000 stack was started to look a little sorry for itself and he was push-or-fold territory. Akadiri opted to push with


and Steve Warburton looked him up with the


. By the river the board read





to keep Warburton's pair of nines in front and Akadiri headed out of the tournament area and only six players remained in contention for the title.
Six became five with the elimination of Dean Clay. The action folded to Clay, who was seated on the button, and he got his 550,000 stack into the middle pocket threes. Ashley Locker re-shoved from the small blind with what turned out to be


and when the five community cards fell





it was game over for Clay.
Warburton was the next player to bust and at the hands of Mallu. With blinds now 30,000/60,000/10,000a, Mallu opened to 1,650,000 – that is not a typo, Mallu plays like this all the time – and Warburton called off his one-million stack, before showing


. Mallu flipped over


and Warburton looked set for a double to two-million chips. That was until Mallu flopped a deuce then rivered a five on the





board to boost his stack to 5.2 million and leave Warburton to head to the exits have been "Mallu'd!"
Locker then fell in fourth place, again at the hands of Mallu. Mallu open-shipped his stack into the middle. Locker made the call and his 1.4 million stack was at risk, his tournament life resting on


in his hand. Mallu turned the


onto their backs and Locker needed some help from the board. That help arrived on the



flop, but then Mallu regained the lead when an ace turned. A queen on the river completed the board and confirmed Locker's demise.
Amazingly, despite holding 75% of the chips in play, Mallu agreed to a three-way chop of the prize pool that left only the trophy and title of champion left to play for. With no extra money to play for, the tournament turned into an all-in fest.
After losing a couple of all-ins, Mallu found himself as a the short stack and then busted when his


couldn't get there versus Kellett's


or Parker's


. Parker's ace-queen remained the best hand, which busted Mallu and boosted his stack to 6 million.
Mallu busted at 00:30 and it took another hour before the champion was crowned. Kellett moved all-in for 13 big binds with


and Parker called with the dominating


. Neither player improved on the





board, Kellett crashed out and Parker was announced as the 2014 GPS Sheffield Main Event champion.
2014 Genting Poker Series Sheffield Main Event Final Table Results
| Place | Player | Prize |
| --- | --- | --- |
| 1 | James Parker | £22,120* |
| 2 | Richard Kellett | £24,855* |
| 3 | Ali Mallu | £31,425* |
| 4 | Ashley Locker | £13,335 |
| 5 | Steve Warburton | £10,490 |
| 6 | Dean Clay | £7,950 |
| 7 | Charles Akadiri | £6,205 |
| 8 | Steve Devine | £4,720 |
| 9 | Gabriel Tuna | £3,205 |
*reflects a deal struck when three-handed
Next up for the Genting Poker Series is the Southend leg that kicks off April 9. Last year the Main Event attracted 431 players, who were all outlasted by Danny Tran who picked up £30,765 for his win.
Lead image and data courtesy of the Genting Poker Blog
Get all the latest PokerNews updates on your social media outlets. Follow us on Twitter and find us on both Facebook and Google+!