Great Scot! Magnus Martin, Ross Loggie and Niall Farrell Continues to Climb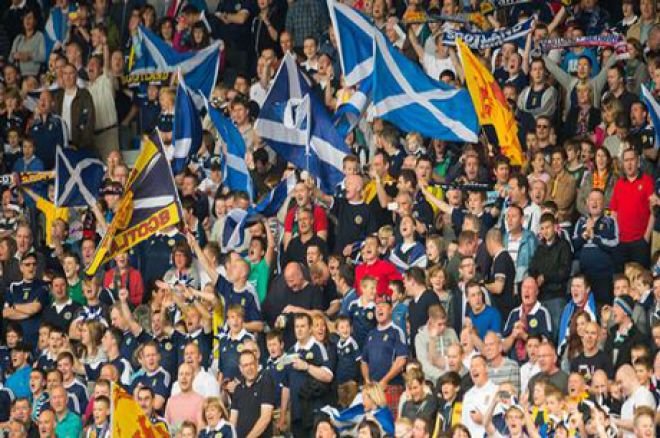 There has been something of a Scottish invasion in the UK online poker rankings this week, with the three Scots currently ranked in the top 20 players all climbing up the leader board. If this trend continues, we'll have to change our background colours to a nice tartan!
Magnus "Giffordonian" Martin is knocking on the door of a top 10 ranking thanks to his continued success in Pot Limit Omaha games. Martin looks to play his fair share of PLO and other Omaha variants and does remarkably well at them. On Monday night, Martin helped himself to second place money – that is $10,237.50 to you and I – in the $530 buy-in Monday PL Omaha 6-Max event at PokerStars and proved he can play with two holecards too by finishing fourth in the $11 NL Hold'em rebuy, also at PokerStars, for an additional $3,121,30.
Those two results alone added over 250 leader board points to Martin's already impressive total and the Edinburgh based star now finds himself ranked 13th in the UK and 201st in the world.
Climbing a couple of places to 18th was Ross "RLOG" Loggie, a relative veteran of the online poker world and one with over $2.4 million in online tournament winnings. Although the past week didn't yield any massive scores for Loggie, he did have several four-figure scores and seems to be going deep in many of the tournaments he enters.
Niall "firaldo87" Farrell finds himself in 19th place this week and will definitely be ranked higher next time the rankings are updated and his impressive third place finish in the €100 buy-in Night of Stars at PokerStars.fr is taken into account. Farrell picked up the equivalent of almost $5,000 for his third place and over 112 leader board points, too.
UK Online Poker Rankings Top 20 (As of March 27, 2014)
| UK Rank | Player | Points |
| --- | --- | --- |
| 1 | Chris "moorman1" Moorman | 7340.14 |
| 2 | Charlie "chaz_man_chaz" Combes | 6747.81 |
| 3 | Rick "TheClaimeer" Trigg | 6553.65 |
| 4 | Jareth "jareth3542" East | 6472.78 |
| 5 | Toby "810ofclubs" Lewis | 5944.14 |
| 6 | Christopher "NigDawG" Brammer | 5896.02 |
| 7 | Scott "Aggro Santos" Margereson | 5748.18 |
| 8 | Ben "jenbizzle" Jones | 5246.76 |
| 9 | Oscar "MendaLerenda" Serradell | 5168.70 |
| 10 | Jon "EMSBas" Spinks | 5110.98 |
| 11 | Sebastian "BassySaffari" Saffari | 5040.93 |
| 12 | Rhys "floppinhel" Jones | 4888.52 |
| 13 | Magnus "Giffordonian" Martin | 4788.44 |
| 14 | Phill "bergeroo" Huxley | 4730.05 |
| 15 | Matas "bebaimis777" Cimbolas | 4699.45 |
| 16 | Luke "Bit2Easy" Reeves | 4632.07 |
| 17 | Marcin "marcin123" Milde | 4590.16 |
| 18 | Ross "RLOG" Loggie | 4550.23 |
| 19 | Niall "firaldo" Farrell | 4373.84 |
| 20 | Paul "badpab2" Foltyn | 4313.85 |
Still at the top of the pile is Chris Moorman, although the chasing pack has plenty of opportunity to catch up to the $10m man as he continues to celebrate his engagement. Charlie "chaz_man_chaz" Combes has closed the gap a little thanks in part to winning The Big $162 at PokerStars for $23,733.33 on Tuesday night. Top work, sir.
Special mentions have to go to Rick "TheClaimeer" Trigg for winning the Monday Night on Stars €30 1R1 for over $10,500 and his fifth place in the Full Tilt Poker Tyrannosaurus Rex. Also to Jareth East for his runner-up finish in the $102 NL Hold'em Hyper Turbo Heads-Up at PokerStars, his third place finish in the PokerStars $109 NL Hold'em Turbo 1R1A and a seventh place finish in the Betfair Poker Sunday Special.
Finally, a round of applause to Bristol-based Spaniard Oscar "MendaLerenda" Serradell who now has more than $1.8m in online winnings after finishing fourth in the PokerStars $109 NL Hold'em Turbo ($7,336.80) and then coming fifth in the latest instalment of the Super Tuesday for a bankroll-boosting score of $33,642.00. Serradell has reached the final table of the Super Tuesday on three occasions, finishing fifth and winning two, quite remarkable I'm sure you'll agree.
With the European Poker Tour Vienna being closely followed by the Sanremo and Monaco legs, there is plenty of opportunity for those outside the top rankings to mount a charge and claim a spot in the top 20. Stay tuned to UK & Ireland PokerNews in the coming weeks as we monitor the PocketFives.com rankings and look for new and emerging talent who are making their way up the leader board.
Get all the latest PokerNews updates on your social media outlets. Follow us on Twitter and find us on both Facebook and Google+!