Five Thoughts: Largest Poker Tournament in History of Asia, Moneymaker Wins, and More

Rich Ryan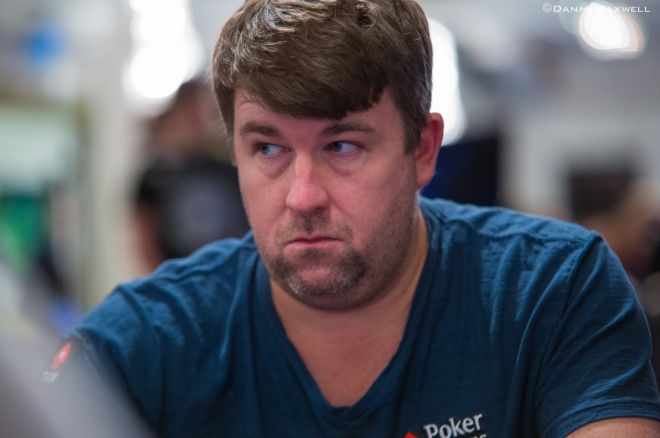 Nearly 7,300 miles from the Las Vegas Strip, the last waves of the ripple effect are lapping onto the shores of Macau.
Gambling has been legal in Macau since the mid 19th century, but it wasn't until 2002 that independent casino operators were able to obtain licenses and build monstrous destination resorts. Prior to the turn of the millennium, casino gambling was monopolized by local business emperor Stanley Ho, whose family still has a large stake in the industry's success. Pansy Ho, Stanley's daughter, is a 50-percent partner in MGM Macau, and Lawrence Ho, his son, is the CEO of Melco Crown Entertainment Ltd..
Gambling revenues in Macau have risen exponentially over the last few years and the former Portuguese colony is now the global leader in casino gambling by a very wide margin.
The poker boom as we know it started on May 23, 2003, when the

fell on the river and Chris Moneymaker was crowned the winner of the World Series of Poker Main Event. Ironically, as we discuss the ongoing effects of this boom thousands of miles away in Asia, Moneymaker is also in the news this week — he won the Hollywood Poker Open St. Louis Regional Championship.
The ripples quickly reached Europe and South America, leading to the launch of both the European Poker Tour and the Latin American Poker Tour. Those two continents already had strong casino gambling establishments in place, and when Joe Hachem won the 2005 WSOP Main Event, poker was growing in popularity at Crown Casino in Melbourne, Australia.
In Asia, the boom stalled. Gambling is very restricted in China (roughly 1.3 billion citizens) and Japan (roughly 127 million citizens), the two most powerful economic nations in the region, and although Macau is a gambling haven, they didn't have a single card room until 2008. By that time, with the Unlawful Internet Gaming Enforcement Act in place, the ripples of the boom were not so strong in the United States. Macau is just starting to pick up, however.
We've heard stories from Tom Hall and others about the high-stakes cash games, and Richard Yong, Winfred Yu, and Paul Phua have become regulars in the biggest tournaments in the world, but the overall poker economy is built from the ground up. Without recreational players, the player pool will only consist of profitable players and wealthy individuals willing to gamble. Once the gamblers find a new hobby, the poker games cease to exist.
Well, the lower- and mid-stakes buy-in tournaments are still on the rise, and over the weekend, the 2014 Macau Millions shattered the record for the largest poker tournament ever held in Asia.
1. Dream On
The HK$2,200 (about $285) buy-in Macau Millions attracted 1,804 entries at PokerStars LIVE Macau at the City of Dreams, shattering the record for the largest poker tournament held in Asia by 475 entries (35 percent).
The HK$2 million ($257,000) guarantee was also crushed. The 1,804 entries generated a total prize pool of HK$3,449,760 ($450,000).
"It's been an extraordinary journey to get here," said Danny McDonagh, the PokerStars Director of Live Poker Operations in the Asia-Pacific. "We wanted to ensure we'd be in position to surpass the 1,329 entries when we ran the Macau Millions again, but this has exceeded our expectations. We're incredibly thankful for the support and positive feedback from the players."
The feat could not have been reached without the ever-growing re-entry format. The Macau Millions had six starting days, and players could reenter on multiple days, even if they had already bagged a stack for Day 2.
Hao "HoHo" Chen, who may or may not be the mortal enemy of NFL draft prospect Ha'Sean "Ha Ha" Clinton-Dix, won the event, earning $HK550,000 ($70,820). Chen defeated Sheng Chang heads up when he flopped the nut straight, and the two got all of the chips in the middle after Chang turned a flush draw and two pair. The river was a blank, and Chen was the winner.
Chang earned HK$400,000 ($51,500) for second place.
Macau Millions Final Table Payouts
| Place | Player | Country | Prize (HK$) |
| --- | --- | --- | --- |
| 1 | Hao "HoHo" Chen | China | 550,000 |
| 2 | Sheng Chang | China | 400,000 |
| 3 | Kenneth Leong | Hong Kong | 270,000 |
| 4 | Chia Wei Tsui | Chinese Taipei | 190,000 |
| 5 | Ping Cheong Fung | Hong Kong | 135,000 |
| 6 | Luis Jung | Korea | 105,000 |
| 7 | Lester Pinto | Singapore | 85,000 |
| 8 | Thomas Tsang | Hong Kong | 70,000 |
| 9 | Hongbing Li | China | 56,000 |
| 10 | Miklos Viczena | Hungary | 43,760 |
As casino gambling continues to expand in Macau, poker will continue to grow. The growth of the industry may not just be limited to Macau either — Japanese policy makers are very interested in relaxing the gambling laws in their own country, seeing the economic benefits of Macau's boom. If Japan opens its doors to casino operators in the near future — advocates want casinos fully operational for the 2020 Olympic Games in Tokyo — the market could explode.
2. Make the Money
As we mentioned earlier, Moneymaker took down the HPO St. Louis Regional Championship on Sunday. The Team PokerStars Pro and HPO tour ambassador earned $36,259 for the victory, along with a seat into the $2,500 HPO Championship Event at The M Resort Spa Casino in Las Vegas in June.
HPO St. Louis Payouts
| Finish | Player | Prize |
| --- | --- | --- |
| 1 | Chris Moneymaker | $36,259 |
| 2 | Frank Wyville | $22,395 |
| 3 | James Basham | $17,063 |
| 4 | Todd Bartlett | $10,664 |
| 5 | Shabtai Moria | $8,531 |
| 6 | Jovan Sudar | $6,399 |
| 7 | Todd Metheny | $5,332 |
Moneymaker was among the leaders entering the second and final day, and proceeded to run over the competition. With eight players remaining, his stack grew to roughly 40 percent of the chips in play, and it never fell below that threshold as he eliminated five of the next seven players.
His dominance was incredibly impressive, although there were two small blemishes. When he eliminated Shabtai Moria in fifth place, Moneymaker trailed on the flop of



with


against Moria's


. The turn (

) and river (

) were both nines, and Moria was eliminated. Moneymaker then cracked Todd Bartlett's aces with pocket nines during four handed-play, running out a ten-high straight.
Even if Moneymaker lost both of those pots, he still would've had roughly 700,000 chips (more than half of the chips in play). Also, had Moria doubled, Moneymaker would've been able to apply even more pressure on his four opponents, because they were all very aware of the large pay jumps.
Moneymaker's play reminded me of Phil Hellmuth's, because he knew every way to manipulate the more casual players. He flashed big cards at the right times, he coaxed his opponents into disclosing their holdings after they beat him in a big pot, and even when they lost a pot to the 2003 WSOP champ, they often had a smile on their face. Moneymaker's strategy trumped Hellmuth's though, because he was also having a great time. He didn't berate his opponents or throw any hissy fits, rather he treated them with class and had a few yucks himself whenever someone sucked out on him.
The Facebook and Twitter trolls were out in full force when Moneymaker took down the event, but his success in tournaments and his positive interactions at the table are incredibly — wait for it — good for the game.
There is a fine line between crushing your opponents respectfully and embarrassing your opponents by sending them to the showers, and Moneymaker tiptoed that line brilliantly in St. Louis this weekend.
3. Timex Banks Biggest Online Score
Mike "Timex" McDonald took down the PokerStars $109 Sunday Rebuy for $56,813, which to my surprise is the biggest online score of his career.
According to PocketFives.com, McDonald's previous biggest largest score came in November 2011, when he earned $48,503 in the PokerStars Bigger $109. He now has over $1.2 million in online tournament winnings to go along with $10 million in the live arena.
$109 Sunday Rebuy ($225K Guaranteed)
| Buy-in | Entrants | Prize Pool |
| --- | --- | --- |
| $100+9 | 998 | $307,100 |
| Place | Player | Prize |
| --- | --- | --- |
| 1 | Mike "Timex" McDonald | $56,813 |
| 2 | Skilled G | $41,151 |
| 3 | LFFF22 | $30,710 |
| 4 | Pavel "He4HaiKa" Pravdukhin | $23,032 |
| 5 | Sebastien "p0cket00" Sikorski | $16,122 |
| 6 | byfon | $13,051 |
| 7 | Vladimir "vovtroy" Troyanovskiy | $9,980 |
| 8 | Laurynas "LaurisL91" Levinskas | $6,909 |
| 9 | Ryan "ryanghall" Hall | $4,299 |
McDonald leads the 2014 Global Poker Index Player of the Year race, banking three seven-figure scores in the first two months of the year. The Canadian finished runner-up in the PokerStars Caribbean Adventure Main Event, runner-up in the Aussie Millions $100,000 Challenge, and third in the Aussie Millions LK Boutique $250,000 Challenge. McDonald publicly sold shares to the two big buy-in events down under, so while this five-figure score seems like it is a drop in the bucket, it is still a significant score for the world's hottest player.
McDonald will credit this sick run to variance, which is both humble and mathematically correct, and he joined the PokerNews Podcast a few weeks ago to discuss it:
He is also scheduled to make an appearance on the Strategy With Kristy Podcast, so be sure to be on the look out for that in the coming weeks.
4. Kiss the Rings
"So absurd."
That's what Mike Leah called his back-to-back World Series of Poker Circuit wins last week at The Bicycle Casino in Los Angeles, California. The Canadian member of Team Ivey won Event #9 $580 No-Limit Hold'em on Friday afternoon, and less than 13 hours later he won Event #11: $365 No-Limit Hold'em Turbo. Leah earned roughly $32,000 on the day.
Before going back-to-back, Leah had zero WSOP Circuit rings.
So absurd; just won my 2nd @WSOPC ring of the DAY! Shipping event #11 for 15k no chop and wrapped up casino champion at the same time

— Mike Leah (@GoLeafsGoEh)
Leah is on a tear in 2014, and as of last week he is 18th in the GPI Player of the Year race. He won a $5,000 side event at the PCA, a $1,000 side event at the 2014 Fallsview Poker Classic, and before winning two rings at the Bike, he finished seventh in a ring event.
He will likely rocket up the ranks when the new standings are released on Wednesday, but so will Keven Stammen (currently No. 11, and going deep in WPT Rolling Thunder) and Mukul Pahuja (currently No. 42, and likely to win the WPT West Coast Swing award). Leah is ranked No. 113 in the GPI, and No. 13 among his fellow Canadian countrymen.
Leah is still looking for that big splash in the live realm. He nearly won two bracelets during the 2013 WSOP, finishing third in Event #13: $5,000 Seven Card Stud Hi/Lo and fifth in Event #39: $1,500 Seven Card Stud Hi/Lo.
It's very interesting to see Dan Heimiller and now Leah try and make a run at the POY with success in these smaller events, as opposed to players like McDonald and Jason Mercier, who are spending their time in big buy-in events. This dichotomy shows that the GPI formula has balance, and any grinder can make a run.
5. Flipout!
On Wednesday, Full Tilt Poker plans to roll out Flipout Tournaments, a new, innovative form of poker.
During "round" of a Flipout Tournament, all of the players automatically go all in to determine a winner. The survivors will all be in the money, and reseated to play a normal multi-table tournament. For example, some of the first tournaments will be 81-player sit-n-gos, and the nine survivors will combine to make the final table.
"The time saving of a Flipout is obvious, but a bit less obvious is what happens after the flip round. You'll be in the money of a potentially large tournament and nobody has actually played a hand yet," Sarne Lightman, Full Tilt Poker's Head of Marketing, told PokerNews. "This means the average skill level when you hit the money will be the same as the average skill level at the start of the tournament, which is very different from a standard tournament."
This format is unique. Court Harrington, who was a host for PokerRoad Radio and one of my bosses at PocketFives, once proposed a live tournament with a similar twist. At the start of the tournament – no registration would be allowed – each player would be forced to flip for their stack, because on their receipt there would be an


or a


. A single dealer would deal a single board, and half of the field would hit the rail.
I would take this a step further, and run the coin flip after every break. It would create interesting dynamics during the tournament, and encourage players to push finite edges and gamble it up even more.
A PokerNews user named "RichardS" brought up an interesting point in our Flipout article, asking if a game like this will have a negative affect on the "poker is a skill game" argument. Flipout Tournaments are certainly not skill games, that's for sure, but what percentage of poker tournaments will feature this variant? Less than one percent? If players want to willingly gamble it up and then play more of a skill game in the money, more power to them. There are certain players who like to sit in cash games and just go all in every hand; I don't think these crazy individuals represent the game as a whole. Likewise, I don't think Flipout Tournaments represent poker on a whole.
Get all the latest PokerNews updates on your social media outlets. Follow us on Twitter and find us on both Facebook and Google+!