Sad Day As Black Belt Poker Closes For Business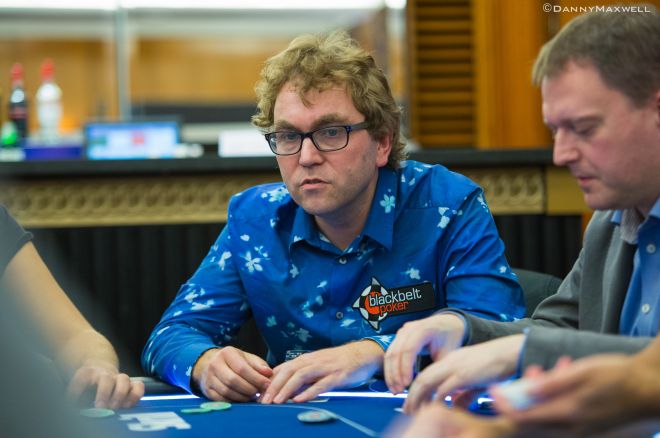 Each morning, shortly after waking and wiping the sleep from my blurry eyes, I fire up my trusty iPad and look at Twitter, Facebook and various news outlets to see what I have missed while in the Land of Nod. This morning, Tuesday 25th February, one of the first things I saw was a barrage of messages directed at British poker legend Neil Channing thanking him for his time and effort with his online poker site and community, Black Belt Poker.
It appears that Channing has made the difficult decision to close his site after six years of continuous hard work. Here's Channing's statement, in full, from the Black Belt Poker forum:
Today is a very sad day for me. It is with heavy heart that I have to announce that the Black Belt Poker skin will cease to exit from midnight this Friday February 28th.

It's now almost six years since I came up with an idea which I thought at the time could lead to a shake-up in the UK online poker market. Since that time I have worked tirelessly to try and develop the project and to build the Black Belt brand. I've been helped in that endeavour by some excellent staff, some loyal and patient investors and a fantastic community of players who I hope have all had plenty of fun along the way.

Sadly sometimes in life you just have to accept that things are not working and you need to move on. That time has come with Black Belt Poker.

The business is still running as a Ltd company and we are simply ceasing to trade. We will be switching off the skin and no longer operating a poker site. I'm currently in discussions with another iPoker skin and hope to bring you news on how your Spending Points can be redeemed through them very shortly.There is no question of any players not receiving their balances which are safely held by our partner and cashier cage provider Boyle Poker, in a ring-fenced bank account. To get the money from your account you simply need to log on prior to Friday and withdraw as normal. If you fail to do this by the time the skin is inoperative you will definitely still be able to receive your money but you'll need to contact Boyles directly. They have a list of the players who have balances with the relevant amounts and I also have a copy of that list. It may take slightly longer to get paid if you wait until Saturday or later as Boyles will not be able to simply refund your card and they may need extra details from you such as ID.

If you have any queries regarding withdrawals, or any other questions you wish to raise, I can be emailed at neil@blackbeltpoker.com or you can contact Boyles support@blackbeltpoker.com or by calling 0800 316 0441.

All that remains is for me to thank everyone who invested, who worked hard for us, who were sponsored by us, who participated in poker discussions on our website and particularly those who played on Black Belt Poker.
It is a sad day because I am sure that almost everyone in the poker community – myself included in that — wanted to see Black Belt Poker flourish and grow. It's unique business model, one that rewarded members for interacting with each other and allowed members to exchange loyalty points for live tournament buy-ins should have, on paper at least, been a massive hit. Regrettably, that does not appear to be the case here.
While I don't have all the facts and figures available to me, it is possible to make some assumptions as to why things haven't worked out as planned for Black Belt Poker.
The first major issue is that Black Belt Poker was on the lower tier of the iPoker Network and therefore had lower cash game and sit 'n' go traffic than other iPoker Network rivals. When Playtech split its network in half, it was a massive blow for Black Belt Poker as it meant they would not have full liquidity in heads-up cash games, six-max No Limit Hold'em up to NL200 and full ring NL Hold'em up to NL100. This left them competing with similarly sized skins, almost all of whom offered and still offer substantial under-the-table rakeback deals (I receive 55% rakeback at one such skin for example) that were difficult to match. The split more than halved traffic for the skins who were placed in the lower tier of the network. Quite ironic that the system that many believe was created to kill off some of the sites that offer the network little in terms of value has actually contributed to one of its prize assets closing for business.
While Black Belt Poker's community was a huge selling point, tell a savvy recreational micro-stakes player that he could be playing against the same players but with guaranteed money back in his account every week and he'll probably take that option. Hell, he'd probably discover he can play against a weaker player pool, a larger player pool and still get a rakeback deal that trumps many of the lower tier network's offerings. It's a sign of the times, unfortunately. Many are hurting financially and guaranteed money back in your account is guaranteed money.
Regardless of the reasons behind the closure, it is a sad day for British poker. Friends of mine who were active members in the Black Belt Poker community and who played in their excellent live and online events are absolutely gutted about the closure, as I am sure is Channing. Rest assured that someone with the business acumen of Channing will not stay defeated and deflated for long and it is surely only a matter of when, and not if, another Channing endorsed product appears on the market. And when it does, it will definitely be another one that has the players' best interests at heart.
I'd like to wish Channing all the best for his future endeavours, good luck sir.
Get all the latest PokerNews updates on your social media outlets. Follow us on Twitter and find us on both Facebook and Google+!