Riots in Kiev, Ukraine Force Poker Players To Remain Indoors at Russian Poker Tour

Giovanni Angioni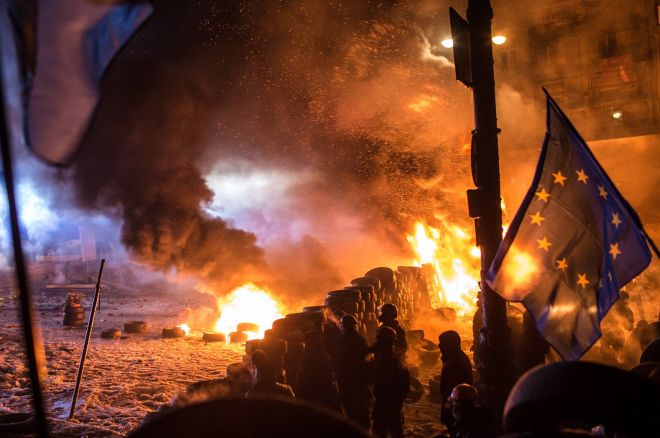 Players at the Russian Poker Tour Main Event are living moments of terror as a new round of pro-European Union protests violently explodes in the street of Ukraine's capital city Kiev.
"We are in a very bad situation right now. Not for only for the Russian Poker Tour, but for the whole Ukraine", tournament director Oleg Udovenko told PokerNews, confirming that around 150 players are now locked in the Khreschatyk Club, right in the heart of Kiev.
"There is not much we can do now," added Udovenko. "We can just wait and try our best to keep people as calm as possible. Even if the mood in here is not very good. People are trying to keep playing poker. We have shut all doors, and we are not allowing anyone to come in or to leave the club. Luckily, we have still enough water for everyone."
While tournament play can only last for so long, players have worked to keep their mind off the situation through other games. "Now that Day 1b of the Main Event is over, some players moved to cash games, even if many of them are just trying to sleep on their chairs," Udovenko said. "Everyone is very tired here."
The situation at the Russian Poker Tour has seen dramatic moments as riots erupted from unseen violence. According to Russia's state-controlled news-agency RIA Novosti, at least 13 people have died and over 180 have been injured during the evening in Ukraine.
"Nobody knows what is going to happen next," commented one of the players currently inside the Khreschatyk Club. "At some point, even the electricity went out. Here it feels like we're in a cage while there is a war going on outside. Now they even had to stop ventilation in the room because of the smoke coming from outside."
While on Russia's most popular social network VKontakte, many players are now criticizing the choice of organizing a poker tournament in Kiev during one of the hardest moments in Ukraine's recent history, organizers of the RPT told us that the event could be stopped and postponed to a better date and moved to a safer place.
"I don't think we will be able to continue tomorrow," said Udovenko. "We need to see how it goes, but I don't think we will".
With numbers of deaths and injuries to be confirmed, today could be the bloodiest day in Ukraine's months-long demonstrations started last November when President Viktor Yanukovych pulled out of a treaty that could have helped Ukraine to join European Union.
The video below shows some of the scene that was happening only few hours ago in the area where the Russian Poker Tour is taking place.
*Lead photo courtesy of Brendan Hoffman/Getty Images.
Get all the latest PokerNews updates on your social media outlets. Follow us on Twitter and find us on both Facebook and Google+!