2013 Irish Player of the Year Dermot Blain: "You Should Never Mimic Another Player"

Mark Bonington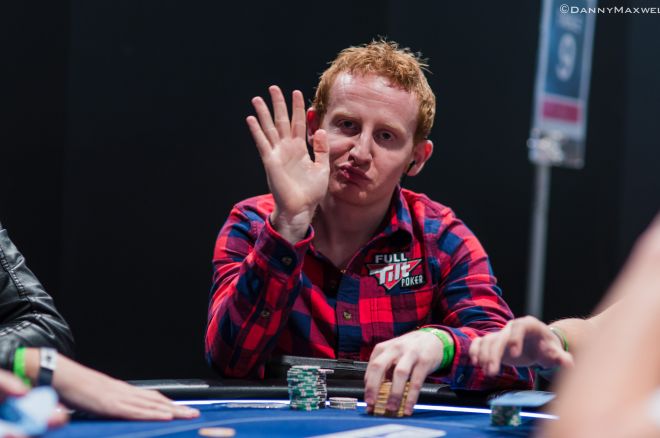 After saying that Full Tilt Poker's decision to nominate him as one of the room's ambassadors was "surreal," Dermot Blain fought his way through the end of 2013 to show everyone how the room could not have chosen any better.
A regular at PokerStars' United Kingdom and Ireland Poker Tour (UKIPT), Blain closed the year by putting together a third-place finish at the UKIPT Galway €2,200 High Roller and a fourth-place result at the same event in Nottingham.
He also cashed twice at the 2013 World Series of Poker and picked up even more results at the European Poker Tour stops in Barcelona and Prague and at the 2013 Seminole Hard Rock Poker Open.
After winning his second consecutive Global Poker Index Irish Player of the Year title, Blain managed to keep his name atop the rankings at the beginning of 2014 by crushing the €1,100 Pot Limit Omaha 8-handed freezeout event at EPT Deauville, bringing home a payday worth $27,630.
Shortly after his victory in Deauville, PokerNews caught up with Blain to discuss Ireland's poker scene and get some useful tips about how to have a successful career in poker.
How did you get started with the game?
I didn't really get into the game until I was 22, so I was a bit of a late developer. I was working and would go down to a local club every Friday. The more I played the more I enjoyed it, and the first tournament I played I managed to win. This was for about £1,000 sterling which was huge at the time. I remember having it all in cash sitting behind my bed when I woke up!
I played a cash game the next day, and I won roughly the same, so basically I'd won more in two nights than I would from several months working. And I was fascinated with the game; as someone with a sports background I was naturally very competitive. Like many poker players I have quite an addictive personality, so when I decide to go for something I really go for it. In that sense it suited me.
Right before UKIPT Galway, Full Tilt Poker decided to name you one of its ambassadors. How did the sponsorship come about?
I heard rumors that they were looking for new people, and then I received an email from them. Obviously it's pretty exciting. I accepted, we talked, and then I got started in Galway. So far it's been great, and I've really enjoyed it. You get to travel to places you wouldn't normally be able to.
Did it change the way people treat you at the table in any way?
When playing against me, people now try to bluff me in certain situations, which they might not normally do. They also expect me to make more moves, which is quite surprising. I just play the situation, but people's perception of what I'm doing changes.
No extra pressure added by the Full Tilt Poker patch you wear at the table?
Not for me. My number one goal is financial security in the game, which the sponsorship helps with. But I wouldn't feel anything extra, although I've read blogs where former PokerStars pros said they did.
What is the poker scene like in Ireland today?
People love playing poker, even if the economic downturn hit Ireland pretty bad, so people don't play as high as they used to. People can't afford €1,000 or €5,000 events as they just don't have that disposable income anymore. Yet, Irish players still love the game, and the scene is pretty healthy.
If we take your name off the list, who are the up-and-coming Irish players who are rising right now?
The Irish scene overall is actually really quiet, I myself didn't have a very good year. A lot of the victories happened online. Jude Ainsworth had a really big year, as did Andrew Sweeney. Paul Delaney is also one to watch.
Who is the one you would bet on for a great 2014?
Andrew Sweeney. I think he has a really good mind for the game. He has the temperament and the ability; if he plays more live tourneys I think he could win a major.
You say that last year you got your best results playing online, but you are also an avid live player. What is your stance with online versus offline poker in terms of play?
I'd probably rather play live. It's where I learned the game and there's a much more social aspect to live play, so it can be a lot more fun for everyone involved. And in general live games are a lot softer.
But it's night and day, really. A recreational online player, even if he only fires up two tables, is playing on average of 70-80 hands an hour. Live you're only playing 20 hands an hour. So you can learn much quicker online. The downside is you can lose your money much more quickly too.
This said, if you have any sort of tilt issues, you definitely shouldn't be playing online poker! And then, if you want to be a winning poker player, nowadays you really have to adapt to both games.
What is your personal game preference?
My favorite game is probably 6-8 handed live Omaha. I was brought up playing live cash, and that's what I'm playing when I'm not playing live tournaments. So the two of them are probably a good mix. It's something I'm very comfortable in. I basically haven't played any online hold'em at all.
What would be your best poker tips for someone starting with poker today?
Just play a lot. That's how you learn. You can read all the books you want, but until you're in that situation, the mental situation where you're making mistakes and making decisions ... you just need to play thousands and thousands of hands, because in any poker game the same situations will occur. You'll have a tricky decision with an over pair and you're not sure. It just takes loads of practice. Start with freerolls and small stakes, get involved with your local casino and build your experience.
Essentially just play loads of hands, this is my number one tip. Phil Ivey once said for the first two years he played every day for 16 hours a day, and everyone knows what he's done in the game. It worked for him, and it worked for me.
Also never try to mimic another player. Some of my worst sessions have been after I've watched training videos and I've tried to copy what someone else was doing. It takes me a little while to absorb the info and apply it to my own game.
Where do you see poker going in the future?
The amazing thing is that poker is always changing. If you look at the first European Poker Tour 10 years ago, they got £80,000. Now we have buy-ins that are over £100,000, nobody but god knows where it's going to go in the next 10 years. It's very hard to predict. With the Internet the industry moves so fast now.
Hopefully things will continue to prosper, as I think people still love to play the game. There are still so many recreational players out there. I was sitting with a girl at the World Series of Poker and her father had just bought her a ticket - that was her first live tournament ever!
I still play online, and there is a still load of easy money there. I think a lot of these doom and gloom merchants are not working hard enough on their game. Poker is like anything in life. You just need a little bit of luck, you know?
Get all the latest PokerNews updates on your social media outlets. Follow us on Twitter and find us on both Facebook and Google+!