Alex Spencer Wins the 2014 Sky Poker UK Poker Championships Main Event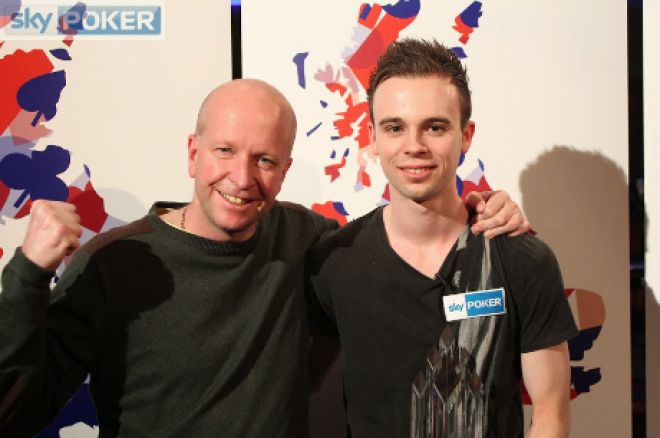 Twenty-year old Alex Spencer of Doncaster is the name engraved on the 2014 Sky Poker UK Poker Championship (UKPC) Main Event trophy after he emerged victorious in the £1,100 buy-in tournament on Sunday night. In addition to the monster-sized £125,000 first place prize, Spencer also won a $15,000 tournament package as a result of topping the UKPC leader board; there's no doubt Spencer's name will be gracing the UK & Ireland PokerNews pages again.
Spencer went into the televised nine-handed final table with over 2 million more chips than his nearest rival Danny Blair, but victory was far from a done deal because each of the finalists had reached the final table on merit and would have been a worthy champion. Here's how the final line lined up.
2014 Sky Poker UK Poker Championship Main Event Final Table
| Seat | Player | Chips |
| --- | --- | --- |
| 1 | Alex Spencer | 5,200,000 |
| 2 | Paul Delaney | 1,625,000 |
| 3 | Allan Graham | 1,360,000 |
| 4 | Charles Chattha | 1,570,000 |
| 5 | Danny Blair | 3,115,000 |
| 6 | Deborah O'Connell | 1,840,000 |
| 7 | John Haigh | 870,000 |
| 8 | Steven Sargent | 1,190,000 |
| 9 | James Rimmer | 1,880,000 |
Three hands into play and John Haigh busted out in ninth place. Deborah O'Connell raised to 130,000 from under the gun, Haigh three-bet all-in for around 870,000 in total and Steven Sargent re-shoved! O'Connell then called making it a three-way all-in pot, Sargent's


being in front of O'Connell's


and Haigh's


. The





board was void of any drama and resulted in Haigh exiting, Sargent doubling up and O'Connelll doubling down! What a start!
Next to go was Allan Graham, again at the hands of Sargent. Graham raised to 135,000 and Sargent was his only customer. The pair shared a



flop that contained two hearts. Graham decided the best way to play his


was to move all-in and push his opponent off the pot. It may have worked had Sargent not flopped top pair with his


. Sargent called. The turn and river failed to alter the course of the hand and Graham exited in eighth place.
O'Connell had qualified for the £1,100 UKPC Main Event for only £1 and the Sky Poker PR team were praying for a "rags to riches" story. It don't quite work out that way as she was eliminated in seventh place, which was worth a more than respectable £16,000. Blair opened to 135,000 and then called when O'Connell three-bet all-in for 400,000. Blair showed


and was racing against O'Connell's


. Blair paired his ace on the flop and then turned trips to widen his lead. A five on the river was not what O'Connell or the PR men wanted and O'Connell's tournament came to an abrupt end, but still a magnificent effort and story.
A card dead and spot dead Charles Chattha was the next player to lose their stack and exit the tournament area. Chattha opened to 280,000 from the cutoff – a bet of around half of his stack – and called all-in when James Rimmer three-bet him. Chattha showed


to Rimmer's


and when the board ran out king-high and void of aces or fives, Chattha's tournament was over and he headed to the cashier's cage to a generous round of applause.
By this stage Sargent was the shorter of the remaining stacks and he needed to make a move. That is exactly what he did when Paul Delaney opened for the umpteenth time. Sargent three-bet all-in with


and was in desperate shape when Delaney called with the much more substantial


. The jacks held and the final table lost Sargent in fifth place.
Some two-and-a-half hours passed by before anyone else busted, that dubious honour going to Rimmer. Having lost a couple of large pots in quick succession, Rimmer needed to add to his stack to stay in contention for the title. The players had also been informed that whoever won the Main Event would also win the $15,000 tournament package for winning the UKPC leader board. Sadly for Rimmer, it turned out not to be him. Rimmer jammed from the small blind with


and Spencer called with


. Five drama-less community cards later and Rimmer crashed out in fourth place.
Three became two shortly after Rimmer's demise when Spencer raised-called as Delaney committed his entire stack with


. Spencer held


and needed some help from the board, which arrived as the cards fell





to send Delaney to the rail and the tournament into the heads-up stages.
Going into the final stages of the tournament, Spencer held a massive 13.8 million to Blair's 4.8 million. Blair managed to claw his way level and then in front until he lost with


versus


to flip the tie back into Spencer's favour.
Then, at just before midnight, it was all over. Blair moved all-in for six big blinds with what turned out to be


and Spencer called with


. The



flop put Spencer into the lead, the

turn keeping him there but also giving Blair a few outs to a straight. The

river was not one of those outs and Blair busted, leaving Spencer to be crowned 2014 Sky Poker UKPC Main Event Champion.
2014 Sky Poker UK Poker Championship Main Event Final Table Results
| Place | Player | Prize |
| --- | --- | --- |
| 1 | Alexander Spencer | £125,000 |
| 2 | Danny Blair | £75,000 |
| 3 | Paul Delaney | £50,000 |
| 4 | James Rimmer | £37,500 |
| 5 | Steven Sargent | £28,000 |
| 6 | Charles Chattha | £21,000 |
| 7 | Deborah O'Connell | £16,000 |
| 8 | Allan Graham | £12,500 |
| 9 | John Haigh | £10,000 |
The final table should make excellent viewing once it is shown on Sky Sports and was a fitting end to a fabulous festival of poker. Guarantees were smashed all week long and the Dusk Till Dawn casino was bursting at the seams. It was amazing to see so many established professionals come out and support the UKPC and it is already a must-play event despite its infancy. If the UKPC doesn't return and be even bigger in 2015 I will eat my hat. In fact, I'll eat all of your hats, just send them to the usual address!
Congratulations to Alex Spencer, a worthy champion and a name that I am certain we will hear plenty more about in the coming weeks, months and years.
Thanks to Richard "Tighy" Prew and the BlondePoker forum whose updates and images were used in the creation of this article and all the UKPC articles over the past few days.
Get all the latest PokerNews updates on your social media outlets. Follow us on Twitter and find us on both Facebook and Google+!