Play Three Exciting Open-Face Chinese Poker Variants on Tonybet!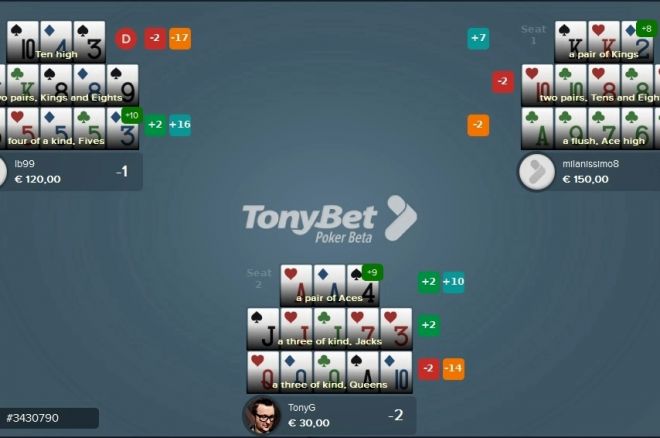 Open-face Chinese poker, also known as OFC, has taken the poker community by storm in 2013 becoming one of the most popular games poker enthusiasts play against friends during down time at live tournaments or as pick-up games. Now you can also play open-face Chinese Poker online at Tonybet Poker, the first global site dedicated to this fun and exciting game!
Tonybet Poker's well designed and easy-to-navigate lobby currently boasts three different types of open-face Chinese poker, with the traditional game going side by side with variants as pineapple open-face Chinese poker and turbo open-face Chinese poker - all available for real-money play. The site currently offers cash game play with stakes ranging from €0.02 to €1.00 per unit even if, to further add to the excitement, TonyBet Poker announced that also tournaments and sit-n-gos will soon be added to the room.
For those of you that are not familiar with open-face Chinese poker rules, in the game players need to make 3 hands with 13 cards eventually dealt to each player. The bottom and middle hands are made of 5 cards each while the top hand is made of 3 cards.
For a player's hand to qualify, the bottom hand has to be a higher hand than the middle one, and the middle hand needs to be a better one than the top hand. In case the hands do not follow the scheme above, players incur in what the game names as "foul", something that should always be avoided at all costs.
Amongst the most popular games on TonyBet poker, players seem to appreciate the turbo variant of open-face Chinese poker for the great action this adds to the game. Instead of placing just 1 card at a time after the initial 5 cards are dealt, the "turbo" variant of the game asks players to place 4 cards at one time offering them more possibilities to make big hands without risking a foul and significantly speeding the game up.
Position is also a very important element in this game, since you will see more of your opponent's cards and the way they set their hands at one time before it is your time to place your hand.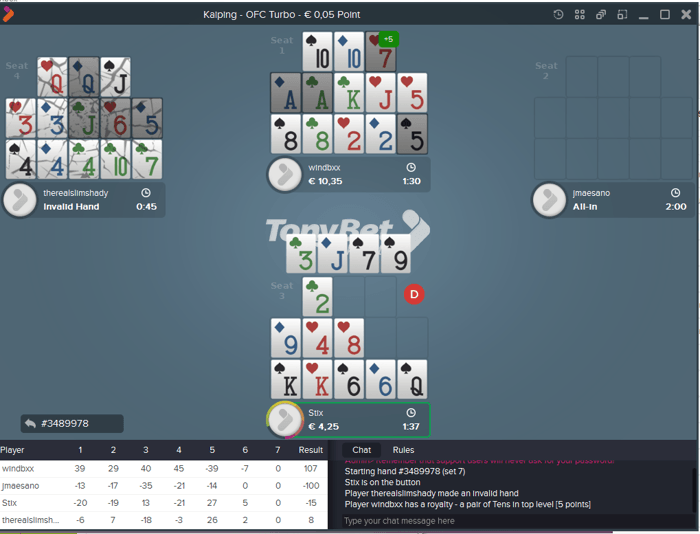 The most popular game currently on Tonybet is Pineapple open-face Chinese poker since there are more hand possibilities that can be created than the other variants of the game.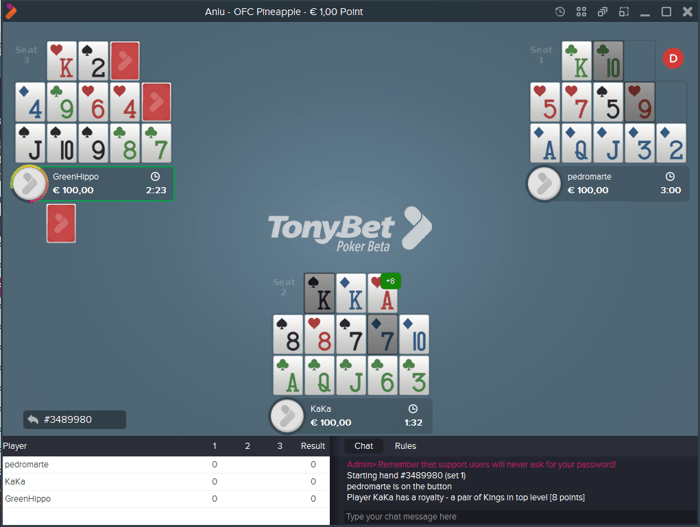 With three different open-face Chinese poker games to choose from, you can easily see why players are loving Tonybet Poker. So why not get in on the fun today and open an account on TonyBet Poker through PokerNews today!
Get all the latest PokerNews updates on your social media outlets. Follow us on Twitter and find us on both Facebook and Google+!