371 Players Reached Supernova Elite Status in 2013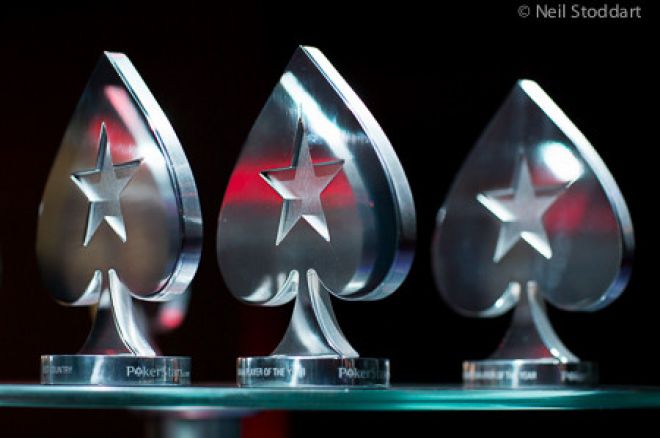 PokerStars has revealed that 371 players managed to accumulate at least 1 million VPPs during 2013 thus earning the coveted Supernova Elite VIP status.
The figure is four less than in 2012, but it could have been much less had a late push by PokerStars' grinders as 2013 drew to a close. At the beginning of December, PokerStars Gareth posted in a Supernova Elite dedicated thread on the 2+2 forums stating only 114 players had reached PokerStars' top VIP level and that only 204 players were on pace to join them.
Fast forward to New Year's Day and PokerStars Gareth again posted in the same thread:
"Congratulations to all the players who made it to Supernova Elite in 2013.
A total of 371 players made it this year!"
PokerStars Gareth also revealed the top five VPP totals for 2013 and they make impressive reading.
4,501,829
4,000,000
3,562,368
3,000,080
2,512,858
The identity of the player with over 4.5 million VPPs has not been revealed, although the player with exactly 4 million is Team PokerStars Online's George "Jorj95" Lind, a long-time Supernova Elite and the first player to pass the 10 million VPP barrier.
Lind posted a screenshot in the thread on New Year's Eve showing he had earned 4,000,000.01 VPPs in 2013.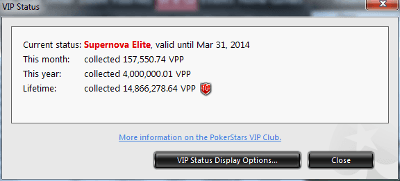 Reaching Supernova Elite status not only gives a player kudos amongst their peers, but it is also worth a lot of money. If a player started at the lowest PokerStars VIP status – BronzeStar VIP – and managed to reach SuperNova Elite, they would earn $103,910 from the program, which works out to the equivalent of between 57-62% rakeback! Should any of the 371 Supernova Elites from 2013 go on and reach the same level in 2014, they will earn $129,600 from the VIP program or 71-78% rakeback depending on their game of choice.
The PokerStars VIP program is open to every PokerStars player and free to participate in. Every time you play for real money, be it at the cash game tables or in tournaments, you are awarded VPPs depending on the rake or fees taken. Below is a table showing the various PokerStars VIP levels and the VPPs required to achieve each status.
| VIP Level | VPP Requirement |
| --- | --- |
| BronzeStar | |
| ChromeStar | 100 VPPs in a month |
| SilverStar | 500 VPPs in a month |
| GoldStar | 2,500 VPPs in a month |
| PlatinumStar | 7,500 VPPs in a month |
| Supernova | 100,000 VPPs in one year |
| Supernova Elite | 1,000,000 VPPs in one year |
Don't have a PokerStars account but want to try and climb the VIP ladder? Let PokerNews help you. Download PokerStars through PokerNews, use the marketing code UKPOKERNEWS when creating your account and then the bonus code STARS600 when making your first deposit and you will be entitled to a 100% match up to $600 first deposit bonus and be able to compete in all future promotions that PokerStars and PokerNews hold together.
Get all the latest PokerNews updates on your social media outlets. Follow us on Twitter and find us on both Facebook and Google+!