UK & Ireland Poker Rankings: Chris Moorman Leads, Sebastian Saffari and Rhys Jones Climb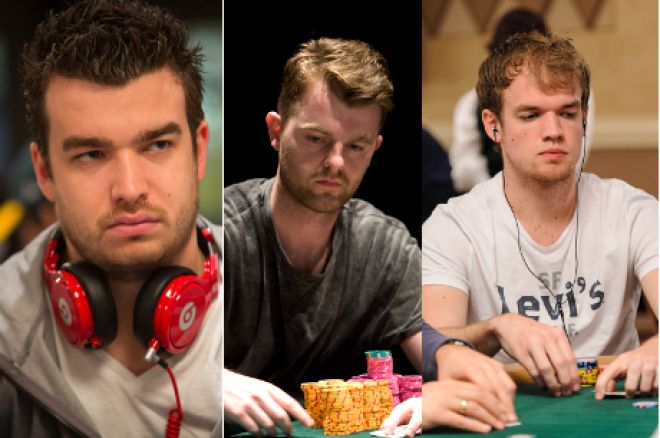 The online poker tournament rankings for the United Kingdom and Ireland are up-to-date and it should be no surprise to see the name of Chris Moorman sat at the top of the pile.
Earlier this week, Moorman secured his 19th PocketFives.com Triple Crown to preserve his number one rank in both the UK & Ireland and the worldwide standings. Since completing that Triple Crown, Moorman has cashed a further 19 times including a fourth place finish in the PokerStars Big $109 for $8,512.
Second placed Jude Ainsworth seems to have taken a couple of days away from the virtual felt as he has not registered a cash since Sunday, and the sheer amount of volume the Irishman puts in makes him not cashing once over the course of the week impossible!
Charlie Combes, fresh from a final table appearance at the Amsterdam Masters – Combes finished sixth for €59,004 – finds himself in third place in the UK & Ireland rankings thanks in part to several deep runs on Sunday night. Had Combes managed to press on and go a few places deeper in the Full Tilt Poker Super Sized Sunday (he finished 10th), The PokerStars $109 No Limit Hold'em Turbo 1R1A (12th) the Sunday 6-Max (15th) or the Sunday Supersonic (18th), Combes could have ousted Ainsworth from second place.
UK & Ireland Online Poker Tournament Rankings
| Rank | Player | Points |
| --- | --- | --- |
| 1st | Chris "moorman1" Moorman | 7716.60 |
| 2nd | Jude "j.thaddeus" Ainsworth | 6950.27 |
| 3rd | Charlie "chaz_man_chaz" Combes | 6543.96 |
| 4th | Sebastian "Seba29072" Saffari | 6306.87 |
| 5th | Rhys "floppinhel" Jones | 6304.62 |
| 6th | Toby "810ofclubs" Lewis | 6205.02 |
| 7th | Christopher "NigDawG" Brammer | 5941.74 |
| 8th | Jareth "jareth3542" East | 5680.94 |
| 9th | Tomas "luckymo32" Geleziunas | 5565.37 |
| 10th | Jon "EMSBas" Spinks | 5533.45 |
As you can see from the leader board, the top 10 players are the same as the previous week's standings, although both Sebastian Saffari and Rhys Jones have climbed to fourth and fifth place. Deeps runs in The Big $162 at PokerStars (7th place for $3,486), the $44 NL Hold'em Turbo (3rd for $2,263) and the Full Tilt Poker Tyrannosaurus Rex (5th for $2,194) helped to push Saffari back towards the top of the local standings.
Rounding out the top 10 are Toby Lewis, Christopher Brammer, Jareth East, Tomas Geleziunas, and Jon Spinks.
Here at UK & Ireland PokerNews, we would expect plenty of changes to the top 10 spots thanks in part to the next instalment of the Full Tilt Poker FTOPS XXIV kicking off on November 24 and lasting until December 8. Keep an eye out for the likes of Luke reeves, Andrew Hulme, Paul Foltyn and Ross Loggie in the coming weeks as all find themselves lurking outside the top 10 and know that one big win, which the FTOPS can give, will see them propelled into the limelight along with the rest of UK & Ireland's elite.
Data from PocketFives.com was used to create this article.
Get all the latest PokerNews updates on your social media outlets. Follow us on Twitter and like us on Facebook now!