The Online Railbird Report: Blom Wins $1.3 Million in a Day; Hansen's Fall Continues

Chad Holloway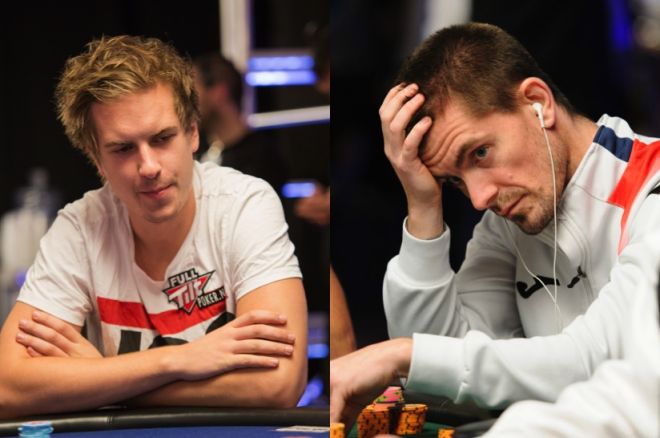 There are now two months left in 2013, and right now Viktor "Isildur1" Blom looks to finish as the year's biggest online winner. That's surprising considering he was up over $4.8 million back in July and proceeded to lose it all back. This week, Blom actually lost $344,108 in 13,081 hands over 113 sessions, which is kind of sad considering he had won $1.3 million in a day.
Before getting to that, you might be interested in hearing about some other winners and losers. Only two players did worse than the Swede this week, and they were Gus Hansen (-$1,302,940 in 6,228 hands over 30 sessions) and Patrik "FinddaGrind" Antonius (-$478,873 in 12 sessions/1,240 hands). Hansen, who lost $615,350 last week, was already 2013's biggest loser, and his most recent $1.3 million loss practically ensures he'll finish with that infamous title.
As far as the winners are concerned, no one did better than Germans "kagome kagome" (+$824,002 in 7 sessions/850 hands) and Niklas "ragen70" Heinecker (+$773,421 in 16 sessions/3,004 hands). Alex "IReadYrSoul" Millar, who won $687,313 last week, followed that up with a $403,206 win in 766 hands over 8 sessions; meanwhile, last week's biggest loser, "Sanlker," rebounded with a $312,336 win in 4,122 hands over 24 sessions.
Blom Tries to Battle Back in Friday Action
After finishing as last week's biggest winner, Blom kept the ball rolling on Friday by putting in another full day of play. That said, he actually began the day down $611,000 thanks to some carryover action from Thursday night's game (the server ticked over past midnight). Not to be deterred, Blom began to rebuild.
It began with a one-and-a-half hour match against Kyle "KPR16" Ray at the $2,000/$4,000 fixed-limit Omaha hi/low tables, which saw him walk away a $320,000 winner. From there, it was on to the $500/$1,000 CAP pot-limit Omaha tables to play three tables against Ben "Bttech86" Tollerene. The duo played for a mere half hour, but during that time Blom added another $118,000 to his bankroll.
Blom then turned his attention to the $500/$1,000 CAP no-limit hold'em table, which is where he four tabled against Doug "WCGRider" Polk for an hour and a half. Blom ended up winning $75,000 in the match, and just like that he had recouped $500,000.
Blom and Polk faced off in another match at the CAP tables — where Blom won another $34,000 — and then the two switched to $400/$800 NLHE. With no CAP holding him back, Blom began to give back chips; in fact, he ended up losing $456,000 in the game. Here are the two biggest pots from that match: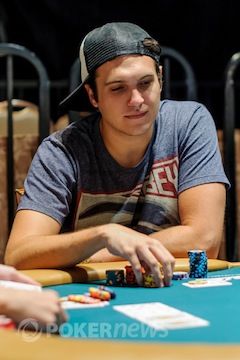 Hand #1: Blom ($153,296.79) opened for $2,400 only to have Polk ($226,998.70) three-bet to $8,800. Not to be outdone, Blom four-bet to $23,200, Polk called, and the flop came down



. Polk proceeded to check-call a bet of $16,800 and then led out for $10,400 when the

turned. Blom called, the

completed the board on the river, and Polk returned to checking. Blom took the opportunity to move all in for $102,896.80, and Polk wasted little time in making the call. Blom revealed the


for a missed flush, which of course was no good against Polk's


. Ship the $306,593 pot to Polk.
Hand #2: Blom ($233,500) opened for $2,400 and then called when Polk ($293,073) three-bet to $8,800. When the flop fell



, Polk led out for $12,000 and Blom immediately raised to $32,000. Polk called and then check-called a bet of $43,200 on the

turn. When the

completed the board on the river, Polk checked for a second time and then called Blom's shove of $149,500. Blom showed the


for a missed straight, and it wasn't enough to win the $467,000 pot as Polk held the


.
Blom Takes Polk for $1.2 Million at the $400/$800 NLHE Tables
Blom continued to play on Friday and managed to rebound from the loss to Polk. He did so by winning nearly $300,000 in six hours from Hansen and "kagome kagome" at the 2-7 triple draw tables. Hansen ended up dropping approximately $550,000 in that match. Blom went on to win $79,000 from Antonius at the FLO8 tables and $182,000 from "Sanlker" at the $500/$1,000 CAP NLHE tables.
Blom then returned to the $400/$800 NLHE tables to seek revenge on Polk. It looked as if things would continue to go Polk's way as he pulled out to an early $250,000 lead over three tables, but Blom managed to get that back and then some. Over the next hour or so, Blom pulled out to a $280,000 lead of his own, and he never looked back as he went on to capture another $1 million in profit.
In Blom's biggest win of the match, Polk ($154,663.75) opened for $2,400 and Blom ($183,912.25) pushed back with a three-bet to $8,000. Polk responded with a four-bet to $20,800, Blom five-bet shoved, and Polk made the call to create a $309,327 pot.
Blom:



Polk:


It was a classic flip, and according to the PokerNews Odds Calculator, Polk had a 56.55% chance of winning the hand while Blom would crack the ladies 43.03% of the time. Well, this happened to be one of those times as the



flop paired Blom's ace and made him the 91.21% favorite. The

turn further improved him to 95.45%, and Polk needed a queen on the river to win the pot — something that would happen just 4.55% of the time. One more card was burned and the lackluster

was put out on the river.
Despite the big win, Blom actually lost the biggest pot of the session. Have a look:
After being up for 30 hours, Blom went to bed, but it wouldn't be the last the railbirds saw of him.
Blom Gives It All Back Less Than 24 Hours Later
Isn't it kind of sad that headline doesn't shock? That's because Blom's wild swings are steadily desensitizing the poker world. Win big, lose big. Anyway, on Saturday, Blom was back in action and promptly dropped $1.2 million to Polk, "Sanlker" and "kagome kagome."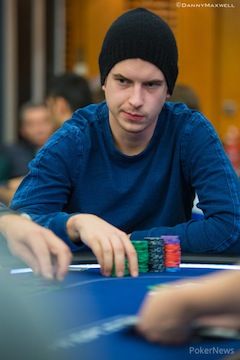 Polk got $682,000 of it, which included a $212,000 win in just 22 minutes of $400/$800 NLHE. That is where the biggest pot of the day played out, and despite losing in the match, Blom actually won that hand.
In it, Blom ($177,198) opened for $2,400 and then called when Polk ($164,346.50) three-bet to $8,800, which led to a



flop. Polk bet $12,000, Blom called, and the

turned. Polk bet $27,654, Blom called once again, and the

completed the board on the river. Polk slowed down with a check, but he still called when Blom moved all in for $128,744. Blom tabled the


for a flopped full house, and he was pushed the $328,693 pot after Polk mucked.
Later in the evening, Polk won $382,000 more from Blom at the $500/$1,000 CAP tables. To make things worse for the Swede, he went on to lose $240,000 to "Sanlker" in just 22 minutes of $400/$800 NLHE. Thanks to a $681,000 win against "Denoking," "Sanlker" went on to finish as Saturday's biggest winner with $921,300 in profit.
As far as "kagome kagome" was concerned, he took $290,000 from Blom in 90 minutes of play.
Hansen Drops $599,000 to "Kagome Kagome"
On Wednesday, Hansen's nightmarish year continued when he lost $889,668 in 1,547 hands of FLO8 and 2-7 triple draw tables. Nearly $600,000 of that went to "kagome kagome" at a single table of $2,000/$4,000 2-7 triple draw tables. The loss put Hansen down $6,361,575 on the year and $10 million lifetime on Full Tilt Poker.
Prior to Black Friday Hansen had won $5 million in a memorable heater, and one thing's for sure, he could use another one like it right now. There's only a couple of months left in the year, and only time will tell if the "Great Dane" is able to right the ship or if he continues to flounder.
Download Full Tilt Poker and get a 100% deposit bonus up to $600!
Biggest Winners/Losers (Full Tilt Poker)
Week's Biggest Winners (10/25-10/30): "kagome kagome" (+$824,002), Niklas "ragen70" Heinecker (+$773,421), Alex "IReadYrSoul" Millar (+$403,206), "Sanlker" (+$312,336), Kyle "cottonseed1" Hendon (+$252,348), "Trueteller"* (+$180,148)
Year's Biggest Winners**: Viktor "Isildur1" Blom (+$3,518,325), Niklas "ragen70" Heinecker (+$3,373,403), Ben "Bttech86" Tollerene (+$2,831,504), Alex "IReadYrSoul" Millar (+$2,103,377), Hac "trex313" Dang (+$1,887,756), Patrik "FinddaGrind" Antonius (+$1,812,761), "Odd_Oddsen"* (+$1,766,312), "no_Ola" (+$1,603,812)
*Denotes PokerStars
** According to HighStakesDB, Alexander "PostFlopAction" Kostritsyn has opted out of having his online results tracked.
Qualify for EPTs, WSOPs, UKIPTs and many more live tournaments by signing up for PokerStars today!
Data, hands and replayer obtained from HighStakesDB.com
Get all the latest PokerNews updates on your social media outlets. Follow us on Twitter and like us on Facebook now!