Paul McHenry Wins the APAT Scottish National Poker Championship

Tom Brady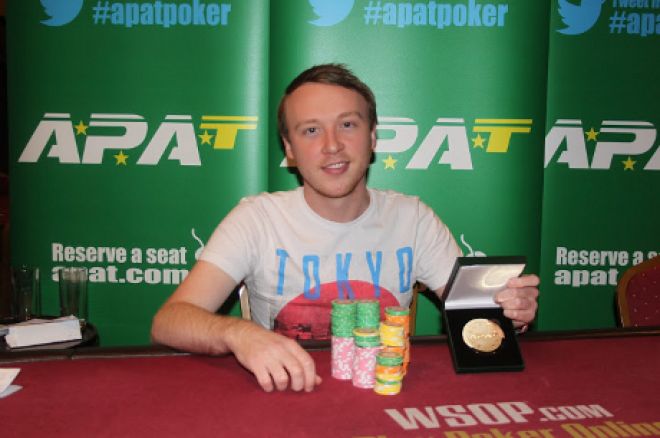 Glasgow's Alea Casino played host to the APAT Scottish National Poker Championship this weekend where a sell-out crowd gathered to play the 2-day deepstack Main Event of the Scottish Amateur Poker Championship.
A strong Scottish contingent from both the APAT faithful and new players alike mixed it up throughout the weekend of events with a plethora of players from across Europe that bodes well for APAT's upcoming European Championship of Amateur Poker that kicks off the Prague Poker Festival in early December.
APAT have remained a ground-breaking Association and Tour and their members continue to enjoy the intuitive 'Cash Tournament Tour' that saw Leg 4 qualifiers play over Friday and Saturday evenings to win through to the Final Table on Sunday where it was taken down by APAT regular Vaino Tiik, who also finished 4th in the PLO Championship and made Day 2 of the Main Event – a superb all-round weekend performance from Tiik who had recently taken down the APAT Irish Online Amateur Poker Championship. Alongside the Main Event, APAT also hosted the Scottish PLO Championship won by Roddy McNeill, and the inaugural Scottish Pub Poker Championship won by APAT's Live Pub Poker League regular Ross 'Smurf' Fullarton from the East of Scotland Area League.
The Main Event had an eventful Day 1 that saw the elimination of 110 players from the sell-out crowd of 137 including alternates, and it was an epic Day 2 for eventual Champion Paul McHenry who, having started the day as Chip Leader with a 250,000 stack, never looked back as he steadily built momentum to see off a constant barrage of attacks from 3rd placed Bronze Medalist Mike Scothern. Mike put in a sterling effort to return his best-ever APAT live event placing to take the Bronze Medal ahead of Runner-Up Jim McClean, a Glasgow local who entered the day in 4th position with just over half the chips that McHenry had, and McClean clearly enjoyed the APAT deepstack structure showing a mixture of patience and well-timed moves to take him all the way to Heads Up.
However it was McHenry who progressed his stack steadily throughout most of the final day, which never really came under much pressure, and with stacks pretty even when it got to Heads-Up with McClean, following an exhausting Final Table and a Heads Up battle that lasted an hour and a quarter and into the early hours of Monday, McHenry eventually, after a series of split pots and to-and-fro action, got far enough ahead as chip leader with Blinds at 30k/60k to call McClean's push with


– McClean showing


- and with a jack on the flop and McClean missing completely. McHenry improved to two pair on the turn to leave McClean drawing dead.
The APAT Tour arrived in Caesars Palace in Las Vegas on 9th November, and following Prague 5th-8th December will move on to the UK Team Championship at Genting Casino, Stoke 1st-2nd February 2014 before hosting the APAT Festival of Poker at Pontins Holiday Camp, Southport 28th February – 2nd March 2014. Visit www.apat.com
APAT Scottish Amateur Poker Championship 2013
137 players, £75+£7.50 buy-in, £10275 prize pool
| Rank | Player | Prize |
| --- | --- | --- |
| 1st | Paul McHenry | £3,085, APAT Gold Medal, WCOAP National Championship Seat (April 2014) |
| 2nd | Jim McClean | £1,850 APAT Silver Medal |
| 3rd | Mike Scothern | £1,130 APAT Bronze Medal |
| 4th | Joe McEvoy | £820 |
| 5th | Steve Kearns | £720 |
| 6th | Tony Grey | £620 |
| 7th | George Dick | £510 |
| 8th | Michelle Parkes | £410 |
| 9th | Scott Watson | £310 |
| 10th | Bryan Cameron | £260 |
| 11th | Jimmy Kearns | £210 |
| 12th | Alan Moody | £150 |
| 13th | Charley Kearns | £100 |
| 14th | James Neil | £100 |
Get all the latest PokerNews updates on your social media outlets. Follow us on Twitter and like us on Facebook now!