Looking Back at Roberto Romanello's EPT Prague Victory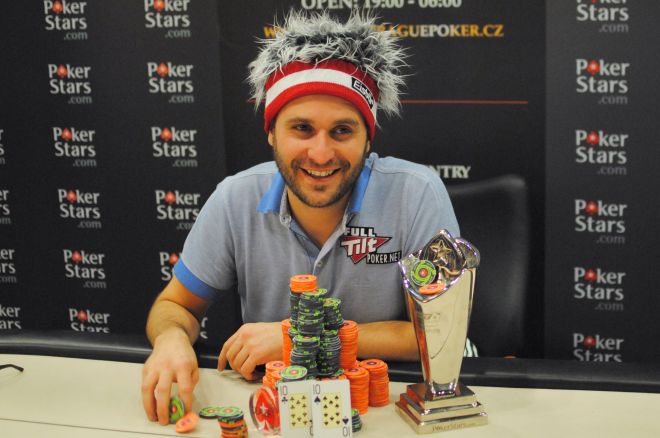 With the Prague leg of the European Poker Tour only a week or so away, I thought now would be the perfect time to take a look at the 2010 EPT Prague Main Event, a tournament that still gives me goosebumps when I think of it.
The 2010 edition of EPT Prague was part of Season 7 and was the second tournament I had reported on for PokerNews having covered the EPT Barcelona Main Event the month previously. I remember walking into the vast tournament area underneath the Hilton hotel and seeing some of poker's biggest names sitting down at their tables having bought in for what I still thought was a ridiculous sum of €5,300. Two such players were Roberto Romanello and his friend Praz Bansi.
Being inexperienced in the field of live reporting, the first couple of days went lightning fast, almost like minutes had decided to be seconds instead. I remember on Day 3, I think it was, seeing Romanello in the lobby, sporting his now famous "hairy" ski hat and plucking up the courage to wish him good luck. He thanked me and although the tournament was about to start, Romanello took a few minutes to ask me how work was going and other snippets of general chit chat. Anyone who has ever had the pleasure of meeting Romanello will attest to how easy the Welshman is to talk to and how is always seems pleased to see you.
Anyway, Romanello ended Day 3 with a stack of 512,000 chips, which were enough to place him 16th of the final 23 players. By the close of Day 4, Romanello had increased his stack to 1,220,000 and had made it to the eight-handed final table.
Season 7 EPT Prague Main Event Final Table
| Seat | Player | Chips |
| --- | --- | --- |
| 1 | Marco Leonzio | 5,075,000 |
| 2 | Peter Skripka | 4,010,000 |
| 3 | Robert Romanello | 1,220,000 |
| 4 | Roberto Nulli | 745,000 |
| 5 | Jan Bendik | 445,000 |
| 6 | Emilliano Bono | 1,530,000 |
| 7 | Manuel Bevand | 615,000 |
| 8 | Marcin Horecki | 3,290,000 |
The final table lost three of its players early on; Roberto Nulli's


losing out to the


of Team PokerStars Pro Marcin Horecki, then Romanello's


held against the


of Frenchman Manuel Bevand. The third bust out was Slovakia's Jan Bendik who has since become a regular on the EPT. Bendik lost a coinflip with


to Peter Skripka's


despite catching a king on the flop (Skripka turned a set.)
Romanello then won a massive pot to climb to almost 5.5 million chips when Skripka four-bet all-in with what turned out to be


and Romanello snap-called with a pair of red kings. The board ran out void of threes and unlikely straights and Romanello was now the chip leader.
Quote some time passed before Marco Leonzio busted to leave only four players at the final table. Skripka opened to 250,000 and Romanello three-bet to 725,000. Emilliano Bono and Horecki folded then Leonzio called off his last 230,000. Skripka folded and the cards were flipped onto their backs – and they were not what anyone expected. Leonzio showed


and Romanello the


. The board ran out





and Leonzio was gone.
Half an hour later and the aggressive Skripka came undone when his


lost out to Horecki's


when two tens appeared on the flop. This set up an interesting battle between two pros in Romanello and Horecki and an obvious amateur in the shape of Bono. It would be a three-handed battle that would span two hours.
Third place eventually went to Horecki who got his chips in good with the


against Bono's


, then caught an ace on the flop, but Bono spiked a jack on the river to send a very disappointed Pole to the rail and leaving Romanello to take a 10.6 million to 6.3 million chip lead into the heads-up battle with Bono.
Romanello bossed Bono like I have rarely seen in all the EPTs I have wrote about since this event and ran out a deserved winner. The final hand of the tournament saw Romanello open to 575,000 and Bono raised to 2.475 million Romanello moved all-in and Bono called. Bono held


and was racing against the


of Romanello. The dealer burned a card before putting the flop into view –



– gifting Romanello a full house! I remember standing at the side of the stage upon which the final table was being played on and seeing emotion rush through Romanello. By the time the dealer had put the

and

onto the turn and river, Romanello's face was awash with tears and he quickly exited the tournament area in a bid to compose himself, returning a few minutes later to shake the hand of Bono.
When presented with the winner's trophy, Romanello was in tears again and so were many of the media because we knew how much this victory meant to Romanello, his first huge score and major title.
Season 7 EPT Prague Final Table Results
| Rank | Player | Prize |
| --- | --- | --- |
| 1st | Robert Romanello | €640,000 |
| 2nd | Emilliano Bono | €435,000 |
| 3rd | Marcin Horecki | €247,000 |
| 4th | Peter Skripka | €163,000 |
| 5th | Marco Leonzio | €130,000 |
| 6th | Jan Bendik | €100,000 |
| 7th | Manuel Bevand | €71,000 |
| 8th | Roberto Nulli | €54,550 |
Later that night, Romanello treated his friends and the media to an open bar at the Cloud 9 sky bar at the Hilton where he chatted with everyone all night before picking up a bar bill of several thousand Euros! He didn't care though, he was an EPT champion!
Romanello returns to Prague each year thanks to the city holding special memories for him. In 2012, Romanello managed to reach Day 5 before being eliminated in 21st place. Here's hoping we see Romanello in Prague this year and he can put together another deep run because tournaments are much more fun when they have a chipped up Romanello in them!
Get all the latest PokerNews updates on your social media outlets. Follow us on Twitter and like us on Facebook now!